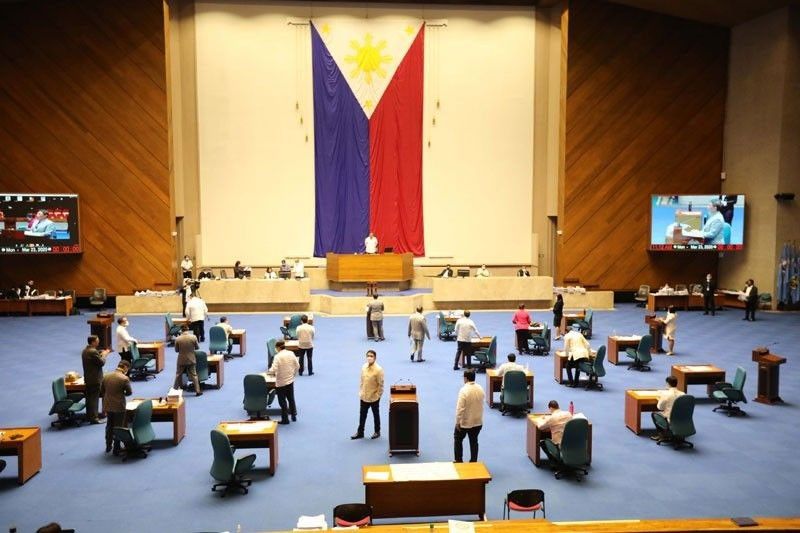 The Senate President, however, admitted that Morales' demeanor and those of other PhilHealth executives accused of corruption by former officials of the agency in denying the allegations did not inspire confidence among senators.
STAR/Boy Santos, file
Senate has enough evidence to file raps vs Morales
Paolo Romero
(The Philippine Star) - August 6, 2020 - 12:00am
MANILA, Philippines — The Senate inquiry into the alleged massive corruption at the Philippine Health Insurance Corp. (PhilHealth) has gathered enough evidence to warrant the filing of criminal and administrative charges against its chief Ricardo Morales and other officials of the state health insurer, senators said yesterday.
In separate interviews, Senate President Vicente Sotto III and Sen. Panfilo Lacson said that while there is growing evidence as well as consensus among senators that Morales and other officials should be held accountable for various corruption allegations based on the first hearing on Tuesday, the probe would still continue next week to be able to net as many individuals that may be involved in alleged anomalies in the agency.
"I think I'll still give (Morales) the benefit of the doubt because there's still this possibility that he's being duped by his people, who do not give him accurate information. He might be blind-sided too," Sotto told reporters in a video conference.
He added that it would be "harsh" to brand Morales as incompetent given his good record in running other agencies and when he was still an Army officer.
The Senate President, however, admitted that Morales' demeanor and those of other PhilHealth executives accused of corruption by former officials of the agency in denying the allegations did not inspire confidence among senators.
Sotto said Morales' request for a closed-door session to explain his side would be rejected.
Morales, Sotto said, should "come out clean and tell all he knows" in the scheduled hearing on Tuesday.
"Name names and I'll grant (an executive session) immediately, but if he insists on evading or trying to cover up and protect some people, then we will be judgmental," Sotto added.
The Senate President expressed hope that Malacañang will heed the recommendations of the committee of the whole on overhauling PhilHealth, including the firing and reshuffling of its officials.
The committee – specially convened with all senators as members – is particularly looking into at least two instances of alleged corruption: the Interim Reimbursement Mechanism (IRM), where PhilHealth officials gave hundreds of millions of pesos to some favored hospitals, maternity clinics and dialysis centers in Manila, Bicol and the Visayas in advance assistance for COVID-19 cases, even if the establishments do not have COVID-19 patients; and the alleged P2.1-billion overpricing in the acquisition of information and communications technology (ICT) equipment.
Sen. Sonny Angara called for a special audit of PhilHealth and the drafting of an ICT roadmap for the agency even as he lamented that Congress has subsidized PhilHealth with about P400 billion in funds in the past several years "only to find out that its funds are being wasted."
Sen. Grace Poe estimated that a staggering P102 billion leaked from the agency in overpayments to some hospitals and P154 billion lost to fraud in the last several years.
'Organized syndicate'
Lacson said the panel has enough evidence to pin down members of what he described as an "organized syndicate" at PhilHealth.
"There's a strong case against those who should be held criminally and administratively liable. That's clear. We don't only have testimonies but also documents – at least, what we have on hand," Lacson told reporters in an online interview.
The documents include several reports from the Commission on Audit and PhilHealth auditors, and sworn statements from whistle-blowers, including from board member Alejandro Cabading, according to the senator.
Lacson's office continues to receive documents from sources even as his staff does some digging following some leads.
He said the evidence on anomalies in the implementation of the IRM and the ICT purchases were the ones that are strong.
Meanwhile, Morales' former head executive assistant, Etrobal Laborte, has backed out from testifying against his former boss in the inquiry after he felt his life was in danger, according to the senator.
Lacson said in the last three weeks, Laborte was eager and cooperative with his office in providing details and documents on the agency.
During the hearing on Tuesday, the former Marine officer was logged on in the hybrid hearing and logged out shortly.
Lacson said Laborte later sent word that he was not participating in the inquiry in the meantime.
'No budget allocation'
Sotto and Lacson said lawmakers are not keen on increasing government subsidies to PhilHealth, which one actuarial officer warned was going to be bankrupt next year because of huge payouts and low collections due to the COVID-19 pandemic.
PhilHealth acting senior vice president Nerissa Santiago told the panel the actuarial life of PhilHealth fund was 10 years, but drastically shortened to just one year when the pandemic struck.
To prevent PhilHealth's collapse, the government would practically subsidize its entire operations by at least P184 billion. Part of its funds come from proceeds of sin taxes and contributions of members.
PhilHealth is the implementer of the Universal Health Care law (UHC).
Sotto said the infusion of additional funds by Congress would happen only if PhilHealth is "cleansed."
"Maybe we can borrow and increase the budget for 2021, but will I do that knowing that they're just playing with PhilHealth funds for the UHC?" Lacson said.