DepEd: Public schools in over 300 districts have conducted dry runs for blended learning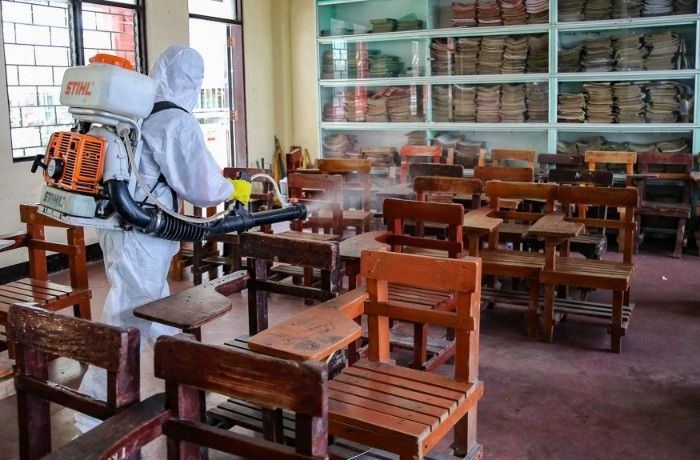 MANILA, Philippines — Education Secretary Leonor Briones on Friday said that public schools in 345 districts have conducted dry runs in preparation for the resumption of classes on August 24.
"We can definitely start on August 24 with our blended learning approach. For months now, we have been conducting dry runs and simulations in all districts using different approaches," Briones said in Filipino during a COVID-19 task force meeting with the president.
These approaches include learning through radio, television, online platforms and modules, Briones added.
All classes for the rest of 2020 will be conducted through a blended learning approach, as President Duterte on Monday announced that he would not allow face-to-face classes until 2021, which is when he expects a vaccine for COVID-19 to be available.
According to the education secretary, 22.3 million students have enrolled for the incoming school year.
She added that the public sector had an enrollment turnout of 92%, but marked low turnout from the private sector at 31%.
Although classes officially begin on August 24, Briones said the opening of the school year will be launched two weeks earlier on August 10. — Bella Perez-Rubio
As It Happens
LATEST UPDATE: July 12, 2022 - 10:42am
Follow this thread for updates on when classes will resume, and how those classes will be conducted.
Photo: Students wearing protective face masks have their temperatures taken while entering their college campus in Manila on January 31, 2020. AFP/Ted Aljibe
July 12, 2022 - 10:42am
DepEd says School Year 2022-2023 "shall open on Monday, August 22, 2022, and shall end on July 7, 2023. It shall consist of 203 school days or as may be determined by further issuance/s in case of changes in the school calendar due to unforeseen circumstances."
April 18, 2022 - 10:11am
Sen. Nancy Binay calls on the Commission on Higher Education and the inter-agency task force on COVID-19 not to "burden" students over requirements for face-to-face classes.
Higher educations students are being required to present medical insurance and other documents before participating in face-to-face classes.
"This is a cumbersome and unnecessary requirement para sa college students, considering that by law, all Filipinos are automatic members of PhilHealth. Sa totoo lang, 'di kailangang dagdagan ang proseso, dapat nga mas simplehan pa," Binay says.
November 12, 2021 - 9:10am
The Department of Education announces that it will increase the number of participating schools in the pilot implementation of face-to-face classes.
"The expansion of the number of pilot schools will allow a greater degree of experience among all our regions that will serve us well for the expanded phase of face-to-face classes," DepEd says.
With the approval of the Office of the President, the Department of Education is announcing that it will increase the number of participating schools in the pilot implementation of face-to-face classes.

Read: https://t.co/cCqC91kZPw pic.twitter.com/Us3GvFxp1F

— DepEd (@DepEd_PH) November 11, 2021
November 10, 2021 - 6:56pm
COVID-19 immunization has started for tertiary students in Ilocos Norte as part of the massive vaccination campaign of the Commission on Higher Education.
This in preparation for the reopening of in-person tertiary classes, CHED-Regional Office 1 said as a ceremonial vaccination of students at Mariano Marcos State University was held on Monday in collaboration with the Department of Health, Department of Interior and Local Government, the provincial government and Mariano Marcos Memorial Hospital and Medical Center.
About 800 students are expected to be inoculated through the CHED immunization drive.
Prior to this, MMSU had already vaccinated 75% of its student population. — The STAR/Artemio Dumlao
September 28, 2021 - 8:13pm
President Rodrigo Duterte has authorized limited face-to-face classes for the following programs:
Engineering and Technology programs
Hospitality/ Hotel and Restaurant Management
Tourism/ Travel Management
Marine Engineering
Marine Transportation
Commission on Higher Education Chairman Popoy De Vera, who made the announcement, said the authorization applies to "degree programs that require hands-on experience in higher education institutions under Modified General Community Quarantine."