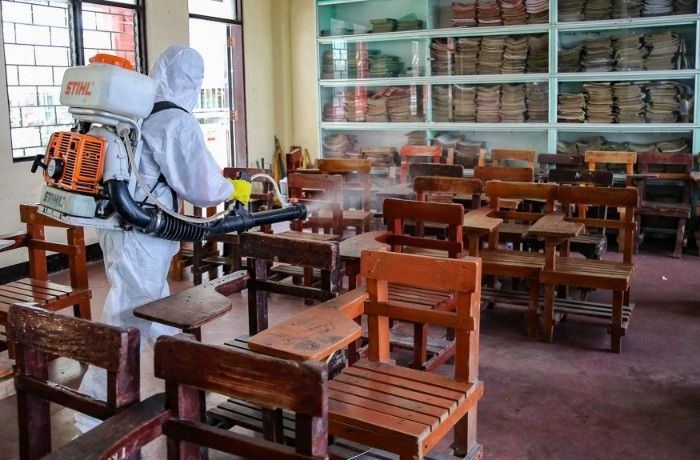 Taguig Sanitation Office sprays a disinfectant solution at bus terminals and schools to contain the possible spreading of COVID-19.
The STAR/Edd Gumban
DepEd: Public schools in over 300 districts have conducted dry runs for blended learning
(Philstar.com) - July 31, 2020 - 10:52am
MANILA, Philippines — Education Secretary Leonor Briones on Friday said that public schools in 345 districts have conducted dry runs in preparation for the resumption of classes on August 24.
"We can definitely start on August 24 with our blended learning approach. For months now, we have been conducting dry runs and simulations in all districts using different approaches," Briones said in Filipino during a COVID-19 task force meeting with the president.
These approaches include learning through radio, television, online platforms and modules, Briones added.
All classes for the rest of 2020 will be conducted through a blended learning approach, as President Duterte on Monday announced that he would not allow face-to-face classes until 2021, which is when he expects a vaccine for COVID-19 to be available.
According to the education secretary, 22.3 million students have enrolled for the incoming school year.
She added that the public sector had an enrollment turnout of 92%, but marked low turnout from the private sector at 31%.
Although classes officially begin on August 24, Briones said the opening of the school year will be launched two weeks earlier on August 10. — Bella Perez-Rubio
As It Happens
LATEST UPDATE: October 9, 2020 - 12:24pm
Follow this thread for updates on when classes will resume, and how those classes will be conducted.
Photo: Students wearing protective face masks have their temperatures taken while entering their college campus in Manila on January 31, 2020. AFP/Ted Aljibe
October 9, 2020 - 12:24pm
A group of teachers warns of class disruptions and drop-outs if the problems have not been resolved a week after classes were opened.
"The Department of Education should objectively assess and boldly address the critical problems experienced in the first week of school opening, rather than patting its own back for its imagined success. If the agency has any foresight, they should know that the school year they opened is hanging by a thread," says Raymond Basilio, Alliance of Concerned Teachers secretary general.
October 6, 2020 - 10:54am
The resumption of classes on Monday was not a victory as claimed by Education Secretary Leonor Briones, Samahan ng Progresibong Kabataan says in a statement.
"Our leaders look at the millions disenfranchised and call it victory. They look at the teachers contracting the virus and march forward. They look at the millions of dropouts and four students dead and call it a new venture," the group says.
"You send millions to school with an underfunded and exclusive education system that leaves millions out anyway. Opening classes does not mean that you have accomplished the slightest thing. We have raised our voices for six months, and you have sat on your hands watching dropouts rise. This is not victory over COVID-19, this is the defeat of common sense," the youth group adds.
October 5, 2020 - 8:04am
Education Secretary Leonor Briones officially declares school year 2020-2021 open in an address streamed through Facebook.
She says this ends the debate on whether classes should resume and whether the department is ready for the blended learning system required by health and safety protocol against the novel coronavirus.
October 4, 2020 - 12:49pm
As public school teachers get ready for the resumption of classes on Monday, Sen. Risa Hontiveros calls for government support for them, including the proper medical benefits in case they get sick.
She says teachers should also get an additional allowance for internet access and to print out learning materials as well loans for computers and laptops for them to implement distance education.
"The government should spend for these because this is part of the teachers' official obligations," she says in Filipino.
October 3, 2020 - 2:51pm
A group of teachers calls for accountability from the government for "delaying and still failing to ensure the delivery of safe, accessible, and quality education amid the pandemic."
"We've repeatedly heard Sec. Briones give thanks to the President over his claimed 'support' for blended learning. Yet, after two postponements, President Duterte still has nothing to show beyond lip service," says ACT Secretary General Raymond Basilio.
"This government remains to be unresponsive to the people's just and urgent demands in relation to school opening at the height of the health and socio-economic crisis. This is a huge disservice to the Filipino people and a violation of the youth's fundamental right to education, with the President as the main culprit while Sec. Briones was complicit to these injustices," he adds.