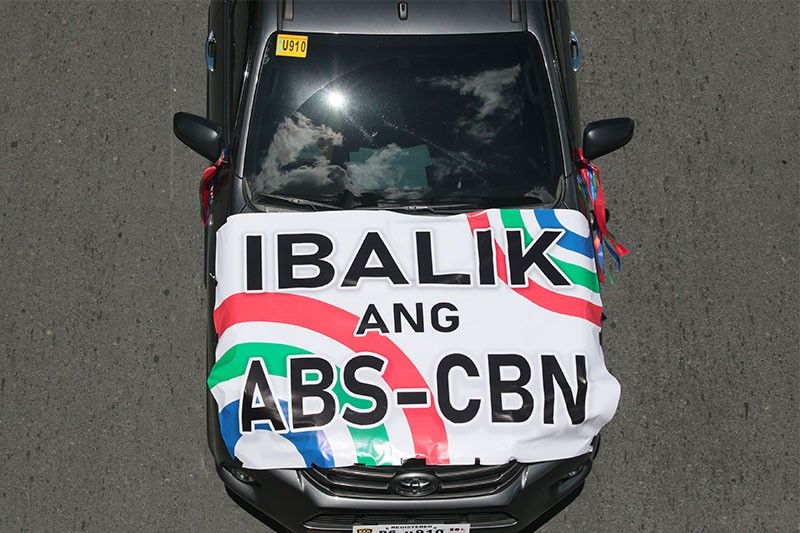 A caravan protest in support of the renewal of franchise of media giant ABS-CBN Corp.
The STAR/Felicer Santos
List of lawmakers who voted for and against ABS-CBN franchise renewal
MANILA, Philippines (3rd update, 6:57 p.m.) — The House of Representatives on Friday carried out President Rodrigo Duterte's threats to shut down ABS-CBN, with an overwhelming majority of 70 legislators voting to deny the network a new franchise and its 11,000 workers stable jobs amid the coronavirus crisis.
Only 11 lawmakers cast votes in support of the renewal, while two inhibited and one opted to abstain. A majority vote of 44 was needed to approve the resolution denying the company's franchise.
Here is the list of lawmakers who voted "No" to the resolution denying the network's franchise renewal, according to Kabataan Partylist Rep. Sarah Elago:
Sol Aragones (Laguna 3rd District)
Christopher De Venecia (Pangasinan 4th District)
Carlos Zarate (Bayan Muna Party-list)
Gabriel Bordado (Camarines Sur 3rd District)
Vilma Santos (Batangas 6th District)
Lianda Bolilia (Batangas 4th District)
Jose Tejada (North Cotabato 4th District)
Bienvenido Abante (Manila 6th District)
Stella Quimbo (Marikina 2nd District)
Mujiv Hataman (Basilan Lone District)
Edward Maceda (Manila 4th District)
Former actor Rep. Alfred Vargas (Quezon City) inhibited from voting, citing "conflict of interest." Rep. Micaela Violago (Nueva Ecija) also inhibited.
The 70 who voted "Yes" to the resolution to reject the franchise.
Raneo Abu
Cyrille Abueg-Zaldivar
Gil Acosta
Atonio Albano
Samantha Louise Alfonso
Juan Miguel Macapagal Arroyo
Cristal Bagatsing
Julienne Baronda
Elpidio Barzaga Jr.
Claudine Bautista
Juan Pablo Bondoc
Antonio Calixto
Prescious Castelo
Joaquin Chipeco Jr.
Ma. Theresa Collantes
Anthony Peter Crisologo
Francisco Datol
Mike Defensor
Paulo Duterte
Faustino Michael Dy
Faustino V. Dy
Ian Paul Dy
Conrado Estrella III
Ria Christina Fariñas
Dan Fernandez
Bayani Fernando
Luis Ferrer IV
Pablo John Garcia
Janette Garin
Sharon Garin
Weslie Gatchalian
Sandro Gonzales
Eduardo Gullas
Bernadette Herrera-Dy
Dulce Ann Hofer
Eleandro Jesus Madrona
Dale Malapitan
Esmael Mangudadatu
Rodante Marcoleta
Eric Martinez
Francisco Matugas
Raymond Mendoza
Roger Mercado
John Marvin Nieto
Jose Fidel Nograles
Jericho Nograles
Henry Oaminal
Joseph Stephen Paduano
Wilter Palma II
Enrico Pineda
Jesus Crispin Remulla
Strike Revilla
Yedda Romualdez
Ferdinand Martin Romualdez
Xavier Jesus Romualdo
Deogracias Savellano
Frederick Siao
Jose Singson Jr.
Jose Antonio Sy-Alvarado
Alyssa Sheena Tan
Sharee Ann Tan
Arnolfo Teves Jr.
Abraham Tolentino
Allan Ty
Christian Unabia
Rolando Valeriano
Luis Villafuerte Jr.
Camille Villar
Eric Yap
Divina Grace Yu
Rep. Alfredo Garbin Jr. abstained.
As It Happens
LATEST UPDATE: July 22, 2020 - 8:59am
ABS-CBN Corp. stopped broadcasting on its TV and radio stations on May 5, 2020 after the National Telecommunications Commission issued a cease and desist order. The network's franchise had lapsed on May 4 without action by the House of Representatives.
July 22, 2020 - 8:59am
Lawmakers of the Makabayan bloc ask the House committee on legislative franchise to submit the report and the adopted resolution denying the franchise of ABS-CBN to the plenary for ratification.
In a letter addressed to Rep. Franz Alvarez (Palawan), Rep. Carlos Zarate (Bayan Muna Party-list) points out that the decision of the House panel to deny ABS-CBN a new franchise requires the approval of the entire lower chamber of Congress.
"Again, we reiterate that it is the duty, and in fact the right, of every member of the House to voice the opinion of their constituents through a plenary vote," the letter reads.
July 16, 2020 - 6:35pm
ABS-CBN's sports production department announces that it will stop operations after non-renewal of the legislative franchise of the media giant.
The network said in a statement Wednesday that it is forced to cease some business operations and implement a retrenchment program covering the network and its subsidiaries.
July 15, 2020 - 6:59pm
ABS-CBN announces it will implement a retrenchment program effective August 31 as it has been forced to cease operations of some of its businesses.
"We are doing all we can to mitigate the pain that will be felt by those affected, including paying out separation and retirement benefits and providing job placement programs. The loss of their jobs comes at a time when the uncertain and perilous impact of the COVID-19 pandemic further makes our decision truly difficult, but inevitable," the network also says.
"As much as it hurts us to implement this retrenchment program, this is the only way to ensure the continued employment of the rest of our Kapamilya," it also says as it wishes those affected by retrenchment well.
"For all that you have done for ABS-CBN, maraming salamat po."
July 13, 2020 - 10:22am
More than 500 journalists and media workers express solidarity with thousands of ABS-CBN workers who risk losing their jobs after a House panel denied the broadcast giant a new franchise.
In a statement released Monday, various journalists, editors and workers from different media organizations condemned the "unjust and cruel" decision of the House of Representatives committee on legislative franchises.
"One media outfit shut down because of the whims and trivialities of those in power is one too many, especially at a time when the public needs credible and independently verified information to make informed choices," the statement read.
July 12, 2020 - 6:33pm
Reporters covering the Senate on Sunday say the decision by a House panel to reject ABS-CBN's application for a new franchise "showed us that these lawmakers have become a heavy burden, a compounder of problems, and a worsener of woes to our already suffering nation."
They cite the potential loss of thousands of jobs while the country is dealing with the COVID-19 pandemic and say that the "serious economic repercussions" of the network shutdown are already being felt.
"The call of some lawmakers for Filipinos to move on is insensitive and an insult to the intelligence of the people," they also say.