List of lawmakers who voted for and against ABS-CBN franchise renewal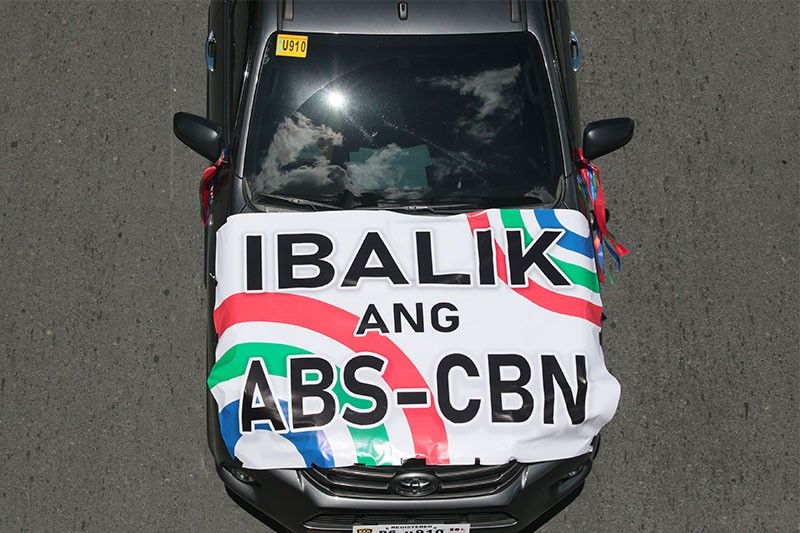 MANILA, Philippines (3rd update, 6:57 p.m.) — The House of Representatives on Friday carried out President Rodrigo Duterte's threats to shut down ABS-CBN, with an overwhelming majority of 70 legislators voting to deny the network a new franchise and its 11,000 workers stable jobs amid the coronavirus crisis.
Only 11 lawmakers cast votes in support of the renewal, while two inhibited and one opted to abstain. A majority vote of 44 was needed to approve the resolution denying the company's franchise.
Here is the list of lawmakers who voted "No" to the resolution denying the network's franchise renewal, according to Kabataan Partylist Rep. Sarah Elago:
Sol Aragones (Laguna 3rd District)
Christopher De Venecia (Pangasinan 4th District)
Carlos Zarate (Bayan Muna Party-list)
Gabriel Bordado (Camarines Sur 3rd District)
Vilma Santos (Batangas 6th District)
Lianda Bolilia (Batangas 4th District)
Jose Tejada (North Cotabato 4th District)
Bienvenido Abante (Manila 6th District)
Stella Quimbo (Marikina 2nd District)
Mujiv Hataman (Basilan Lone District)
Edward Maceda (Manila 4th District)
Former actor Rep. Alfred Vargas (Quezon City) inhibited from voting, citing "conflict of interest." Rep. Micaela Violago (Nueva Ecija) also inhibited.
The 70 who voted "Yes" to the resolution to reject the franchise.
Raneo Abu
Cyrille Abueg-Zaldivar
Gil Acosta
Atonio Albano
Samantha Louise Alfonso
Juan Miguel Macapagal Arroyo
Cristal Bagatsing
Julienne Baronda
Elpidio Barzaga Jr.
Claudine Bautista
Juan Pablo Bondoc
Antonio Calixto
Prescious Castelo
Joaquin Chipeco Jr.
Ma. Theresa Collantes
Anthony Peter Crisologo
Francisco Datol
Mike Defensor
Paulo Duterte
Faustino Michael Dy
Faustino V. Dy
Ian Paul Dy
Conrado Estrella III
Ria Christina Fariñas
Dan Fernandez
Bayani Fernando
Luis Ferrer IV
Pablo John Garcia
Janette Garin
Sharon Garin
Weslie Gatchalian
Sandro Gonzales
Eduardo Gullas
Bernadette Herrera-Dy
Dulce Ann Hofer
Eleandro Jesus Madrona
Dale Malapitan
Esmael Mangudadatu
Rodante Marcoleta
Eric Martinez
Francisco Matugas
Raymond Mendoza
Roger Mercado
John Marvin Nieto
Jose Fidel Nograles
Jericho Nograles
Henry Oaminal
Joseph Stephen Paduano
Wilter Palma II
Enrico Pineda
Jesus Crispin Remulla
Strike Revilla
Yedda Romualdez
Ferdinand Martin Romualdez
Xavier Jesus Romualdo
Deogracias Savellano
Frederick Siao
Jose Singson Jr.
Jose Antonio Sy-Alvarado
Alyssa Sheena Tan
Sharee Ann Tan
Arnolfo Teves Jr.
Abraham Tolentino
Allan Ty
Christian Unabia
Rolando Valeriano
Luis Villafuerte Jr.
Camille Villar
Eric Yap
Divina Grace Yu
Rep. Alfredo Garbin Jr. abstained.
As It Happens
LATEST UPDATE: January 27, 2021 - 3:35pm
ABS-CBN Corp. stopped broadcasting on its TV and radio stations on May 5, 2020 after the National Telecommunications Commission issued a cease and desist order. The network's franchise had lapsed on May 4 without action by the House of Representatives.
January 27, 2021 - 3:35pm
Rep. Mike Defensor (Anakalusugan Party-list) attempts to put the ABS-CBN franchise up for a vote in the plenary, saying it should be taken up as it is in the House's unfinished business.
The House rejects his motion, but he appeals this. House leaders later on commit to begin tackling its unfinished business beginning Monday. — Xave Gregorio
January 18, 2021 - 3:38pm
Rep. Vilma Santos-Recto (Batangas) has filed a bill seeking the renewal of the franchise granted to broadcast giant ABS-CBN.
Senate President Vicente Sotto III earlier filed a similar bill at the Senate, saying a majority of Filipinos get their news primarily from TV.
Franchise bills emanate from the House of Representatives.
January 5, 2021 - 8:00pm
Malacañang is leaving it up to Congress to decide on the new bill seeking to renew the franchise of television network ABS-CBN, which was forced to lay off thousands of workers after its franchise expired last May.
Presidential spokesman Harry Roque disagreed, saying the fate of the bill depends on lawmakers.

"Well, again, I beg to differ; that is a sole constitutional prerogative of Congress which must originate from the House of Representatives," Roque says at a press briefing. — Alexis Romero
January 4, 2021 - 4:53pm
Senate President Tito Sotto files a bill renewing the franchise of broadcast giant ABS-CBN, which went off the air in May.
Sotto's bill seeks to renew the franchise of ABS-CBN Corporation, which expired in March 2020, to another 25 years.
"ABS-CBN's wide reach to Filipinos, alongside with the undeniable advantages of broadcast media relative to mass communication, definitely calls for the immediate renewal of the network's franchise," Sotto says in his bill.
October 6, 2020 - 2:27pm
Broadcast giant ABS-CBN Corp. is returning to free TV starting Saturday after striking a deal with Zoe Broadcasting Network Inc.
The network announces that "some entertainment shows and movies" it produces will be aired in the "rebranded" A2Z channel 11, formerly Zoe TV, the free TV channel of Jesus Is Lord Church led and founded by Eddie Villanueva.
"A2Z channel 11 will be seen on analog TV in Metro Manila and nearby provinces," the network says.