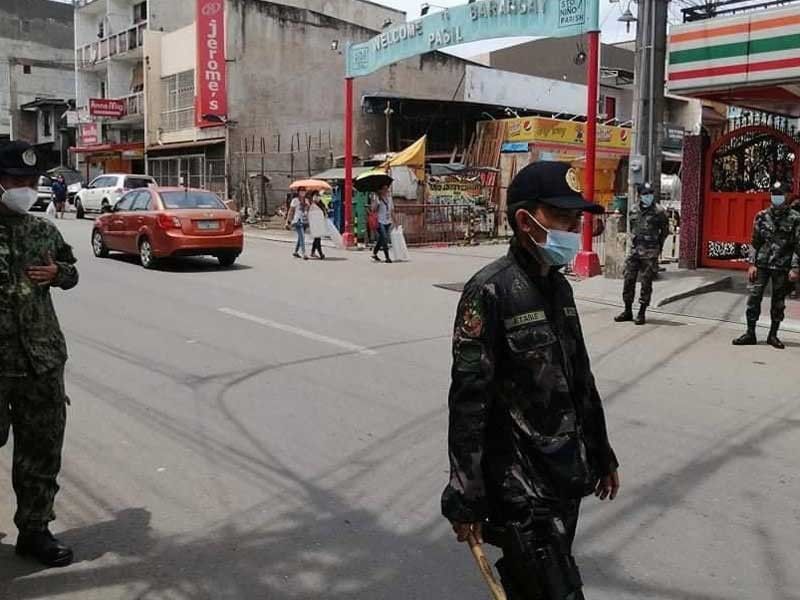 Situation in Barangay Pasil, Cebu City on June 24, 2020 as police check the movement of residents after ECQ passes were cancelled the night before.
The Freeman/Aldo Banaynal
Palace: No martial law in Cebu City; Cimatu can exercise Duterte's powers
MANILA, Philippines — There is no martial law in Cebu City despite the deployment of soldiers to enforce quarantine measures, Malacañang said Wednesday.
The southern city reverted to the strictest lockdown scenario last June 15 as its health care capacity is in danger of being overwhelmed by the rising number of persons with coronavirus disease 2019 or COVID-19.
President Rodrigo Duterte has directed Environment Secretary Roy Cimatu, a retired military general, to oversee the situation in Cebu City and to use all powers of the government's COVID-19 task force to contain the virus.
The designation of Cimatu and the stronger presence of government troops have sparked fears that martial law will be declared in Cebu City, which now has more than 4,400 COVID-19 cases.
"This is not martial law. This has been decided upon by the Supreme Court, and this is as far as enforcing the ECQ (enhanced community quarantine) in Cebu is concerned," Roque told ABS-CBN News Channel.
"Normally, we have the police enforcing it but if the police is not enough, then the Armed Forces can also enforce the lockdown," he added.
Roque said the Supreme Court ruled in Sanlakas versus Executive Secretary that the government can order soldiers to patrol shopping malls and other civilian duties.
Only essential services like health care and food production, export-oriented businesses, and business process outsourcing are allowed to operate in areas under ECQ.
Now that Cebu City is under ECQ, only one per household would be allowed to go out to buy essentials, Roque said.
"(If it's) just too many that's allowed to go out...that defeats the purpose of an ECQ," the Palace spokesman said, adding that about 200,000 residents in the city have quarantine passes.
Roque said Cimatu is expected to make recommendations and to implement what he thinks should be done in one week. Duterte, Roque said, would issue executive orders to give legal validity to Cimatu's actions if necessary.
"He (Cimatu) has to do whatever that has to be done. There's now a hierarchy of laws that we're following here. And, of course, the mandate of General Cimatu comes from the president himself backed up by an executive order. He can exercise all powers that the president can exercise, he has been the beneficiary of delegated authority from the president," Roque said.
"He gets to exercise all the extraordinary powers of the Office of the President in dealing with the pandemic in Cebu City," he added.