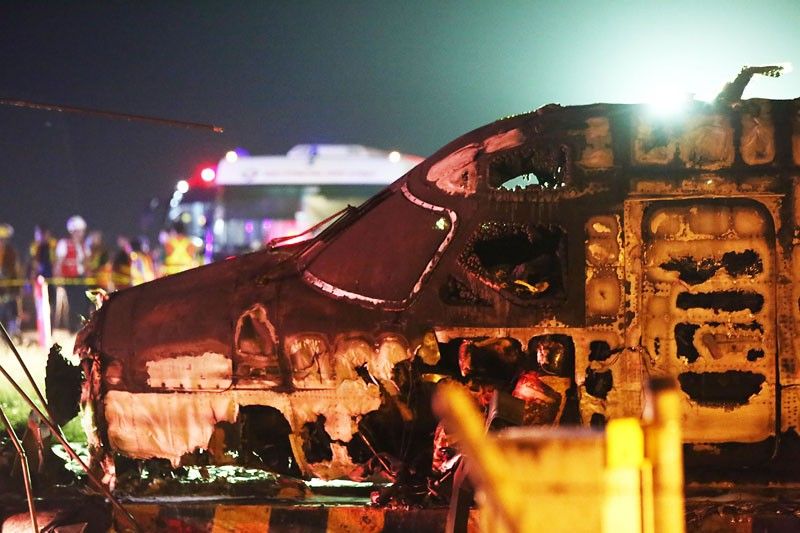 CAAP spokesman Eric Apolonio yesterday said Lionair's fleet will not be allowed to operate until the order is lifted.
Miguel de Guzman
Medevac company planes grounded
Rudy Santos
(The Philippine Star) - March 31, 2020 - 12:00am
MANILA, Philippines — The Civil Aviation Authority of the Philippines (CAAP) has grounded the entire fleet of Lionair Inc. after one of its light planes crashed and exploded shortly after takeoff from the Ninoy Aquino International Airport last Sunday night, killing eight passengers and crew.
CAAP spokesman Eric Apolonio yesterday said Lionair's fleet will not be allowed to operate until the order is lifted.
He said investigators from the Aircraft Accident Investigation and Inquiry Board (AAIIB) of CAAP have also recovered the black box of the aircraft that could reveal why the plane exploded as it was taking off from the NAIA runway 06-24.
Probers are collecting parts of the plane, an Agusta WW 24 Westwind jet with registry number RP-C5880 owned by the Philippine firm Lionair Inc.
Those killed were the pilot, Capt. Mario Medina Jr., co-pilots Ren Edward Ungson and Melvin de Castro, Dr. Cenover Nicandro Bautista II, flight medic Edmark Jael, nurse Conrado Tomeldan Jr., Canadian patient John Richard Hurst and his American assistant Marilyn Vergara de Jesus.
Apolonio said the plane was on a medical evacuation (medevac) mission en route to Haneda Airport in Japan.
"While investigation on the medical evacuation plane RP-C5880 is ongoing, it has been decided that Lionair's entire fleet will be grounded," CAAP said in a statement yesterday.
Lionair is one of the leading helicopter and executive jets charter companies in the country with a fleet of seven planes and helicopters.
Malacañang wants a thorough probe of the latest plane crash at the NAIA last Sunday. ?"We are so sad to learn that a plane crashed last March 29 taking the lives of the eight persons on board. We extend our deepest sympathies to the grieving families of those who perished in the crash," presidential spokesman Salvador Panelo said in a statement issued yesterday. ?"There must be a thorough investigation of the incident and the concerned government agencies must undertake measures to secure the safety of private aircraft as well as their passengers and crew," he added.
Lionair also operated the 11-seater Beechcraft King Air type medevac aircraft that crashed in Calamba, Laguna in September last year, killing nine people on board.?CAAP also clarified that Lionair, owned by businessman Archibald Po, is a charter airline operating and registered in the Philippines, and is not affiliated with Jakarta-based low cost airline Lion Air Indonesia.
According to CAAP, Lionair is already coordinating with the victims' families.?CAAP said a flight safety investigation committee would look into possible violations of aviation safety procedures by the aircraft operator and/or the crew.?Investigation for the crash and resulting fire, meanwhile, will be conducted by the aircraft accident investigation and inquiry board.?The plane, a 10-seater WW24 Westwing aircraft had also been previously chartered by the Department of Health (DOH) to transport medical suppplies to the regions, was given an airworthy clearance for the medevac mission bound for Japan and had a full tank of aviation gas when it crashed.
Before the mishap last Sunday night, the aircraft was chartered by the DOH and airlifted medical supplies to the Bancasi Airport in Butuan City last Saturday.
CAAP said the aircraft's last recorded flight was on March 28, 2020 from Butuan Bancasi Airport (BXU/RPWE) to Manila Ninoy Aquino International Airport (MNL/RPLL).
Manila International Airport Authority (MIAA) general manager Ed Monreal and CAAP director general Jim Sydiongco went to the crash site.
Monreal said the aircraft reportedly encountered a technical problem while rolling for takeoff at runway 06.
The MIAA Fire and Rescue team was immediately dispatched to the crash site to douse the flames with chemical foam. Unfortunately, no passenger survived the crash as they immediately cordoned the area, Monreal said. - With Richmond Mercurio, Alexis Romero, Ben Serrano