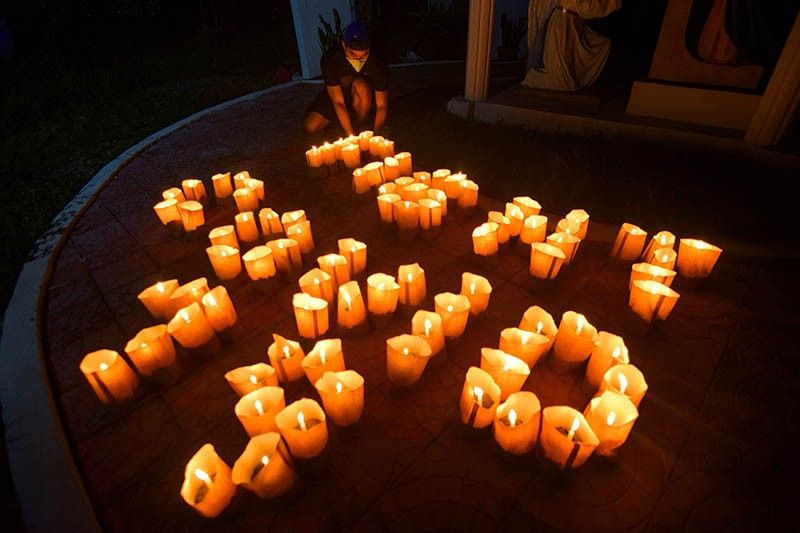 A volunteer arranges lit candles in a formation to read "Fight Covid-19" during the Earth Hour environmental campaign near a catholic church in Borongan City, Eastern Samar province, on March 28, 2020.
AFP/Alren Beronio
DOH asks Filipinos to protect healthcare workers after reported attacks vs frontliners
MANILA, Philippines — The Department of Health asked the public to extend compassion to healthcare workers leading the country's fight against the new coronavirus as it vowed to investigate the reported violence and discrimination against frontliners.
In a statement Sunday, DOH condemned the acts of physical assault, harassment and discrimination committed against healthcare workers.
The department, in particular, denounced the attack on a nurse in Sultan Kudarat. A group of five individuals "ganged up" on the healthcare worker and splattered bleach on his face.
DOH also said it has received reports of healthcare workers being refused access to public transport and laundry, blocked and fined at checkpoints and evicted from their homes.
"These acts cannot be tolerated. We are mobilizing our own personnel in efforts to ascertain more details and hold perpetrators of these attacks liable and reporting these incidents to the Inter-Agency Task Force on COVID-19 for proper investigation and resolution," the agency said.
It also urged the Philippine National Police, the Department of Transportation, the Department of the Interior and Local Government and local governments to keep frontliners safe from harm and discrimination.
"We appeal to the public to extend understanding and compassion to our healthcare workers. Our healthcare workers have responded to our country's need with dedication, courage and selflessness. This is not the time for us to turn our backs on them," DOH said.
It added: "It is not enough that we thank them. We need to protect them too."
At least 690 medical professionals have volunteered to work for two weeks in government hospitals after the DOH called for volunteers.
The DOH earlier extended the call to hospital doctors, nurses, nursing assistants and other medical professionals. They will be assigned in the three designated COVID-19 hospitals: Lung Center of the Philippines, Philippine General Hospital or Dr. Jose N. Rodriguez Hospital.
At least twelve doctors in the Philippines have died from the new coronavirus as hospitals in the country were overwhelmed with the surge in cases
The DOH on Sunday reported 343 new COVID-19 cases, marking the country's largest daily increase in infections.
As It Happens
LATEST UPDATE: May 30, 2020 - 8:49pm
Follow this page for updates on a mysterious pneumonia outbreak that has struck dozens of people in China.
May 30, 2020 - 8:49pm
The Department of Health reports 590 new cases of the coronavirus disease, bringing the national tally to 17,224.
Of the new confirmed cases, 252 were considered "fresh" and 338 were positive results returned "late."
There are 88 recoveries 8 deaths, the Health department adds.
May 30, 2020 - 5:35pm
The Department of Health announces that the COVID-19 case bulletin for Saturday, May 30, 2020 will be released around 8:00 p.m.
May 29, 2020 - 9:37pm
The Department of Health reports 1,046 new cases of the coronavirus disease, the highest surge in a day in the Philippines. This brings the national tally to 16,634.
The agency says there are 122 recoveries and 21 new fatalities.
May 29, 2020 - 5:39pm
Health Undersecretary Maria Rosario Vergeire says that out of the 539 new cases reported Thursday, only 109 were "fresh cases" or those confirmed in the last three days.
The remaining were reported infections from last week.
May 29, 2020 - 9:03am
The United States records 1,297 coronavirus deaths on Thursday, bringing its total to 101,573 since the global pandemic began, according to a tally kept by Johns Hopkins University.
The country has also officially logged 1,720,613 cases of the virus, far more than any other nation, the tracker kept by the Baltimore-based university showed at 8:30 pm (0030 GMT Friday). — AFP