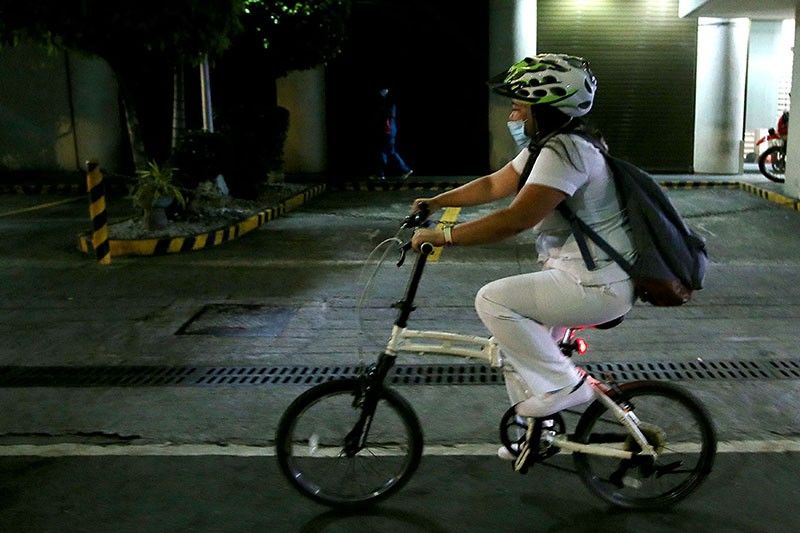 As of noon yesterday, 690 healthcare volunteers had enlisted to work for 14 days in government hospitals.
Edd Gumban
690 health workers join government frontliners
MANILA, Philippines — Hundreds of healthcare workers have answered the call for volunteers in government hospitals to help in the fight against the coronavirus disease 2019 (COVID-19) pandemic.
As of noon yesterday, 690 healthcare volunteers had enlisted to work for 14 days in government hospitals.
In a press briefing Saturday night, Undersecretary Maria Rosario Vergeire of the Department of Health (DOH) said they launched the volunteer initiative "to make sure that we have enough healthcare workforce to attend to COVID-19 patients."
"For every two-week duty of the health care volunteer, he or she will need to undergo a two-week quarantine period afterwards," Vergeire said.
The volunteers will be deployed to the three designated COVID-19 referral centers: the Lung Center of the Philippines in Quezon City, Philippine General Hospital in Manila and Dr. Jose N. Rodriguez Memorial Hospital in Caloocan City.
Vergeire also apologized for the previously announced P500 per day allowance to volunteers, which health and labor groups have criticized, and questioned how the department is spending its budget for the fight against COVID.
"We apologize if many are unimpressed with the P500 daily allowance we will be providing to healthcare workers," Vergeire said, and noted that the amount was based on the rate they gave to volunteer workers in previous outbreak responses.
According to Vergeire, the bulk of the DOH's budget is allocated for personal protective equipment (PPE) of health workers.
However, she expressed hope that DOH could increase the allowance of the volunteers once the supplemental budget from Congress comes in.
"We are already fixing the budget allocation for the most important items, such as compensation to health workers, PPE purchase, and fixing our health facilities," Vergeire explained.
She also assured the public that the DOH is validating the efficacy of test kits donated by other countries, and those with low accuracy rate are not being used.
The Research Institute for Tropical Medicine, Vergeire added, is conducting parallel testing of the test kits using the World Health Organization protocol.
"Test kits coming from China which showed 40 percent accuracy were not used. Be assured that we validated the efficacy of donated kits, and those with low quality are set aside and not used," Vergeire said.
Based on DOH data as of March 28, 920 persons under investigation (PUIs) have tested negative for the virus, while 667 are awaiting lab results.
DOH said there are still 804 PUIs, and a total of 6,321 persons under monitoring, or PUMs. A total of 2,686 persons have been tested for COVID-19.
Proper compensation
Meanwhile, Sen. Christopher "Bong" Go appealed to the DOH and the Department of Budget and Management (DBM) yesterday to provide proper compensation to health workers who volunteered in the fight against COVID-19.
The senator suggested that the government can maximize volunteers by engaging them on the basis of contracts of service, similar to job orders, so that they can be compensated on a daily rate for a limited time period equivalent or close to the amount received by actual government-employed health workers.
"This is why we forwarded the Bayanihan to Heal as One Act. We gave the President the power to use government funds to help and augment our frontliners in the fight against
COVID-19," he said in Filipino.
Based on Go's recent discussion with Budget Secretary Wendel Avisado and Health Secretary Francisco Duque III, they agreed that aside from allocating funds to equip health workers and enhance health facilities, it is also possible for the government to provide highly skilled volunteers with compensation close to the amount received by government health workers but computed on a daily rate.
"Funding should not be a problem," Go stressed, adding that the amount may be charged against the Maintenance and Other Operating Expense of the agency, according to DBM.

Go also cited that by considering them as job orders or contract of service workers, they will also be qualified to receive hazard pay in accordance with the recent memorandum of DBM. He added that on top of the hazard pay, DBM is also proposing additional risk allowance to be given to frontliners.

With this proposal, Go computed the possible compensation that licensed nurses, doctors or nursing graduates who wish to volunteer may receive if his recommendation is granted based on his initial discussions with DBM and DOH officials.
"If you are a licensed nurse volunteer, it can be worked out that you receive P1,200 per day, which is almost equivalent to the salary of a Nurse 1, plus P500 pesos hazard pay – and perhaps another P500 pesos as risk allowance per day," Go said.
With this example, a licensed nurse volunteer may get around 2,200 per day of duty for a duration agreed upon with DOH, to be stated in their individual contracts.
On the other hand, the rate of an entry-level licensed doctor at a DOH-run hospital is salary grade 21, equivalent to P59,353 per month. Volunteer doctors may be given a similar amount but computed on a daily basis, according to Go.
Go also suggested that if there are qualified volunteers who are nursing graduates but without work experience and still unlicensed, they can be compensated using a lower daily rate of around P1,000 per day plus hazard pay and other applicable allowances.
The DOH initially offered qualified volunteers an allowance, free food and accommodation and insurance in case they get infected with COVID-19. The Bayanihan to Heal as One Act also provides that health workers will receive P100,000 each if they "contract severe COVID-19 infection on duty," and P1 million each for their families in case of death.