Congress grants Duterte covid standby powers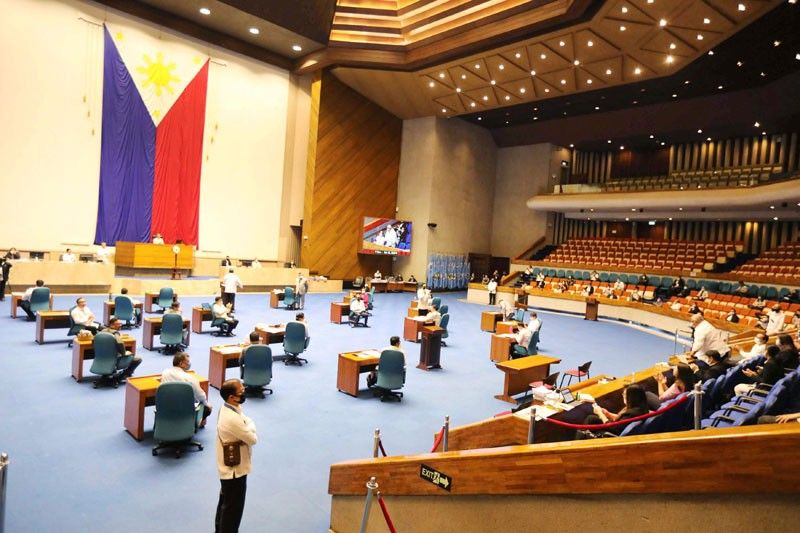 MANILA, Philippines — Congress passed last night a bill declaring a state of national emergency that would give President Duterte "limited" powers to help contain the spread of the 2019 coronavirus disease (COVID-19).
Executive Secretary Salvador Medialdea, who addressed the one-day session, said Duterte needed "standby powers" to speedily respond to the public health crisis.
The Senate and House of Representatives opened their separate sessions at 10 a.m. to tackle their nearly identical draft bills principally authored by Senate President Vicente Sotto III and Speaker Alan Peter Cayetano, respectively.
The House gave its imprimatur to the measure in an unprecedented online session.
The Senate was able to muster a quorum of 12 with Sotto, Senate President Pro Tempore Ralph Recto, and Senators Pia Cayetano, Grace Poe, Sherwin Gatchalian, Christopher Go, Richard Gordon, Panfilo Lacson, Lito Lapid, Manny Pacquiao, Bong Revilla and Francis Tolentino.
The rest, including members of the minority bloc, were either on self-quarantine or were locked out of Metro Manila, which is on an enhanced community quarantine.
Joining the Senate session as resource persons were Justice Secretary Menardo Guevarra, Finance Secretary Carlos Dominguez and Social Welfare Secretary Rolando Bautista.
In the House, a Committee of the Whole presided by Majority Leader Martin Romualdez approved House Bill 6616 declaring a national emergency and giving the government some powers "for a limited time and subject to restrictions."
The measure, entitled "Bayanihan Act of 2020," authorizes the executive department to "realign, reallocate and reprogram" about P275 billion in this year's national budget for purposes of combatting the global disease that has already claimed the lives of thousands.
Deputy Speaker LRay Villafuerte defended the measure on the floor, attended mostly by House officials led by Speaker Alan Peter Cayetano, Minority Leader Bienvenido Abante, public accounts chairman Rep. Mike Defensor and several others.
"We want to show the world there will be unprecedented cooperation between the executive and the legislative, that there will be unprecedented cooperation internationally, that you will see congressmen, governors and mayors working hand in hand," the Speaker said.
The special session was presided over by Deputy Speaker Raneo Abu of Batangas.
Villafuerte, a congressman from Camarines Sur, along with his colleague Rep. Eric Go Yap (ACT-CIS party-list) – chairman of the House committee on appropriations – reassured the public that government will not unreasonably take over private enterprises.
"We will make sure that the 1987 Constitution is not violated. We believe that this bill is constitutionally sound," Villafuerte said, explaining that powers to take over certain entities would only be exercised in the worst-case scenario or in the event of chaos.
"It (facility) will be turned over to them (owners) after the crisis," said the Bicolano lawmaker in response to concerns raised by former health secretary and now Iloilo Rep. Janette Garin that a takeover of private hospitals, hotels and the like can have dangerous consequences.
Villafuerte explained that there is a total of P275 billion in "available funds," P200 billion of which would be allotted for a two-month quarantine for the most marginalized sectors of society or P8,000 per family.
The remaining P75 billion, he said, would be earmarked for "health and other services."
About 18 million households will get to benefit from cash grants and hazard pay.
Villafuerte and Defensor (party-list Anakalusugan) also assuaged fears that emergency powers for President Duterte would be tantamount to martial law.
They cited the martial law in Mindanao – declared by Duterte in the aftermath of the Marawi siege in 2017 – where "no recorded human rights violations" had been recorded.
"This government has a good track record like the martial law in Mindanao. We have to trust this government. They have to do their job expeditiously and without the usual problems of red tape in the procurement of equipment. Time is of the essence," Villafuerte said.
Executive Secretary Salvador Medialdea told lawmakers in the special session that the "administration simply desires to be equipped with all the legal authorities necessary for us to serve our people during this crisis in the most expeditious way."
"The President and his administration has no intention at all to use these powers to its own advantage but only for our people's advantage," he told legislators.
"We therefore approach the distinguished members of Congress, the elected legislators of our people, to ask for a law that would enable the President, the executive branch, the legal authority to address this crisis, in a manner that is free from the restrictions, which, if beneficial during normal times, might prove disadvantageous during such an unusual time as this," he said.
Self-quarantined minority
Drilon, meanwhile, sought to debunk impressions that his colleagues in the bloc boycotted the special session as they are on a 14-day self-quarantine after being exposed to Zubiri, who was tested positive for COVID-19.
"Moreover, because of my age (and a pacemaker to regulate my heartbeat), I am a high-risk person who must take extra precaution," Drilon said.
He said they have requested for a session through teleconferencing, but Senate President Sotto informed them the chamber does not have such a facility.
He appealed to the media and the public not to attach any meaning to their failure to attend the special session.
"My record will show my perfect attendance (and not leaving until adjournment) during the regular session. Never boycotted. We fiscalize by being present," Drilon said.
The absence of the members of the minority bloc, which includes Sen. Leila de Lima—currently detained in Camp Crame—did not affect quorum, as the chamber was able to muster the physical attendance of 12 senators, including Sotto.
Sen. Francis Pangilinan, a member of the bloc, said he was already on his 13th day of self-quarantine, which was upon the advice of his doctor and in compliance with the Department of Health (DOH) strict protocols on Persons Under Monitoring (PUM).
"I am constrained to stay at home in order to avoid the possibility of infecting others should I be positive yet asymptomatic. I have not been tested," Pangilinan said. He said he experienced dry cough on Saturday night.
"My doctor (my younger sister Donna) has advised me to monitor the cough. According to her, it may be viral or since I have a history of acid reflux, it may be an acid reflux induced cough. I have no fever. I have no cold," he said.
Pangilinan said he remained "in direct communication with a number of colleagues who in turn are in communication with senators in attendance so that we may introduce through them our proposed amendments."
"We are working to ensure that the bill finally approved into law will be an effective tool in defeating the pandemic now wreaking havoc on our nation and our people," he said.
Sen. Risa Hontiveros also said she was strictly following DOH protocols on self-quarantine and had also requested teleconferencing.
Hontiveros sent her proposed amendments like expanding the Pantawid Pamilyang Pilipino program to include workers in the informal sector, and those vulnerable to economic dislocation but not part of the cash transfer program.
Sen. Nancy Binay said she just monitored yesterday's special session online as she didn't want to risk the health of her colleagues.
"Much as I wanted to participate in today's Special Session, I am still on an extended quarantine period given the fact that I have been exposed twice to persons who have been confirmed to be infected with the coronavirus," Binay said in a statement.
"Having a pre-existing condition, I have been advised to avoid being exposed, as much as I do not wish to risk the health of my colleagues," she added.
Sen. Sonny Angara, chairman of the Senate committee on appropriations, is in self-quarantine and instead had designated Sen. Pia Cayetano to sponsor the bill, said Sen. Panfilo Lacson in an interview over dzBB.
Lacson said Sen. Ronald dela Rosa is currently in his hometown in Davao and could not fly back to Manila due to the travel ban.
Sen. Imee Marcos claimed she had been advised by her doctors to avoid public gatherings since she has a cough.
In a joint statement, 22 business groups voiced support for the Bayanihan Act of 2020.
The groups were the American Chamber of Commerce of the Philippines, Anvil Business Club, Australian - New Zealand Chamber of Commerce Philippines, Bankers Association of the Philippines, Canadian Chamber of Commerce of the Philippines, European Chamber of Commerce of the Philippines, Federation of Filipino Chinese Chambers of Commerce and Industry Inc., Federation of Indian Chambers of Commerce (Philippines) Inc., Investment House Association of the Philippines, Judicial Reform Initiative, Makati Business Club, Management Association of the Philippines, Microfinance Council of the Philippines, Organization of Socialized and Economic Housing Developers of the Philippines Inc., People Management Association of the Philippines, Philippine Association of Securities Brokers and Dealers Inc., Philippine Center for Entrepreneurship (Go Negosyo), Philippine Hotel Owners Association Inc., Semiconductor and Electronics Industries in the Philippines Foundation Inc., Shareholders' Association of the Philippines, Subdivision and Housing Developers Association, and Women's Business Council Philippines.
"We commit ourselves to continue working with the government to fight COVID-19 with the assets and facilities at our disposal and, with proper consideration for their safety, with our manpower, starting from our managers. We commit to continue to support the health workers and medical establishments at the frontline of the war," the groups said. - Louella Desiderio
Related video: