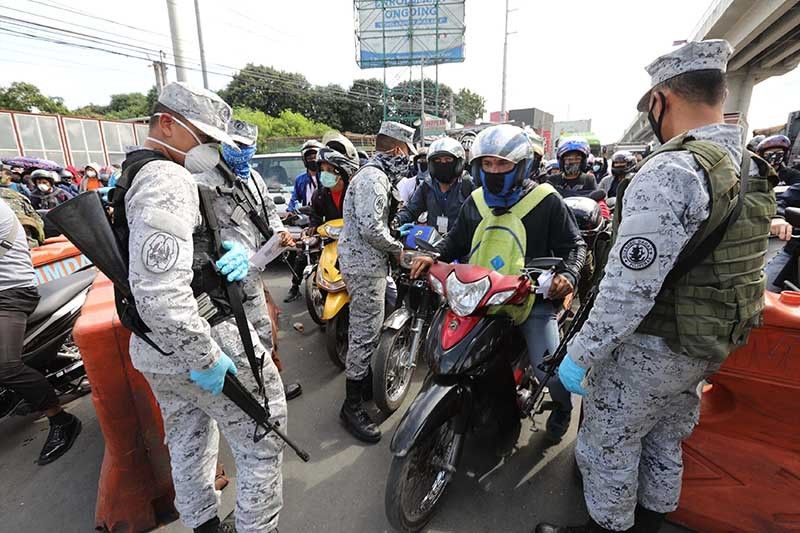 Motorists from outside Metro Manila are apprehended at a checkpoint on March 17 as the government places the entire Luzon under enhanced community quarantine.
The STAR/Boy Santos
UN experts: Emergency measures to fight COVID-19 shouldn't be used to suppress human rights
MANILA, Philippines — Drastic measures to curb the rising number of new coronavirus cases must be motivated by legitimate public health goals and should not be used to simply silence dissent, United Nations human rights experts said Tuesday.
The UN experts—which include special rapporteur on extrajudicial executions Agnes Callamard and special rapporteur on the situation of human rights defenders Michel Forst—made the statement as governments across the globe, including the Philippines, impose restrictions rarely seen in peacetime to arrest the spread of the coronavirus pandemic.
"While we recognize the severity of the current health crisis and acknowledge that the use of emergency powers is allowed by international law in response to significant threats, we urgently remind States that any emergency responses to the coronavirus must be proportionate, necessary and non-discriminatory," the experts said.
The Philippines detected a fraction of infections seen in hotspots such as China and Italy but its confirmed cases soared to 142 with 12 deaths after a month-long lull of not detecting any case.
The country has been placed under a state of public health emergency in early March and on Monday, President Rodrigo Duterte imposed an unprecedented enhanced community quarantine over the main island of Luzon.
Mass gatherings are prohibited and half of the country's population are ordered to stay home. People are only allowed to leave their houses to buy food, medicine and other basic necessities.
Mass public transportation, which includes the train systems, buses, jeepney and even tricycles, are not allowed to operate. Taxis and ride-hailing services are likewise suspended.
'Draconian' measures
During the month-long quarantine, there will be heightened presence of uniformed personnel to enforce quarantine procedures, prompting critics to voice concerns on the heavy-handed measures imposed by the government.
Justice Secretary Menardo Guevarra said Monday night that violators of the community quarantine may face arrest.
Rights group Karapatan said such "draconian yet vague" measures create a "fertile incubating ground for human rights abuse and violations."
UN experts stressed that emergency declarations should not be used as a basis to target particular groups, minorities or individuals.
"It should not function as a cover for repressive action under the guise of protecting health nor should it be used to silence the work of human rights defenders," they said.
The UN experts also said that restrictions should be narrowly tailored and be at least intrusive means to protect public health.
"We encourage states to remain steadfast in maintaining a human rights-based approach to regulating this pandemic in order to facilitate the emergence of healthy societies with the rule of law and human rights protections," they said. — with report from Agence France-Presse
As It Happens
LATEST UPDATE: April 5, 2020 - 3:56pm
Photo shows members of the Philippine National Police deployed in Manila amid COVID-19 threat. The STAR/Edd Gumban
President Rodrigo Duterte on March 16, 2020 declares an enhanced community quarantine over all of mainland Luzon, an expansion of an earlier general community quarantine over the National Capital Region.
The entire National Capital Region—16 cities and a municipality—is under community quarantine from March 15 to April 14, which means the enforcement of social distancing measures like letting fewer people on public transportation, reduced store hours, and the possibiity of curfews.
According to a memorandum issued by the Palace on Saturday, March 14, the quarantine means that "movement of people shall be limited to accessing basic necessities and work; and uniformed personnel and quarantine officers shall be present at border points."
Travel restrictions in and out of the capital will also be implemented.
April 5, 2020 - 3:56pm
The Philippine Postal Corp will resume operations for domestic acceptance and delivery of postal items, PHLPost says in an announcement.
PHLPost will operate selected Delivery Post Offices three times a week, from 10 a.m. to 3 p.m. on Tuesdays, Wednesdays and Thursdays.
Door-to-door delivery will be limited and mails and parcels with contact details like phone numbers and email addresses may be picked up at the post office.
Barangay officials may also be tasked with delivering the mail to their constituents.
April 5, 2020 - 2:31pm
A team of experts from China—ten medical experts and two officials—arrive in Manila on Sunday to share technical advice on the prevention and control of COVID-19 in the country, the Department of Foreign Affairs reports.
April 5, 2020 - 1:28pm
More than 1,000 senior citizens in Quezon City receive "Lakas-Resistensya Packs" through Sen. Risa Hontiveros and the Coalition of Services of the Elderly, Inc. on Sunday.
The packs include "a weeklong supply of rice, multivitamins, milk, face masks, and other essential items to boost their immunity."
Hontiveros urges the public to refrain from having senior citizens leave the house during the enhanced community quarantine in Luzon, saying they are among the groups considered more vulnerable to the novel coronavirus.
April 4, 2020 - 6:13pm
The Department of Foreign Affairs welcome another batch of Filipino repatriates.
The group is composed of 185 seafarers onboard MSC Splendida docked in Genoa, Italy, and 122 seafarers onboard MSC Fantasia docked in Lisbon, Portugal.
The chartered flight that carried the repatriates landed at the NAIA Terminal 1 at 1:12 p.m.
The 307 Filipino repatriates underwent the necessary medical protocols as required by the Bureau of Quarantine of the Department of Health.
April 4, 2020 - 3:20pm
The camp of Vice President Leni Robredo says they are thankful for President Rodrigo Duterte's pronouncement that Robredo had done nothing wrong in helping the government in their efforts to fight the spread of COVID-19.
"Patuloy ang aming panawagan para sa mga donasyon para sa PPE at iba pang ayuda sa ating mga doktor, nars, at iba pang frontliners. Ipinaalala rin natin sa publiko ang mga ruta ng ating shuttle services, na makikita sa ating Facebook page, pati ang mga dorms natin para sa health workers," says lawyer Barry Gutierrez, Robredo's spokesperson.