Hazard pay for health workers, other 'frontliners' vs COVID-19 pushed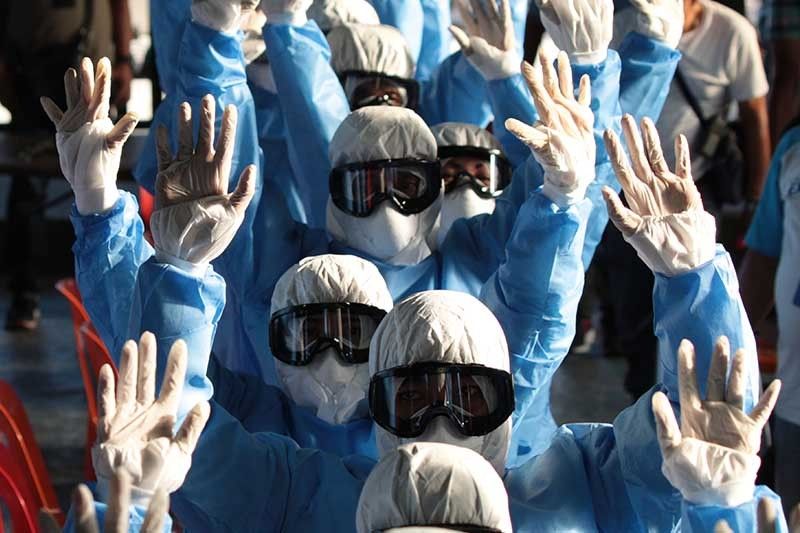 MANILA, Philippines — Sen. Risa Hontiveros on Monday pushed for the grant of hazard pay to "frontliners" of the country's fight to contain the rapidly spreading novel coronavirus disease.
"Every day, our health workers and other heroes from the public and private sector make great sacrifices as they work in the frontlines to stop the spread of COVID-19 in our communities. Let us thank and help them by making sure they receive proper compensation due their efforts," Hontiveros said in a statement.
On Sunday night, the Philippines reported 140 cases of COVID-19 in the country. Twelve fatalities have also been recorded since the first detected case n late January.
Hontiveros said that health workers do not only need face masks and protective wear. "They also need additional takehome pay that is due for their extreme fatigue and risk they endure and face," she added in a mix of English and Filipino.
Rep. Precious Hipolito Castelo (Quezon City) also earlier sought for hazard pay, insurance and other incentives for nurses and other hospital staff.
She noted that the Republic Act 7305 or the Magna Carta of Public Health Workers states this.
Section 21 of RA 7305 provides that "public health workers...under state of calamity or emergency for the duration thereof which expose them to great danger, contagion...or perils to life as determined by the Secretary of Health...shall be compensated hazard allowances."
The hazard allowance is equivalent to at least 25% of their monthly basic salary for public health workers with salary grade 19 and below, and 5% for those with salary grade 20 and above.
Hontiveros said that she hopes health professionals in the private sector may also receive similar additional compensation.
FOLLOW: LIVE updates: COVID-19 in the Philippines and the Metro Manila quarantine
Hazard pay to other fronliners
The senator added that hazard pay should also be given to other government employees working to ensure key public services.
"Let us not forget the traffic enforcers, police, military, immigration officers, barangay tanods, office clerks and other government staff that continue to directly serve the public," she also said.
President Rodrigo Duterte suspended work in the executive branch until April 12, 2020 "without prejudice t the formation of skeletal workforces by government agencies."
She noted that while the law does not require the private sector to give hazard allowances, she urged employees to "take the initiative in providing additional pay," to security guards, bank tellers, cashiers, media workers, shopping attendances, restaurant waiters and hotel staff.
"Without our underappreciated security guards, shopping attendants, cashiers and other workers providing basic services, life in the metro as we know it would grind to a halt. Let us extend a helping hand to these workers who in turn, help preserve some sense of normalcy in our communities, even in these difficult times," Hontiveros added.
The Department of Trade and Industry on Monday made public a March 15 memorandum ordering the closure of all malls in Metro Manila, save for "groceries and supermarkets, banks, pharmacists, health clinics, bookstores, hardware stores, food stalls (take out/delivery only)."
Metro Manila has been on "community quarantine" since Sunday midnight, March 15, and will be so until April 14. — Kristine Joy Patag
As It Happens
LATEST UPDATE: October 1, 2023 - 2:35pm
Follow this page for updates on a mysterious pneumonia outbreak that has struck dozens of people in China.
October 1, 2023 - 2:35pm
New Zealand Prime Minister Chris Hipkins says on Sunday that he had contracted COVID-19, testing positive at a key point in his flailing campaign for re-election.
Hipkins saYS on his official social media feed that he would need to isolate for up to five days -- less than two weeks before his country's general election.
The leader of the centre-left Labour Party said he started to experience cold symptoms on Saturday and had cancelled most of his weekend engagements. — AFP
August 18, 2023 - 4:25pm
The World Health Organization and US health authorities say Friday they are closely monitoring a new variant of COVID-19, although the potential impact of BA.2.86 is currently unknown.
The WHO classified the new variant as one under surveillance "due to the large number (more than 30) of spike gene mutations it carries", it wrote in a bulletin about the pandemic late Thursday.
So far, the variant has only been detected in Israel, Denmark and the United States. — AFP
August 11, 2023 - 7:07pm
The World Health Organization says on Friday that the number of new COVID-19 cases reported worldwide rose by 80% in the last month, days after designating a new "variant of interest".
The WHO declared in May that Covid is no longer a global health emergency, but has warned that the virus will continue to circulate and mutate, causing occasional spikes in infections, hospitalisations and deaths.
In its weekly update, the UN agency said that nations reported nearly 1.5 million new cases from July 10 to August 6, an 80% increase compared to the previous 28 days. — AFP
June 24, 2023 - 11:50am
The head of US intelligence says that there was no evidence that the COVID-19 virus was created in the Chinese government's Wuhan research lab.
In a declassified report, the Office of the Director of National Intelligence (ODNI) says they had no information backing recent claims that three scientists at the lab were some of the very first infected with COVID-19 and may have created the virus themselves.
Drawing on intelligence collected by various member agencies of the US intelligence community (IC), the ODNI report says some scientists at the Wuhan lab had done genetic engineering of coronaviruses similar to COVID-19. — AFP
June 15, 2023 - 5:42pm
Boris Johnson deliberately misled MPs over Covid lockdown-breaking parties in Downing Street when he was prime minister, a UK parliament committee ruled on Thursday.
The cross-party Privileges Committee said Johnson, 58, would have been suspended as an MP for 90 days for "repeated contempts (of parliament) and for seeking to undermine the parliamentary process".
But he avoided any formal sanction by his peers in the House of Commons by resigning as an MP last week.
In his resignation statement last Friday, Johnson pre-empted publication of the committee's conclusions, claiming a political stitch-up, even though the body has a majority from his own party.
He was unrepentant again on Thursday, accusing the committee of being "anti-democratic... to bring about what is intended to be the final knife-thrust in a protracted political assassination".
Calling it "beneath contempt", he said it was "for the people of this to decide who sits in parliament, not Harriet Harman", the veteran opposition Labour MP who chaired the seven-person committee. — AFP