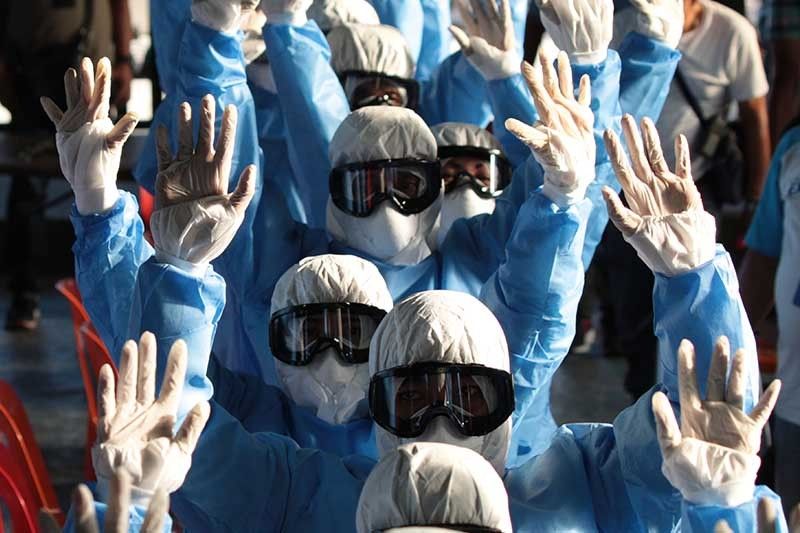 In this photo taken March 13, 2020, personnel from the Quezon City Disaster Risk Reduction and Management Office and the City Health Department train to wear Personal Protective Equipment (PPE).
The STAR/Michael Varcas
Hazard pay for health workers, other 'frontliners' vs COVID-19 pushed
(Philstar.com) - March 16, 2020 - 12:41pm
MANILA, Philippines — Sen. Risa Hontiveros on Monday pushed for the grant of hazard pay to "frontliners" of the country's fight to contain the rapidly spreading novel coronavirus disease.
"Every day, our health workers and other heroes from the public and private sector make great sacrifices as they work in the frontlines to stop the spread of COVID-19 in our communities. Let us thank and help them by making sure they receive proper compensation due their efforts," Hontiveros said in a statement.
On Sunday night, the Philippines reported 140 cases of COVID-19 in the country. Twelve fatalities have also been recorded since the first detected case n late January.
Hontiveros said that health workers do not only need face masks and protective wear. "They also need additional takehome pay that is due for their extreme fatigue and risk they endure and face," she added in a mix of English and Filipino.
Rep. Precious Hipolito Castelo (Quezon City) also earlier sought for hazard pay, insurance and other incentives for nurses and other hospital staff.
She noted that the Republic Act 7305 or the Magna Carta of Public Health Workers states this.
Section 21 of RA 7305 provides that "public health workers...under state of calamity or emergency for the duration thereof which expose them to great danger, contagion...or perils to life as determined by the Secretary of Health...shall be compensated hazard allowances."
The hazard allowance is equivalent to at least 25% of their monthly basic salary for public health workers with salary grade 19 and below, and 5% for those with salary grade 20 and above.
Hontiveros said that she hopes health professionals in the private sector may also receive similar additional compensation.
FOLLOW: LIVE updates: COVID-19 in the Philippines and the Metro Manila quarantine
Hazard pay to other fronliners
The senator added that hazard pay should also be given to other government employees working to ensure key public services.
"Let us not forget the traffic enforcers, police, military, immigration officers, barangay tanods, office clerks and other government staff that continue to directly serve the public," she also said.
President Rodrigo Duterte suspended work in the executive branch until April 12, 2020 "without prejudice t the formation of skeletal workforces by government agencies."
She noted that while the law does not require the private sector to give hazard allowances, she urged employees to "take the initiative in providing additional pay," to security guards, bank tellers, cashiers, media workers, shopping attendances, restaurant waiters and hotel staff.
"Without our underappreciated security guards, shopping attendants, cashiers and other workers providing basic services, life in the metro as we know it would grind to a halt. Let us extend a helping hand to these workers who in turn, help preserve some sense of normalcy in our communities, even in these difficult times," Hontiveros added.
The Department of Trade and Industry on Monday made public a March 15 memorandum ordering the closure of all malls in Metro Manila, save for "groceries and supermarkets, banks, pharmacists, health clinics, bookstores, hardware stores, food stalls (take out/delivery only)."
Metro Manila has been on "community quarantine" since Sunday midnight, March 15, and will be so until April 14. — Kristine Joy Patag
As It Happens
LATEST UPDATE: January 24, 2021 - 3:05pm
Follow this page for updates on a mysterious pneumonia outbreak that has struck dozens of people in China.
January 24, 2021 - 3:05pm
New Zealand health officials on Sunday confirm the first case of COVID-19 in the community for more than two months, sparking urgent contract-tracing efforts north of Auckland.
A 56-year-old woman who recently returned from Europe tested positive 10 days after completing a compulsory two weeks in managed isolation, although she had noticed symptoms several days before getting tested.
Contact tracing was underway after it was revealed the woman and her husband spent several days travelling around the Northland region while she was potentially infectious, visiting about 30 different locations. — AFP
January 23, 2021 - 2:22pm
The World Health Organization says it was too early to draw any conclusions from its mission to Wuhan as to whether the COVID-19 pandemic started in China.
A team of WHO experts arrived in Wuhan on January 14 to start probing the origins of the deadly coronavirus, more than a year after the first cases were detected in the central Chinese city.
They were whisked to a hotel to complete a two-week quarantine. — AFP
January 23, 2021 - 9:15am
Thousands of Hong Kongers are ordered to stay in their homes on Saturday for the city's first coronavirus lockdown as authorities battle an outbreak in one of its poorest and most densely packed districts.
The order bans anyone inside multiple housing blocks within the neighborhood of Jordan from leaving their apartment unless they can show a negative test.
Officials say they planned to test everyone inside the designated zone within 48 hours "in order to achieve the goal of zero cases in the district". — AFP
January 22, 2021 - 2:09pm
The number of people taking their own lives in Japan rose for the first time in over a decade last year, as the pandemic reversed years of progress combatting a stubbornly high suicide rate.
Japan's health and welfare ministry said Friday that 20,919 people died by suicide in 2020 according to preliminary data, up 3.7 percent from the previous year. That compares with 3,460 deaths from coronavirus in the same period.
It marks the first year-on-year rise in suicides in more than a decade, with women and children in particular taking their lives at higher rates. — AFP
January 21, 2021 - 8:02am
The number of US COVID-19 deaths on Wednesday surpassed the country's toll of military fatalities in World War II, according to a tracker maintained by Johns Hopkins University.
As of the evening, the tracker showed that 405,400 people have died from the disease caused by the new coronavirus in the United States.
The total number of combat and non-combat deaths in World War II was 405,399, according to the Department of Veterans Affairs.
The figure is a stark reminder of the pandemic's cost as newly-elected President Joe Biden begins his term. — AFP