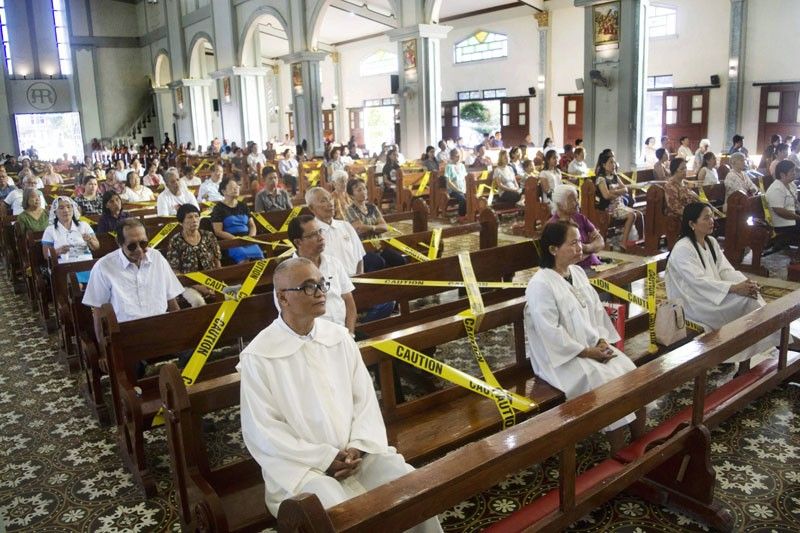 Catholic faithful sit on pews lined with yellow tape as part of social distancing measures at the Borongan Cathedral in Eastern Samar yesterday. Lower photo shows Catholic priest Rymond Ratilla celebrating mass at an empty Chapel of the Nativity of the Blessed Virgin Mary in Quezon City as it is livestreamed on Facebook yesterday.
AFP, AP
'Don't drink coffee during online mass'
MANILA, Philippines — While the present situation prevents Catholics from being physically present in Sunday masses because of coronavirus disease 2019 (COVID-19), Archdiocese of Manila administrator Auxiliary Bishop Broderick Pabillo yesterday suggested that online masses serve as an option.
However, the faithful are encouraged to prepare, participate and be reverent in observing the Sunday masses online.
Bishop Pabillo over the weekend said during this time of community quarantine in Metro Manila and social distancing is advised, they have cancelled masses in churches for a month from March 15 to April 14, and encouraged the faithful to turn to online masses for their daily dose of spiritual enrichment.
To better prepare themselves for the online masses, Pabillo issued a "Pastoral Instruction: How to make most of the Online Holy Mass" and gave tips to maintain the solemnity of the Eucharistic liturgical service.
Pabillo advised, "Do not watch it with a cup of coffee in hand."
Before the mass, people should read the excerpted scripture to prepare themselves. They should also "have a few moments, too, to think what you are to thank the Lord and for what to offer to him this mass. Remember that you are praying this Eucharist with many other fellow Catholics not only in your parish but all over the world."
During the online mass, Catholics are encouraged to stay in reverent gesture, and stand and sit properly.
It is also an opportunity to make online masses a family activity. They could watch online mass together and join in the prayers, responses and singing; and during communion, make the spiritual communion.
After the online mass, in a moment of silence, read the scripture readings and reflect on how to live God's Word that day.
Lastly, the prelate reminded the faithful that COVID-19, while already pandemic in scale, is just temporary and Filipino Catholics would return to the old practice of attending mass in Churches.
"Do not worry. This situation of not being able to come to Church for mass is temporary. May this temporary deprivation bear fruit in a fuller appreciation of the great gift of the Eucharist that we in the Archdiocese are privileged to participate regularly," Pabillo said.
He also added for prayers to be offered to ask the Lord to avert the COVID-19 pandemic.
Meanwhile, in Iloilo City, the Archdiocese of Jaro has gone on to celebrate its regular Sunday masses with no word if it would heed the call of Mayor Jerry Treñas, who earlier asked religious organizations to call off their services for a period of two weeks due to COVID-19.
However, in anticipation of fewer parishioners going to mass, the Archdiocese of Jaro has turned to social media and radio, announcing on its Facebook page Saturday that it would do live broadcasts of holy mass in different radio stations and media platforms "for those who can't attend Holy Mass tomorrow because of sickness or the imminent threat of COVID-19."
Not a sin
"No mortal sin," said Fr. Francisco Dizon, parish priest of the commercial and tourist district of Barangay Balibago in Angeles City, Pampanga, in reaction to reports that many Catholics opted to stay home instead of going to Sunday mass.
Dizon said people who feel threatened by COVID-19 can stay at home, and added, "There are options, there is no need to compel."
He said an emergency meeting will be held today at the Archbishop's residence in the City of San Fernando for more definitive guidelines for Catholics in the archdiocese of Pampanga.
Normally, under Catholic church law, missing mass on Sundays and holy days of obligation is a grievous or mortal sin.
Circular No. 20-14, issued last March 13 by Catholic Bishops' Conference of the Philippines (CBCP) president Archbishop Romulo Valles, gave local bishops throughout the country the decision on how to cope with the COVID-19 crisis.
"Depending on the given circumstances, the Local Ordinaries may exercise their prerogative to dispense the faithful from the Sunday and the Holy Days of Obligation," the circular said.
"We are morally obliged to cooperate and support all the precautionary measures that our health officials and government leaders offer us to keep our people safe and healthy," the circular also said.
Holy Week affected
In a pastoral message, Caloocan Bishop Pablo Virgilio David announced that in their diocese the public would not be allowed to join the activities lined up during Holy Week from April 5 to April 12, since the dates would be covered by the government declared community quarantine period.
"Since the dates for the Metro Manila Community Quarantine will coincide with the last three Sundays of Lent, and Holy Week, the liturgical celebrations during those days, including on Palm Sunday, and the rest of the Holy Week along with Easter Sunday will not be open to the public," said Bishop David.
"There will be no public blessing of palms, no Visita Iglesia, Siete Palabras, Good Friday procession and Easter Salubong," added David, who is also vice president of the CBCP.
As an option, the prelate suggested that the faithful stay at home and follow these Holy Week activities through radio, television and even online.
In a related development, David said he and his fellow bishops of Metro Manila have decided to call for days of penance, prayer and fasting during all the remaining Fridays of Lent.
The dates are March 20 and 27, and April 3 and 10.
David also asked all parish priests to have their parish church bells rung four times daily at 6 a.m., noon, 6 p.m. and 8 p.m.
He said the 6 p.m. angelus would be followed by the praying of the Oratio Imperata, while the 8 p.m. toll would signal the praying of the rosary.
"If the parish church is equipped with external loudspeakers, let us please allow the said prayers to be heard by the faithful," said David. – With Ding Cervantes, Jennifer Rendon