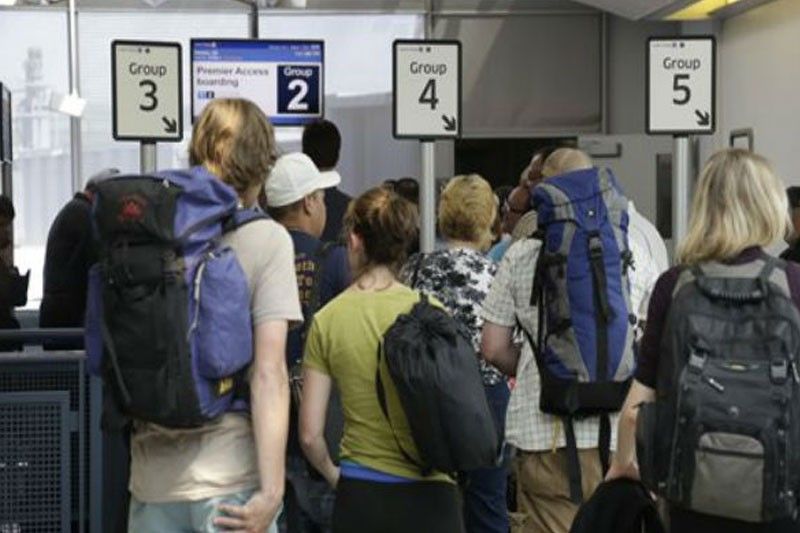 The revised projection was contained in its impact assessment on international tourism report following the outbreak of COVID-19 in the world.
STAR/File
2020 tourist arrivals seen to drop by 1-3%
MANILA, Philippines — International tourist arrivals are expected to drop by one to three percent this year due to the coronavirus disease 2019 (COVID-19) outbreak, with the Asian and Pacific regions projected to have the largest declines, the United Nations World Tourism Organization (UNWTO) said.
The revised projection was contained in its impact assessment on international tourism report following the outbreak of COVID-19 in the world.
"UNWTO has revised its 2020 prospects for international tourist arrivals to a negative growth of one percent to three percent, translating into an estimated loss of $30 to $50 billion in international tourism receipts," the UNWTO said.
It added that Asia and the Pacific will be the worst affected region, with an anticipated fall in arrivals of nine to 12 percent.
"Estimates for other world regions are currently premature in view of the rapidly evolving situation," the UNWTO said.
In 2019, tourist arrivals to worldwide destinations grew four percent to 1.46 billion, meeting the UNWTO's three to four percent target growth for the year. This increase represents the tenth consecutive year of growth in international tourist arrivals.
The UNWTO emphasized that international tourism has seen continued expansion over the past two decades, despite occasional shocks, demonstrating the sector's strength and resilience and benefiting all world regions.
"The sector only experienced declines in 2003 following SARS and the Iraq war and in 2009 amid the economic and the financial crisis, with a strong and rapid recovery the following years," it added, noting that international tourist arrivals have grown by 117 percent since 2000.
UNWTO data show that international tourist arrivals dropped by 0.4 percent or a loss of three million tourist arrivals during the SARS outbreak in 2003, while the global tourism industry posted a four-percent drop in international arrivals in 2009 during the global economic crisis, translating to a decline of 37 million tourist arrivals.
With the COVID-19 outbreak, the international tourist arrivals this year will translate to a drop of around 15 million to 44 million tourist arrivals.
UNWTO Secretary-General Zurab Pololikashvili stressed that impact of COVID-19 outbreak will be felt across the whole tourism value chain, 80 percent of which are small and medium-sized enterprises.
"Political and financial commitments are key to ensure that tourism can lead wider economic and social recovery, as proven in past disruptions on the back of the highly resilient nature of the sector and its ability to bounce back strongly," the UNWTO said.
It emphasized that tourism has come of age in recent decades and is now firmly established as an important contributor to sustainable development, economic growth, employment and international understanding.
"As the UN agency responsible for tourism and sustainable development, UNWTO stands ready to provide guidance and support for recovery measures of its members, the private and public tourism sector, including organizers of tourism events and fairs," the organization said, committing to a continued monitoring and analysis of the impact of COVID-19 to international tourism.