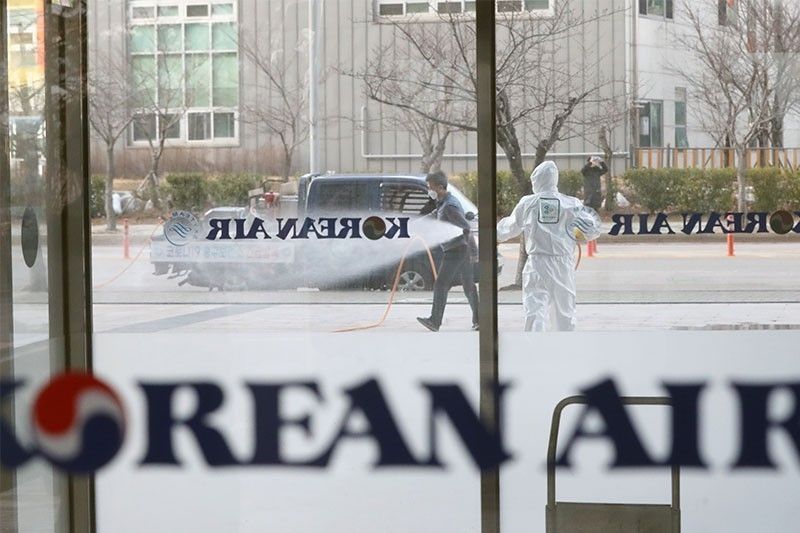 "The Inter-agency Task Force on Emerging Infectious Diseases (IATF) met today (Feb. 26) and it has approved... a ban on the entry of travelers coming from the North Gyeongsang province of South Korea into Philippine territory effective immediately," presidential spokesman Salvador Panelo announced at a press briefing
AFP/Yonhap
Philippines imposes partial travel ban on South Korea
Pinoy tourists can't visit SoKor
MANILA, Philippines — A new travel ban was imposed by the government yesterday, covering visitors from North Gyeongsang province in South Korea where the coronavirus disease 2019 (COVID-19) outbreak dramatically worsened this week.
"The Inter-agency Task Force on Emerging Infectious Diseases (IATF) met today (Feb. 26) and it has approved... a ban on the entry of travelers coming from the North Gyeongsang province of South Korea into Philippine territory effective immediately," presidential spokesman Salvador Panelo announced at a press briefing.
Latest reports said COVID-19 has killed 12 people and infected at least 1,260 others in South Korea, with a majority of them in North Gyeongsang, particularly in Cheongdo county and Daegu City.
The order of Malacañang also bars Filipino tourists from visiting any part of South Korea as a precautionary measure against the COVID-19.
Panelo said travelers from other areas of South Korea are allowed to enter the Philippines, but Filipino tourists are prohibited from visiting any part of the east Asian country.
Permanent residents, those leaving for study and overseas Filipino workers (OFWs) are permitted to travel to South Korea but should sign a declaration stating that they know and understand the risks involved in their trip.
"With respect to other parts of South Korea, the IATF shall conduct a risk assessment of the situation within 48 hours to analyze whether it is necessary to expand the travel ban," Panelo said.
Philippine authorities are expected to coordinate with South Korean counterparts to identify the travelers who had come from North Gyeongsang.
Panelo said visitors from other parts of South Korea would be subjected to strict protocols.
"The safety and security of Filipinos here and outside the Philippines remain our primary concern. Our countrymen's welfare is foremost in our minds as concerned officials discuss updates and recommendations on the management of the coronavirus," he added.
At a separate press conference, Health Secretary Francisco Duque III said: "Filipinos and their foreign spouses or children and holders of permanent resident and diplomatic visas will be allowed entry subject to existing screening and quarantine protocols."
Duque explained that these travelers shall be subjected to existing screening and quarantine protocols of the DOH such as isolating in hospital for 14 days those who manifest symptoms upon entering the Philippines.
If they are asymptomatic, they will have to undergo a 14-day self-quarantine at home.
Meanwhile, Cabinet Secretary Karlo Nograles said Filipinos can travel to other parts of South Korea "granting that they can get some sort of certification that within the last 14 days before they travel to the Philippines, they did not go to North Gyeongsang."
South Korea is the biggest source of tourists for the Philippines, with about 1.45 million South Koreans visiting the country in the first nine months of 2019. In 2018, the number of tourists from South Korea reached 1.6 million or 22.8 percent of the total arrivals that year.
"(Tourism) will be affected (by the restriction) but as we always say, we have to secure the safety of those coming here and leaving this country to Korea," Panelo said.
Earlier, the Philippines prohibited travel to and from China and its administrative regions Macau and Hong Kong to contain the spread of the disease.
No ban expansion
President Duterte is not keen on expanding the travel ban covering South Korea any further, saying it would effectively lock down the Philippines.?"No, I cannot do that. No country can do that… There cannot be a total travel ban and you do not allow anybody to enter," he said in a chance interview at Malacañang.
"For those who are healthy, they should come in. And for those who have been identified from other countries (to be sick with COVID-19), then that is the time that we can raise objection of his entry," he added.
Asked if he had plans regarding the existing travel ban on China, Duterte said it would be up to health officials to decide whether to retain or lift the travel restriction to and from China and its administrative regions Hong Kong and Macau.
Incoming flights cancelled
Bureau of Immigration spokesperson Dana Sandoval said incoming flights from South Korea that were scheduled to arrive last night were already advised of the travel ban by the Civil Aeronautics Board (CAB).
They were Korean Airlines flight KE 623 with expected time of arrival at 9:20 p.m.; Jeju Air 2305 with ETA at 10:20 p.m.; Asiana flight OZ 703, ETA at 10:30 p.m. and PR 469 with ETA at 11:40 p.m.
However, passengers of incoming AirAsia Philippines flight Z2 885 that arrived at 3:37 p.m. were allowed entry.
Even before the travel ban announced by the Palace, Singapore already announced a no-entry policy for visitors from South Korea's Cheongdo county and Daegu City as well as first-time visitors who had been to the two areas in the last 14 days.
Flights from Korea under BOQ watch
Bureau of Quarantine (BOQ) personnel at the Ninoy Aquino International Airport (NAIA) terminals are now also focusing their thermal scanners on all passengers from South Korea.
Yesterday morning, BOQ officers thoroughly scanned arriving passengers from Incheon, South Korea aboard the Asiana Airlines flight at 10:45 a.m. and the Korean Air flight at 11:20 a.m.
Eleven incoming flights from Incheon arrive every day at NAIA Terminals 1, 2 and 3.
A source at NAIA said the IATF is closely monitoring how the Korea Centers for Disease Control and Prevention (KCDC) is handling the COVID-19 outbreak in Korea.
Flight from Daegu
Sen. Imee Marcos said a flight from South Korea's worst COVID-hit area arrived in the country the other night.
"The government is focused on placing the Filipino crewmembers of the Diamond Princess from Japan under quarantine, but it seems oblivious to the tourists coming in from Korea," Marcos said in Filipino.
Marcos cited the fact that a direct flight from Daegu, where 791 individuals have been infected with COVID-19 as of last Tuesday, landed in Cebu before 11 p.m. the same day.
Prior to the declaration of the travel ban, she urged the government to decide immediately on measures that must be taken to keep the sudden surge in COVID-19 cases in South Korea from reaching the country.
"The WHO had already warned developing countries that the weaknesses of their health care system will be the reason for the spread of COVID-19. Acting decisively is our best defense," Marcos said.
Repatriation unlikely
A mass repatriation of OFWs based in South Korea and Iran seem unlikely at this point even as the number of COVID-19 cases has risen dramatically in the two countries.
Labor Secretary Silvestre Bello III said the Department of Labor and Employment (DOLE) has so far not received any request for repatriation of OFWs in either country.
"Cases of COVID are rising in Korea, but no Filipino has been afflicted with the virus," Bello pointed out.
He explained that unlike in Hong Kong, most of the OFWs in South Korea are not household service workers (HSWs) but skilled workers employed in factories which might present a more controlled environment.
However, Bello said that in the event the IATF imposes a travel ban on South Korea, then the DOLE and the Overseas Workers Welfare Administration (OWWA) are ready to provide the necessary assistance.
Meanwhile, job recruiters claimed that as of yesterday, many Filipino HSWs were still unable to leave for their jobs in Hong Kong and Macau due to lack of flights.
Recruiters estimated about 10,000 Hong Kong- and Macau-bound workers were still stranded in Manila.
"The tickets they are holding are for local carriers PAL, Cebu Pacific and AirAsia which have not resumed regular flights to those countries," an officer of a recruitment agency said.
Locsin in Oman
In another development overseas, Foreign Affairs Secretary Teodoro Locsin Jr. visited the two Philippine Navy (PN) ships anchored at Port Sultan Qaboos upon his arrival in Muscat, Oman last Monday.
Locsin underscored the positive image of the Philippines because of the presence of BRP Davao del Sur and BRP Ramon Alcaraz, which were deployed to Oman last month as part of the Philippines' preparations and contingency planning for any crisis in the Middle East.
Locsin was received by Armed Forces of the Philippines (AFP) vice chief of staff Vice Admiral Gaudencio Collado Jr. and the 391 crew of the two ships, referred to as "the iron glove in Philippine diplomacy." – With Rudy Santos, Mayen Jaymalin, Pia Lee-Brago