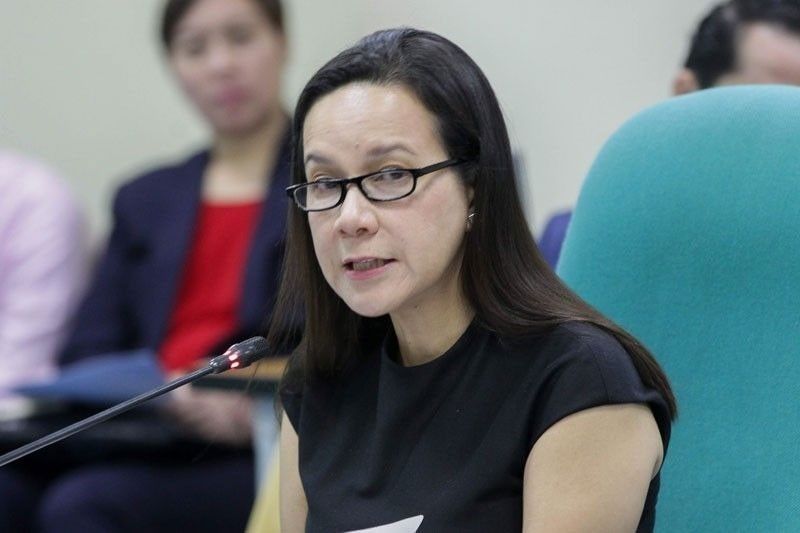 Poe said members of the House of Representatives should make their assurances to ABS-CBN more concrete.
STAR/Geremy Pintolo/File
Poe: Prove ABS-CBN can operate beyond franchise term
MANILA, Philippines — Sen. Grace Poe called on her fellow lawmakers yesterday to ensure that broadcasting network ABS-CBN would continue to operate beyond the expiration of its franchise while Congress deliberates on its case to protect over 11,000 workers from displacement.
Poe said members of the House of Representatives should make their assurances to ABS-CBN more concrete.
"Even if they say that it can be extended until 2022, perhaps it's better to put it in writing or have Congress verbalize: 'We commit to give ABS-CBN through the National Telecommunications Commission a temporary permit to operate' because that's not written in the law," she said in mixed Filipino and English.
Poe, chairperson of the Senate committee on public services, said the statements of congressmen supposedly assuring the network that it can continue operating even when its franchise expires next month amount to little if not put in writing.
"That is just a courtesy being extended by Congress and the NTC," Poe said. "Stopping the operations is no joke because we all know that 11,000 jobs will be affected."
In the House, an administration lawmaker shares Poe's view.
Rep. Alfredo Garbin Jr. said both houses of Congress can issue a joint resolution directing the NTC to keep the status quo.
"A Joint Concurrent Resolution expressing to the NTC that it can formally recognize precedent situations to maintain the status quo while the franchises are pending in Congress," the congressman from party-list Ako Bicol suggested.
Earlier, Poe filed Senate Resolution No. 322 directing the Senate committee on public services to conduct an inquiry to determine ABS-CBN's compliance to the terms of its franchise. Several senators are supporting the resolution.
Poe said the hearings would aid the senators in making judgment when the franchise bill is transmitted to them for deliberation.
The House of Representatives has yet to begin deliberations on the application. House leaders, however, gave assurance that ABS-CBN could continue operating until 2022 or the end of the 18th Congress while its franchise is being discussed.
Poe said the Senate inquiry would focus on the network's alleged violations. All parties will be given an opportunity to air their side for the public to know the real issue.
She said there are many franchises that have deficiencies based on the experience of the committee in hearing applications.
"There's no doubt ABS-CBN provides service to the people but let's also weigh this against its supposed shortcomings," Poe said.
An infrastructure-oriented think tank warned that President Duterte has the final say on whether ABS-CBN will be allowed to operate after the lapse of its franchise on March 30, despite assurances from congressmen and senators that the network can continue its broadcast beyond the term of its franchise.
"While the strong views of congressmen and senators on ABS-CBN's franchise holdover are very comforting to the network, its employees and advocates of press freedom, we should be reminded that the President can still order the uniformed personnel and other agencies to literally and figuratively shut down the network after March 30," said Terry Ridon, Infrawatch PH convenor and former House legislative franchise committee member.
"With no favorable presidential pronouncement in sight, the public should brace for this unfortunate prospect. Wide public support remains key to stop an escalation from happening," Ridon said.
Meanwhile, Speaker Alan Peter Cayetano has assured the public that the House will welcome all comments and position papers that will be conveyed or submitted to its panel hearing.
"I request we join the issues. All those opposed to renewing the franchise, submit your comments to the House committee on legislative franchises, which will forward these to ABS-CBN so they can already respond. That's the way our democracy works," he said.
The administration stalwart, who vowed a fair and impartial hearing on the TV network's move to renew its franchise for another 25 years, insisted that "this is not a race against time, but a race towards justice and democracy. – With Delon Porcalla