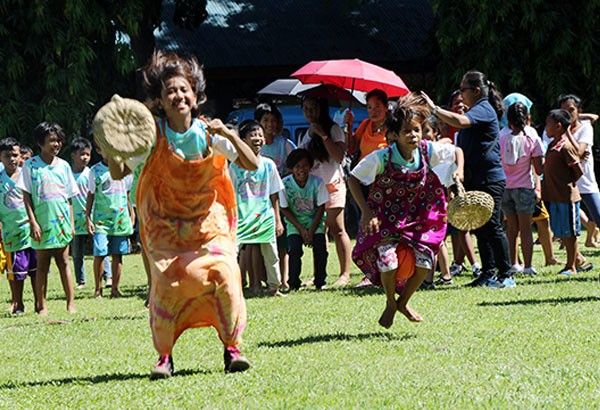 Grace delos Santos, president of Diabetes Philippines, said instead of giving children gadgets, parents should encourage kids to play larong Pinoy outside their homes
The STAR/ File
Traditional Filipino games eyed vs diabetes
MANILA, Philippines — Health experts yesterday pushed for the return of "larong Pinoy" or traditional Filipino games to help control the high prevalence of diabetes in the country.
Grace delos Santos, president of Diabetes Philippines, said instead of giving children gadgets, parents should encourage kids to play larong Pinoy outside their homes.
Delos Santos lamented that traditional games like tumbang preso, patintero, luksong baka and piko seem to have been forgotten with the advent of new technologies.
She proposed the return of traditional Filipino games to promote physical activity and healthy lifestyle among children to curb the rising prevalence of diabetes.
"We can see children, upon entering a restaurant or wherever, they look at their gadgets, there are no physical activities," Delos Santos pointed out.
Theresa Faller, president of the American Association of Clinical Endocrinologists-Philippine chapter, also cited the need for children to pick up sports activities.
"By providing them with these gadgets, we do not actually encourage them to go out. But we have to encourage our children to engage in sports," Faller noted.
"Sports environment should be a very important advocacy for our children," Faller added.
Both doctors said that early intervention is vital for the country to address the problem of diabetes.
They said diabetes is a hereditary disease, but studies show that diabetes in the family can still be arrested.
"Once you know you have diabetic parents, it does not mean you are doomed to be diabetic in the future. It's up to you, it is your choice," Faller said.
Based on Philippine Society of Endocrinology, Diabetes and Metabolism (PSEDM) data, 7.8 percent of Filipinos are diabetic, while another 8.2 percent are considered to be at pre-diabetic stage.
"The data that we have for diabetes is really becoming dangerous. About 15-16 percent of our population are in the diabetes range," PSEDM president Jeremy Robles said.
Yesterday, the country succeeded in setting a Guinness World Record for the Most Number of People Opening Umbrellas Simultaneously as nearly 3,500 people participated in the Diabetes Awareness campaign at Quezon City Memorial Circle.
Lions Club-Diabetes Awareness and Action Committee chair Rafael Encarnacion said a total of 3,347 people simultaneously opened their blue umbrellas during the morning event.
"It was a dream, it was not really a target (to reach 3,500). As far as I'm concerned, we won because we were able to draw the attention to diabetes," Encarnacion said.
The world record setting event showcased the global symbol for diabetes awareness and signified unity of the diabetes community to address the diabetes epidemic.