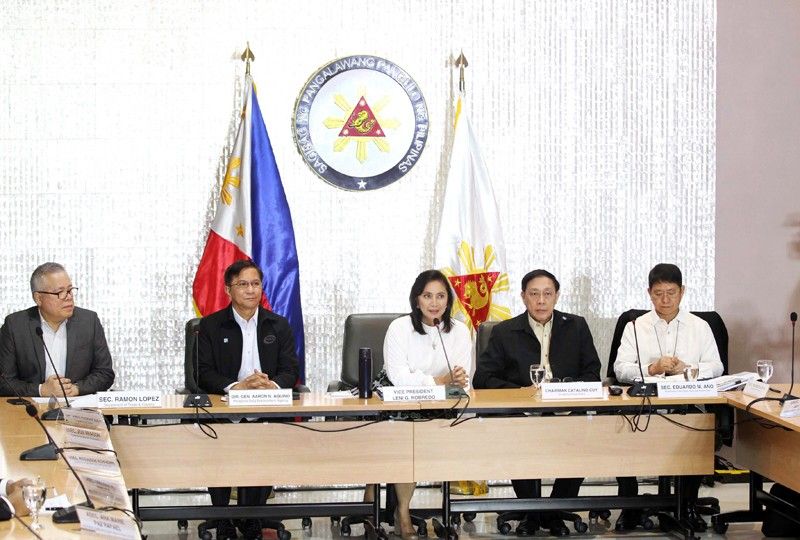 Vice President Leni Robredo leads the meeting of the government's Inter-Agency Committee on Anti-Illegal Drugs with co-chairman and Philippine Drug Enforcement Agency director general Aaron Aquino (2nd from left), Interior and Local Government Secretary Eduardo Año (right), Trade and Industry Secretary Ramon Lopez (left) and Dangerous Drugs Board chairman Catalino Cuy at the Quezon City Reception House yesterday.
Boy Santos
PNP chief assures VP of rule of law
MANILA, Philippines — Now at the helm of the anti-drug campaign, Vice President Leni Robredo has received assurance from the Philippine National Police (PNP) that all operations against drug offenders would be carried out "in accordance with the rule of law."
"Earlier today, I was assured by the OIC (officer in charge) PNP chief that all operations will be in accordance with the rule of law," Robredo said at a press conference, referring to Lt. Gen. Archie Francisco Gamboa, after presiding over her first meeting with the members of the Inter-Agency Committee on Anti-Illegal Drugs (ICAD).
Replying to a question, Robredo also made it clear there's no need for the United Nations to investigate alleged cases of abuse in anti-drug operations.
"I have said this time and again, that I feel that our problem should first be solved internally," Robredo said.
"If there's nothing to hide, then what are we careful for? But you know, I would rather that we take care of whatever we have to take care of," she added.
Among those who attended the meeting at the Quezon City Reception House yesterday afternoon aside from Gamboa were Interior Secretary Eduardo Año, Trade Secretary Ramon Lopez, Philippine Drug Enforcement Agency (PDEA) director-general Aaron Aquino, Bureau of Corrections director-general Gerald Bantag and Dangerous Drugs Board chair Catalino Cuy.
The Vice President said she listened to updates from the five clusters under the ICAD during the closed-door meeting, which lasted for two and a half hours.
The meeting was held two days after Robredo accepted her appointment as co-chairperson of the ICAD, along with Aquino.
"This afternoon was really a listening exercise for me. I asked for a briefing from the different agencies," she said.
"What we agreed upon after today was that I will be holding small meetings either with the clusters or with the different agencies (to discuss) my concerns, I don't want to belabor everyone with all my issues," Robredo said.
The Vice President also proposed additional metrics in determining the success of the drug war and to make "quantifiable and realistic" targets "time-bound."
In her opening speech, the Vice President called on the ICAD member-agencies to rethink its strategies to end the "senseless killings" in the war against illegal narcotics.
"Because of the many senseless killings that accompanied police operation, it has reached a certain level of notoriety that when you say tokhang, it is a war against the poor," Robredo said.
Aquino, who joined Robredo at the press conference, challenged her to join in the police's actual illegal drug operations to see for herself if there are really lapses on the part of the law enforcers.
"Maybe ma'am I could ask you to join us in one of the operations. I will also be there together with you from the planning stage, during the conduct of operation and after the conduct of operation," the PDEA chief told Robredo.
"That is my challenge to you. At least in that way you will be able to see whether there are lapses or defects on the part of our law enforcers during operations," he said.
Robredo replied to Aquino, "Maraming salamat. Gustong gusto ko yan (Thank you, I like that)."
"Yesterday, I wrote a letter to Malacañang asking the President for the guidance, specific functions by our co-chair VP Leni," he said, apologizing to Robredo for making such a move.
"Sorry, I did this without malice ma'am, I'm just confused with her position as co-chair. How she could have a Cabinet post if she is just a co-chair," Aquino said.
Robredo said she plans to dig into the details of the crackdown, as she expressed belief any misconduct should be confronted "internally."
This was Robredo's response when asked by a foreign journalist whether she maintains her earlier statement favoring a UN probe on Duterte's drug war.
"If I was already of the impression after going around, after meeting with the different clusters, after that they have the information that they need to have, if I believe that the government is not doing anything to punish whoever needs to be punished or to put to justice whatever needs to be put to justice, then I don't have any problems with inviting them (UN human rights experts) over," she said.
"Now instead of criticizing the President, she's now in charge – and she will be able to see better now how hard the job of the President is. The Vice President said she doesn't want the innocents to get harmed. The President and I don't want it either," Sen. Christopher "Bong" Go said.
In what could be the first major drug case to confront ICAD under Robredo, the Bureau Of Customs (BOC) and the PDEA yesterday seized six kilos of shabu worth some P40.8 million at the Ninoy Aquino International Airport Terminal 3 from a Filipina worker returning from Siem Reap, Cambodia.
Customs NAIA district collector Mimel Talusan identified the passenger as 28-year-old Ruzol Marie Guillermo from Marikina City. She arrived on Cebu Pacific flight 5J 258 at around 4 a.m. yesterday.
Earlier yesterday, National Capital Region Police Office (NCRPO) chief Brig. Gen. Debold Sinas said Robredo would be allowed to join anti-drug operations in Metro Manila if she wishes to – and if her safety is guaranteed.
"Why not if she's available, we will. But of course she is the Vice President and her security is important. Her security details might not allow her to join us," he said.
On Robredo's declaration that there would zero killings in the drug campaign with her at the helm, Sinas said policemen are just as much averse to engaging drug offenders in gunfights.
"We also don't engage in gunfighting. But when they shoot at us first, we have to defend ourselves," he said.
Also yesterday, PNP spokesman Brig. Gen. Bernard Banac said it has never been the policy of the police force to kill drug offenders.
"It's not in our policy to have people killed in the anti-drug campaign," Banac said in Filipino.
Banac gave the assurance in reaction to Robredo's call for an end to what she described as senseless killings in the anti-drug campaign.
According to Banac, police officers will only use force if drug suspects resist arrest or if they fight back.
The PNP earlier said at least 6,800 suspected drug pushers and users have been killed in alleged shootout with law enforcers since President Duterte assumed office in July 2016.
Detained Sen. Leila de Lima has expressed support for Robredo's decision to accept Duterte's job offer.
"Now the ball is in the administration's court. As VP Leni accepted the role offered to her, the President and his underlings need to fall in line and give the VP all the help that she needs to succeed," she said in a statement.
Robredo also received a message of congratulations from the US embassy. "We look forward to continuing to work together as #FriendsPartnersAllies to support Philippine government drug demand reduction efforts," Ambassador Sung Kim said on Twitter.