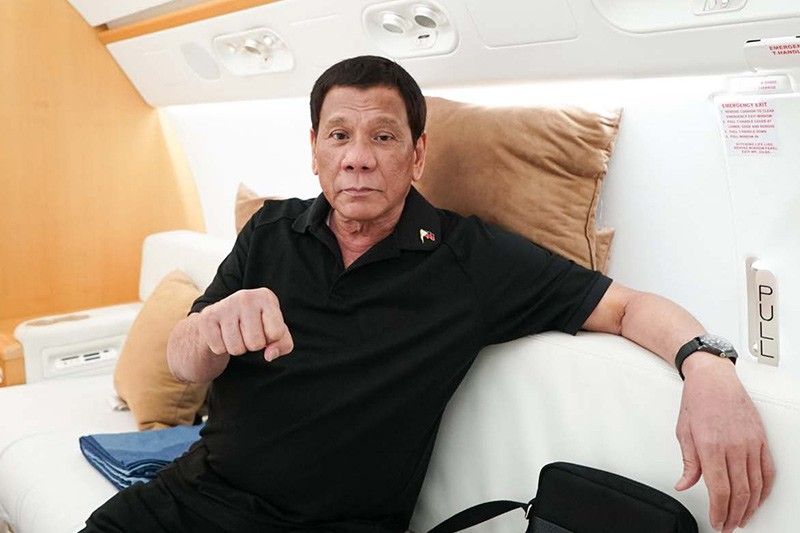 President Rodrigo Duterte flashes his signature pose while onboard a plane bound for the People's Republic of China at the Villamor Air Base in Pasay City on Aug. 28, 2019.
King Rodriguez/Presidential Photo
Duterte to push through with Thailand trip as Mindanao reels from powerful quake

MANILA, Philippines — Despite the magnitude 6.5 earthquake that jolted parts of Mindanao, President Rodrigo Duterte is pushing through with his trip to Thailand to attend the Association of Southeast Asian Nations Summit.
Duterte, who is scheduled to leave for Thailand Friday afternooon, November 1, ordered agencies to assist communities affected by the earthquake, the second strong tremor to rock the southern island this week.
"The president has ordered the national government, through its pertinent bureaus and agencies, to render immediate assistance in whatever form required under the premises," presidential spokesperson Salvador Panelo said in a statement Thursday.
"In this connection, the president shall push through with his trip to Bangkok, Thailand tomorrow afternoon to participate in the 35th ASEAN Summit and Related Summits," he added.
Panelo said the president was "conscientiously" monitoring the situation in quake-hit areas from his residence in Davao City.
"The president, however, deems it appropriate to refrain from personally inspecting the disaster-stricken areas and directing actions in response to the catastrophe as there are already ongoing operations by the responsible local government units, and they have so far effectively responded to the current critical situation," he added.
Duterte has named Executive Secretary Salvador Medialdea as officer-in-charge of the executive branch while he is in Thailand from November 1 to 4.
As It Happens
LATEST UPDATE: November 18, 2019 - 2:53pm
Follow updates in the aftermath of the 6.6 and 6.5 magnitude quakes that rocked Mindanao in a span of days.
November 18, 2019 - 2:53pm
The municipal government of the earthquake-wracked Makilala town in North Cotabato has extended the suspension of classes in 12 campuses where there are buildings still being inspected for damages.
Thousands of structures, including houses and dozens of school buildings and gymnasiums were destroyed by earthquakes the jolted North Cotabato province and its capital, Kidapawan City, in the past four weeks.
Except for those in Ilomavis, Perez and Balabag areas in Kidapawan City, most schools in its barangays opened November 13 yet, under tight watch by emergency monitoring teams under the office of Mayor Joseph Evangelista.
Kidapawan City is the capital of North Cotabato, a component-province of Administrative Region 12. — The STAR/John Unson
November 8, 2019 - 5:16pm
Officials place at P3 billion their initial estimate of losses in businesses in Kidapawan City due to earthquakes that jolted the area the past three weeks.
Psalmer Bernalte of the Kidapawan City Disaster Risk Reduction and Management Office, or DRRMO, says one reason for the constraint is the closure of commercial establishments in buildings whose structural durability are still subject to assessment by engineers.
Among those that Kidapawan City Mayor Joseph Evangelista ordered shut were shopping malls, grocery stores, banks, restaurants and food outlets operating on national franchises.
Bernalte, chief of the DRRMO, says the owner alone of the Eva's commercial building along a stretch of the Cotabato-Davao Highway straddling through the center of Kidapawan City lost about P1 billion when a strong aftershock destroyed the tall structure on October 31.
Kidapawan City and nearby North Cotabato towns were first jolted by a magnitude 6.3 foreshock on October 16, followed by no fewer than 2,000 aftershocks since. — The STAR/John Unson
November 6, 2019 - 2:27pm
More relief goods were transported to earthquake-hit parts of North Cotabato on Wednesday from benefactors from the southern part of Central Mindanao.
The Army's 6th Infantry Division delivered to North Cotabato more than a thousand gallons of purified water and tarpaulins that evacuees can use as roofing for makeshift shelters.
The Bangsamoro regional government delivered again Wednesday a truckload of relief goods to Kidapawan City, capital of North Cotabato, to complement the relief operations of the provincial government.
Major Gen. Diosdado Carreon, commander of 6th ID, says a number of their vehicles have also been dispatched to North Cotabato to help transport to evacuations sites villagers whose houses in remote barangays were destroyed by earthquakes.
The provincial government of Lanao del Sur had set up an outdoor clinic in Makilala town to attend to the needs of sick evacuees. — The STAR/John Unson
November 5, 2019 - 3:00pm
The strong tornado that ripped through five barangays in Marawi City Monday destroyed 43 houses, an auditorium, seven classrooms and a private vehicle, officials say Tuesday.
Key members of the Lanao del Sur provincial disaster risk reduction and management council said the office of Gov. Mamintal Adiong, Jr. is now attending to the needs of affected residents.
The strong tornado struck five barangays in Marawi City — Sagonsongan, Barrio Fort, Bangon, Green and Saber — whose residents are yet to fully recover from the May 23 to August 16, 2019 conflict that ravaged their villages, instigated by the Maute terror group. — The STAR/John Unson
November 4, 2019 - 3:43pm
Evacuees in North Cotabato displaced by powerful earthquakes last week have no access to water or restrooms.
Houses in North Cotabato's adjoining Matalam, Mlang and Tulunan towns and in the provincial capital, Kidapawan City, were destroyed by strong episodes of earthquakes that jolted the province and nearby areas in Central Mindanao from October 16 to October 31.
The Rapid Emergency Action on Disaster Incidence outfit of the Bangsamoro Autonomous Region in Muslim Mindanao has started distributing tarpaulins for makeshift shelters and other relief provisions to tremor-stricken communities in North Cotabato province in Administrative Region 12.
The Bangsamoro regional government dispatched no less than 10 tons of relief supplies to North Cotabato on Monday.
Residents of Barangay Malasila in Makilala town in North Cotabato have urged government agencies extending relief and rehabilitation services to earthquake-stricken communities in the province to help them fix immediately a bridge traversing a river separating villages that were badly affected by tremors that jolted Central Mindanao the past 19 days.
Barangay leaders say they need a good welder who can piece together its broken railings to preclude accidents while villagers are being relocated to evacuation sites using the footbridge. — The STAR/John Unson