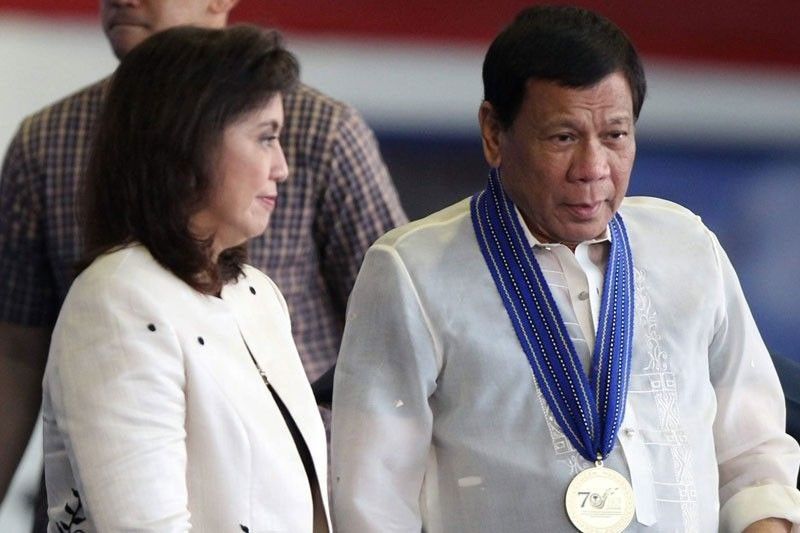 President Rodrigo Duterte said he wanted to see how VicePresident Leni Robredo would handle the drug problem if she possessed the power for six months.
KrizJohn Rosales
Duterte tells Robredo: Drug war yours if you want it
MANILA, Philippines — After Vice President and opposition leader Leni Robredo suggested a "tweaking" of the administration's controversial war on drugs, President Duterte yesterday expressed readiness to let her take charge of the campaign.
Duterte said he wanted to see how Robredo would handle the drug problem if she possessed the power for six months.
"I am sending a letter to her through Executive Secretary (Salvador) Medialdea. I will surrender the power to enforce the law, I will give it to the Vice President, I will let her have it for six months," the President said during the oath-taking of new appointees in Malacañang.
"Siya ang magdala, tingnan natin kung ano'ng mangyari. Mas bright ka? Ikaw, subukan mo (I will let her handle it. Let's see what will happen. You are brighter? Go ahead, try it)," he added.
In an ambush interview, Duterte contradicted himself, saying he is not surrendering anything to Robredo.
"I do not surrender anything. I said if she wants, I can commission her to be the drug czar," the President said.
"You complain a lot outside... Now, you are smarter than I, I'll hand in to you full powers on drugs. I'll give you six months. Let's see if you can do it," he added.
Duterte said such setup would give Robredo a clean slate so she would know how "easy" it is to control the narcotics problem.
The Chief Executive, however, said he would not stop Robredo from expressing dissent.
"This is a democracy. Nobody but nobody can order anybody to shut up," Duterte said.
The President added that he was ready to hand over the power to Robredo anytime.
"I can talk to her tonight and I will order tomorrow everybody should follow her in the matter of a drug issue. Siya na (She will be it)," the Chief Executive said.
P210-B industry
The deeply entrenched drug menace in the Philippines is actually a P210-billion annual industry, which is why Duterte is having a hard time nipping the illegal substance in the bud, Speaker Alan Peter Cayetano said yesterday.
"You have been reporting billions like the P6.4 billion that slipped through (the Bureau of) Customs. But remember, this is a P210-billion industry. And this is just for shabu alone. That is the real magnitude that we have to eradicate," Cayetano told journalists.
The leader of the 300-member House of Representatives made this disclosure to reporters when he celebrated his 49th birthday yesterday by leading the flag ceremony at the Batasang Pambansa complex in Quezon City.
At the same time, the Taguig congressman begged to disagree with Robredo's observation that Duterte's campaign against the proliferation of drugs has failed miserably.
"It's not a failure, I disagree with her. What the VP said is that many have been killed but there are still many pushers. But in truth, many are also afraid to go into drugs," Cayetano clarified.
"But we also have to ask the question: why (do) more than 80 percent of our people believe that it's safer now in the Philippines?" the administration stalwart from the PDP-Laban allied Nacionalista Party asked, highlighting the other side which is hardly newsworthy.
A survey conducted by Pulse Asia in December 2016 showed that about 81 percent of Filipinos felt safer due to Duterte's war on drugs.
"Yes, there are problems, even in the police organization itself. What is happening now only highlights and proves the point of the President of how difficult it is to fight this drug industry, which has penetrated the (Philippine National Police), the justice system, the prosecutors," he said.
A case in point was the alleged involvement of former PNP chief Gen. Oscar Albayalde, whose team, with members popularly known as "ninja cops," was implicated in the recycling of about billions worth of seized drugs from a raid they conducted in Pampanga sometime in 2013.
"I really hope that what the VP said was different, because the way it came out is that there should be no war on drugs," he said. "So we have to be careful of our words, especially number two siya sa Pilipinas."
Military deployment to NBP
Meanwhile, an administration lawmaker has proposed the deployment of military personnel to the graft-ridden New Bilibid Prison (NBP) in Muntinlupa City if only to cleanse the national penitentiary of rogue jail guards and officials benefitting from influential and moneyed inmates.
"Perhaps, temporarily, so that we can resolve the matter. I would not hesitate – if the President would decide – I would support that members of the Armed Forces of the Philippines be deployed there just to fix the situation," Anakalusugan party-list Rep. Mike Defensor suggested.
Defensor broached the idea following reports that even members of the elite Special Action Force (SAF) of the PNP have been corrupted by the well-entrenched system inside the NBP.
This despite the replacement of former Bureau of Corrections (BuCor) director-general Nicanor Faeldon, who figured in the allegedly multimillion-peso good conduct time allowance (GCTA) scam at the NBP, by former Bureau of Jail Management and Penology official Gerald Bantag.
"Definitely, our GCTA experience should not happen again. The law should be corrected," Defensor said, insisting that alleged drug trafficking inside the penitentiary should be stopped and that criminal cases against those involved should be filed in courts.
As far as ACT-CIS party-list Rep. Eric Go Yap is concerned, the fact that these alleged rogue SAF personnel that connived with NBP officials have been identified is actually a good development.
"The fact that they were apprehended, I think, is a good development, and that means our new BuCor chief is taking action. This is because the smuggling of drugs, contraband, cellular phones and the like have never been confiscated before," Yap said.
"We have to be tough on them. It is because people should be afraid of the government and not the other way around. Let's also monitor if ever charges will indeed be filed against these rogue cops," he added.
Term-sharing
Cayetano reassured the public that he would honor the term-sharing agreement with Marinduque Rep. Lord Allan Velasco who will succeed him in late 2020.
"I'm planning for 15 months and, so far, we already have three months. So, hopefully we can focus on our work and until that time, perhaps, it would be best if we only do what we have to do. Otherwise, there might be disunity," Cayetano told reporters.
"For me, we can be more productive if we just do our job. After the 15th month, perhaps I have to say I've done my job. Now, the question is did I do it well or not? So, that is where I want to focus first," he added.
Cayateno nevertheless expressed openness to the idea of extending his leadership until 2022, but only if this is OK with Velasco.
"Am I open to the possibility? If Congressman Velasco himself would tell me: go ahead finish the term, then why should I force him to?" he said.
"We believe in our own leadership because how can others believe in my leadership if I don't even believe in my own leadership? Having said that, Congressman Velasco also has the leadership, following, and he's a member of the President's party and I respect that," he added. – With Delon Porcalla