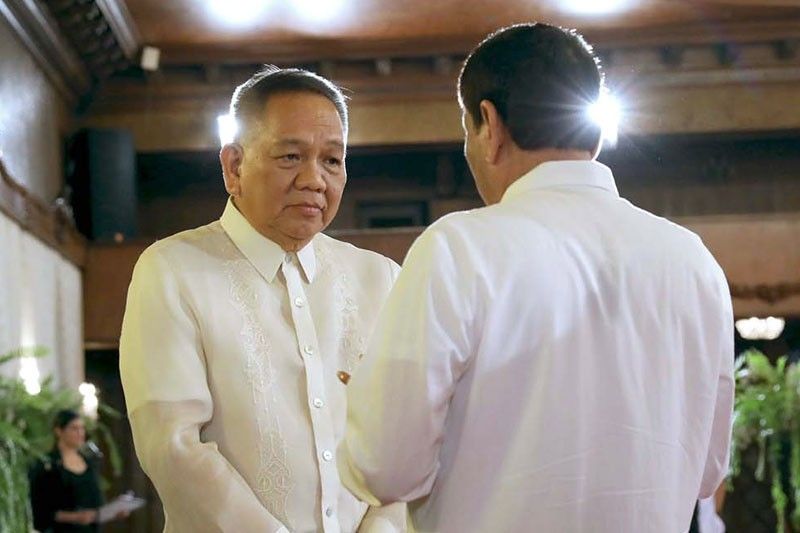 President Rodrigo Duterte discusses matters with newly appointed Supreme Court Chief Justice Diosdado Peralta following the oath-taking ceremony at the Malacañan Palace on October 24, 2019.
Karl Norman Alonzo/Presidential Photo
'Peralta's seniority a factor in selection for chief justice'
MANILA, Philippines — With "all things being more or less equal" in the recent quest for chief justice, Justice Secretary Menardo Guevarra yesterday said seniority may have played in favor of then Associate Justice Diosdado Peralta.
Malacañang announced on Wednesday its appointment of Peralta as the 26th chief justice, succeeding Lucas Bersamin who retired.
"All things being more or less equal, seniority will come into play, as I think it did in favor of Chief Justice Peralta," Guevarra said.
With Peralta taking the helm at the high court, the DOJ chief said they look forward to fast resolution of cases. "Knowing CJ Peralta's background, I think he will continue to focus on speedy trial," he said.
Peralta is the second most senior SC magistrate, next to Senior Associate Justice Antonio Carpio who is set to retire tomorrow. Peralta joined the high tribunal 10 years ago, as its 162nd associate justice on Jan. 13, 2009.
Integrated Bar of the Philippines (IBP) national president Domingo Egon Cayosa shared Guevarra's opinion regarding seniority.
"The seniority tradition was maintained in the appointment of Chief Justice Diosdado Peralta who has served the longest as Associate Justice of the Supreme Court among the three aspirants nominated by the Judicial and Bar Council," said Cayosa.
Two other associate justices, namely Estela Perlas-Bernabe and Andres Reyes Jr., made it to the shortlist of chief justice applicants.
"We are hopeful that under his leadership the judiciary will resolve cases much faster, inasmuch as his 25 years as magistrate are notable for speedy disposition of cases and innovations to expedite court processes," he said.
He also assured the new Chief Justice that the IBP would cooperate with him in order to achieve the "Justice Bilis" thrust of the SC.
Meanwhile, University of Santo Tomas (UST) Faculty of Civil Law dean Nilo Divina said they are proud to have an alumnus – regarded as "one of the best jurists in the country" – appointed to lead the SC.
"We rejoice in the appointment of one of the best jurists in our country. The UST Faculty of Civil Law is extremely proud of his accomplishments," Divina said. "Chief Justice Peralta is a man of wisdom and action. I am confident that during his tenure, the Supreme Court will become an even more cohesive and respectable institution."
National Union of People's Lawyers (NUPL)'s Edre Olalia said they hope Peralta would "uphold judicial independence, preserve the separation of powers and guarantee checks and balances."
"They also expect him to lead in strengthening public confidence in the judicial system by instituting procedural reforms and insulate it from political influence, behest and accommodation. The bench and bar also enjoin him to take concrete and effective measures to protect them from attacks," Olalia said.
"Finally, we call on him to tilt the balance between the powerful and influential and the poor and the oppressed and prove that the Court is the last bastion of democracy. Otherwise, the system will be perceived by the public as just another political institution garbed in legal niceties and majesty but essentially beholden to the political and economic powers that be," he added.
Sen. Panfilo Lacson said the President "couldn't have chosen a better qualified Chief Justice."
"Chief Justice Peralta is backed by a wealth of judicial experience, having started his career as a prosecutor, then as RTC (regional trial court) judge, Sandiganbayan presiding justice and a Senior Associate Justice of the Court for more than a decade," said Lacson. – With Cecille Suerte Felipe