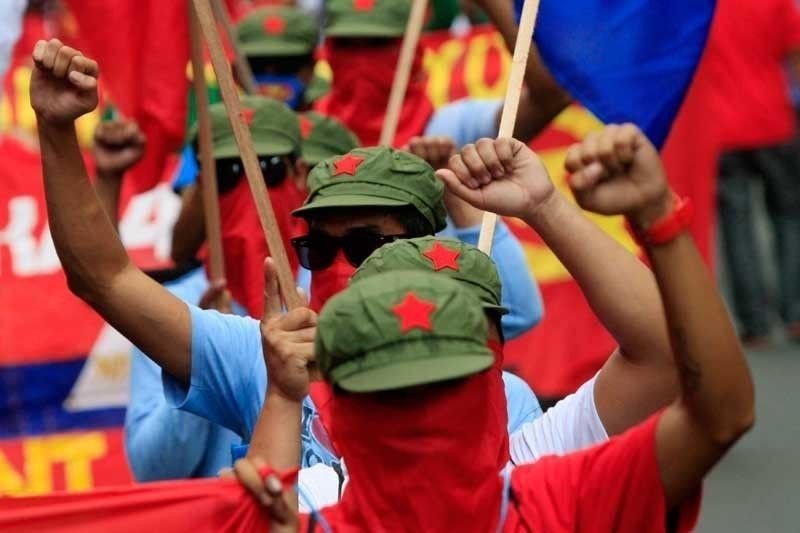 Malacañang said President Duterte is working to attain peace by undertaking "landmark socioeconomic reforms."
The STAR/Edd Gumban, File
Duterte admin again sets prediction on communist rebellion's looming demise
MANILA, Philippines — Malacañang has made yet another prediction that the decades-old communist insurgency would soon end, saying the Duterte administration's reforms are addressing corruption, one of the issues raised by the rebels against the government.
Presidential Communications Secretary Martin Andanar said President Rodrigo Duterte is working to attain peace by undertaking "landmark socioeconomic reforms" and cleansing the bureaucracy of corruption.
"The so-called communist groups of the New People's Army and the National Democratic Front would soon enough be either exterminated or re-introduced into the body politic," Andanar said during an event of the Lions Clubs International last Saturday in Parañaque.
"A massive reformation and restructuring of our bureaucracy is an intensive work in progressive simultaneous phases within the offices and desks that are prone to corrupt practices," he added.
READ: New AFP chief ordered to end local communist armed conflict
Previous administrations have vowed to put an end to communist rebellion, the longest in Asia, but failed.
Last year, Duterte expressed hope that the Maoist insurgency would be "over by about the second quarter of next year," citing the high number of former rebels who surrendered.
Communists, however, still managed to launch offensives against government forces after the second quarter, including an ambush in Negros Oriental that left four policemen dead last July.
Andanar echoed Duterte's claim that the rebels are waging a futile revolution, saying communism is "no longer an ideology to die for." He said the local communists' attempts to overthrow the government are only fueled by "vested financial interests." The presidential communications chief also claimed that the general environment of peace is maintained "with comfortable success."
"The past three years have progressed from dysfunctional lethargy towards a landscape of substantial successful changes. We are today an investment field in several areas of productive endeavors: expansive infrastructure, agriculture, technology, culture, tourism, exports, transport, services," he added.
READ: Schools network rejects AFP claim of communist recruitment
Last April, Duterte ordered Cabinet members to supervise development efforts in all regions as part of a government campaign to solve the roots of rebellion.
The government projects in each region are being monitored through the Cabinet Officers for Regional Development and Security, which operationalizes the National Task Force to End Local Communist Armed Conflict and the Regional Task Force to End Local Communist Armed Conflict.