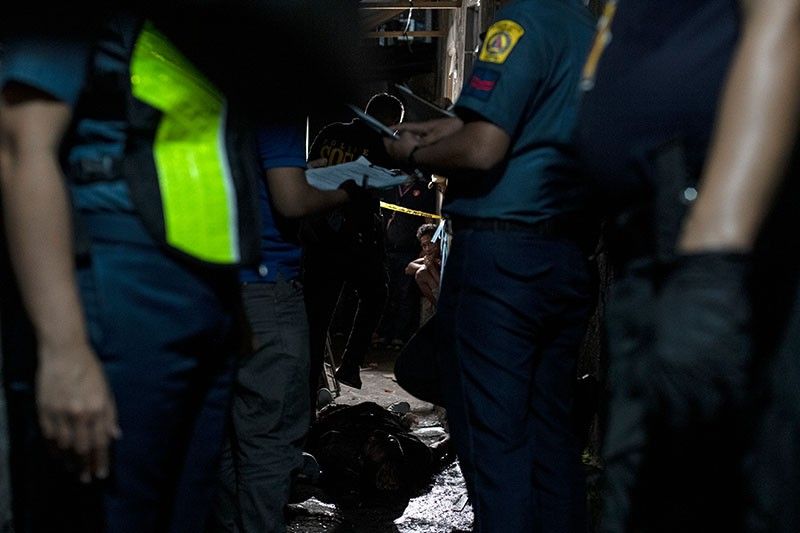 This photo taken on June 27, 2019, shows policemen at the crime scene where the body of a barangay (inner city neighbourhood) health worker and former drug surrenderee Michael Oescayno, lies on the ground after unidentified gunmen.
AFP/Noel Celis
Drilon: Recycling of narcotics puts doubt on 'success' of drug war
(Philstar.com) - September 16, 2019 - 4:54pm
MANILA, Philippines — The admission that recycling of illegal drugs confiscated during buy-bust operations is still rampant shows that President Rodrigo Duterte's violent anti-narcotics campaign that has killed thousands is failing.
Senate Minority Leader Franklin Drilon stressed this Monday after Philippine Drug Enforcement Agency chief Aaron Aquino — one of the agencies at the forefront of the administration's drug war — said that seized drugs are being recycled with the assistance of law enforcers.
"When they seize drugs, the half of that will be surrendered. They will say that's all that they have seized. The other ones are being kept either for future operations or the worse, they sell the drugs," Aquino said in Filipino.
Drilon, a former Justice secretary, called the report "worrisome."
"This is a decades-old case of bantay-salakay, wherein the people who are given the task of enforcing the law insofar as drug trafficking is concerned are the ones who lead the anomalous practices," Drilon said in a release.
"Given that admission, I am not very optimistic about the success of the anti-drug campaign in general," he added, noting that this "horrible" practice must end to win the campaign against illegal drugs.
Some P22 billion worth of confiscated illegal drugs remain in the government's inventory, the PDEA chief said.
"Can you imagine, P22 billion worth of inventory of shabu dating back in 2010, when, in fact, nine years ago it should have been destroyed. The temptation is always there. You have to spend a lot of budget in order to make sure that this does not happen, but it can be prevented by destroying the drugs, within the period required and with proper authorization," Drilon said.
Sen. Ronald Dela Rosa, meanwhile, challenged the PDEA chief to present proof of his claims that unscrupulous cops are involved in the recycling of drugs.
"In fairness to PNP (Philippine National Police), it's doing its best to rid of all the scalawags," Dela Rosa, a former Philippine top cop, said. — Gaea Katreena Cabico