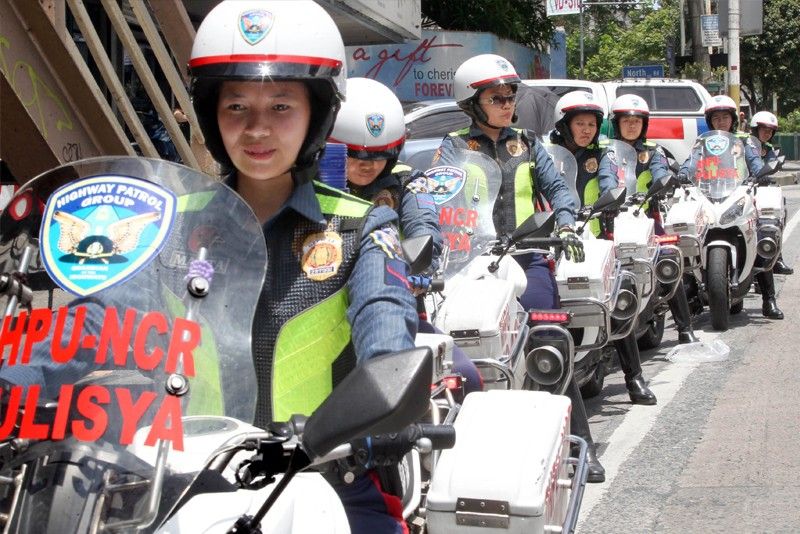 Striking: Members of the all-female Highway Patrol Group 'strike force' prepare to ride out to help ease traffic along EDSA in this Sept. 4 photo.
Boy Santos
EDSA traffic: HPG deploys 'girlfriend material'
MANILA, Philippines — The Philippine National Police-Highway Patrol Group (PNP-HPG) is back on EDSA, with its armed teams seen to have a greater "intimidating factor" than unarmed traffic enforcers of the Metropolitan Manila Development Authority (MMDA).
If the intimidation doesn't work, the HPG has also fielded 23 of its female police officers. And both the HPG and MMDA have admitted that looks played a key role in the deployment of what is called the "ladies' strike force."
Asked what the term meant, MMDA traffic czar Edison Nebrija told "The Chiefs" last week on Cignal TV's One News: "Girlfriend material."
Brushing aside warnings that he might be accused of being sexist, he said EDSA "is stressful enough," and deploying "head turners" on EDSA could ease the tension during traffic apprehensions.
He said the inclusion of female cops in the HPG's traffic force is part of their gender equality program.
This was corroborated by PNP-HPG spokesperson Lt. Col. Ritchie Claraval, who said drivers may avoid violating traffic rules if they see traffic-stopping women who look like models directing vehicular flow.
"One of the drivers would say, 'nakakahiyang mag-violate tayo, may mga magagandang babae pa man din diyan ng HPG,'" Claraval said.
Nebrija admitted that armed police officers "have an intimidating factor. I agree that there's an institutional respect for them. When you see a police officer on the road, riding a motorcycle or mobile, armed, motorists will say, 'Ay pulis yan, sumunod tayo.'"
The 23 patrolwomen were among a batch of about 40 who volunteered to be part of the traffic "strike force."
Among the requirements, Claraval said, was that they learn how to drive a motorcycle. He admitted that looks played a part in the selection, although he stressed that all female members of the HPG – about 100 – are good-looking.
Describing the 23, Nebrija said, "They're not just like any other police officers, they're like models. They're really pretty. They are really head turners."
"It's more pleasing if somebody apprehending you has a pleasing personality. They're a game changer, so to speak. Traffic in EDSA is stressful as it is already," Nebrija said.
Claraval chimed in: "We call them strike force because they have striking looks."