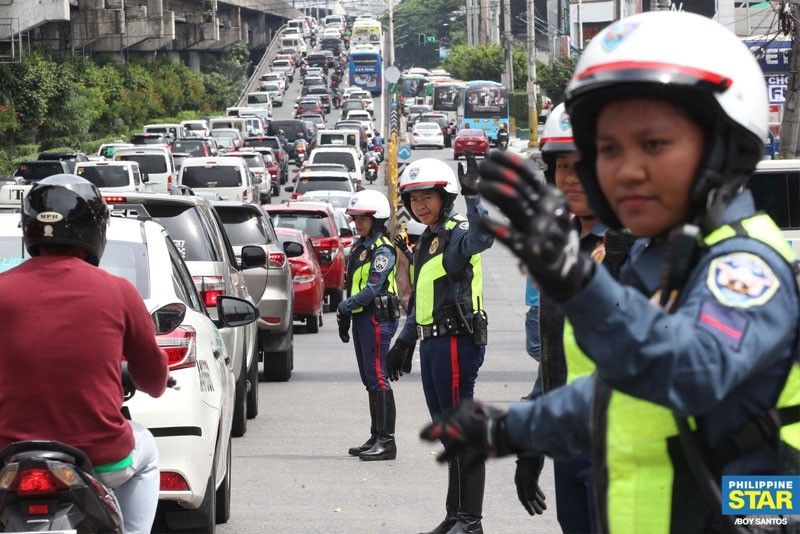 Duterte on Tuesday blamed Poe for supposedly blocking his request to Congress to grant him emergency powers to address the traffic crisis.
File
Don't blame me for traffic, Poe tells Duterte
Paolo Romero
(The Philippine Star) - September 12, 2019 - 12:00am
MANILA, Philippines — Sen. Grace Poe shot back yesterday at President Duterte, saying she is not to blame if the administration's transportation officials were not able to ease the worsening traffic congestion in Metro Manila and other parts of the country.
Duterte on Tuesday blamed Poe for supposedly blocking his request to Congress to grant him emergency powers to address the traffic crisis.
"All I can say is that pardon me, I'm just doing my job. If they think there is a good solution, I think that's their primary responsibility to clearly explain and do that, and we can't say that it's the fault of just one person," Poe told radio dzMM.
"Am I the traffic czar? Am I the MMDA (Metropolitan Manila Development Authority)? Was I the one entrusted with the responsibility to fix traffic? When I have the authority, I would surely have a different answer," she said.
Poe, chairperson of the Senate committee on public services, and Transportation Secretary Arthur Tugade clashed on Tuesday at the hearing of the panel regarding bills seeking to grant Duterte emergency powers to solve the traffic problem, especially along EDSA.
Among the bills seeking to grant emergency powers was the one filed by Sen. Francis Tolentino that seeks to designate the transportation secretary as the "traffic czar."
Tugade was grilled over the apparent lack of a cohesive transportation master plan, and the Department of Transportation's failure to fully and immediately implement existing laws and policies that would greatly ease traffic congestion and speed up the completion of projects without the need for emergency powers.
Poe clarified that she never said that everyone in government was corrupt.
"But I will admit that many are corrupt so we are just being cautious so we will not be victimized," she said even as she cited continuing controversies like the one at the Bureau of Corrections.
With so many corruption controversies in government, emergency powers cannot be given with eyes closed, she said.
Poe cited that the cleanup of Boracay island was done swiftly without any emergency powers while the rehabilitation of war-torn Marawi was at snail's pace despite the government given broad powers to quickly lift up the city.
Duterte won't beg
President Duterte, however, insisted that he won't beg for emergency powers, citing Poe's claim that special powers could be abused.
"Why would I ask for emergency powers?" the President said. ?"I did not ask for it... When it was discussed in Congress, a lady senator said, I heard her, 'Ah, this is difficult.
You cannot trust these guys with corruption. This involves a lot of money.' I was listening so I said, 'tell her, drop it,'" he added. ?Duterte noted that fixing the traffic problem along EDSA requires huge resources.?"If you subject it to normal procedure, it can't be processed immediately. It takes months, then bidding, then there's corruption," he added. ?In a speech during the oath taking of vice governors also last Tuesday, Duterte said traffic congestion would be Poe's legacy. ?"I will tell Grace, Grace, not all people in this world are thieves," the President said.
Duterte also wants the MMDA and the Philippine National Police (PNP) to help escort ambulances transporting patients through the traffic jam along EDSA. ?Agence France Presse had reported that some Filipino patients have died because the travel time to hospitals has become longer due to traffic jams. The report cited the failure to enforce special lanes for emergency vehicles, outdated infrastructure and failure or willingness of some drivers to make way.?Duterte said the MMDA and the PNP Highway Patrol Group might be tapped to escort patients to hospital in times of emergency.?The MMDA yesterday said it would comply with Duterte's order to assist ambulances through traffic in Metro Manila.
MMDA spokesperson Celine Pialago yesterday said the agency is ready to provide escort to emergency vehicles, particularly ambulance vehicles that have to squeeze through traffic.
She said MMDA chairman Danilo Lim has instructed all district heads to comply with the President's order to provide escorts to ambulances.
Tugade said the administration is running out of time in solving Metro Manila's traffic woes, which was a campaign promise of President Duterte.
Tugade told GMA News TV yesterday that without the emergency powers there is not much time left for the administration to solve traffic along EDSA.
He said, however, that even without the emergency powers the government would do whatever it can to address the problem.
"If they don't want to give it, then it's no retreat, no surrender for us. That means we will still do what we think should be done," Tugade said. – With Alexis Romero, Richmond Mercurio, Delon Porcalla, Edu Punay, Marc Jayson Cayabyab