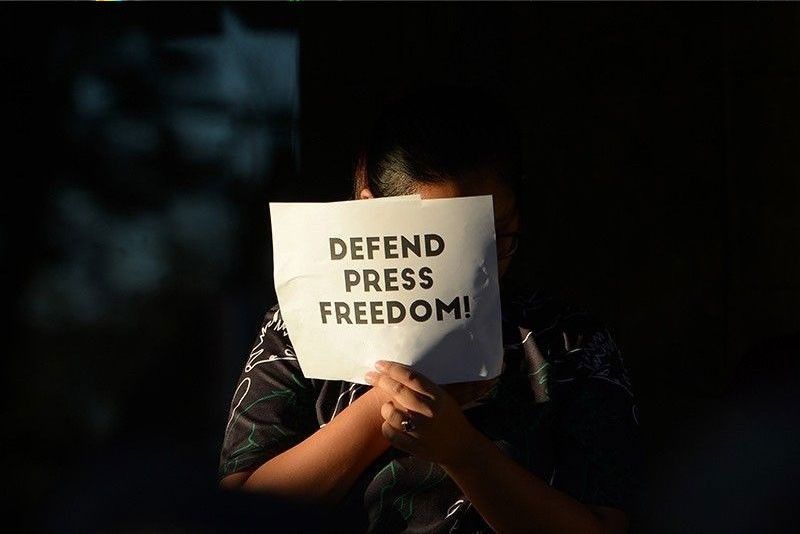 The President stressed the importance of having a free press and its role in the country's development and reminded the media of their "sacred responsibility to ensure that truth and fairness will prevail in the delivery of information to the public."
File
Duterte says government respects press freedom
MANILA, Philippines — The administration will remain steadfast in upholding press freedom and respecting the constitutionally protected freedom of speech, President Duterte said, even as he continues to lash out at critics and the media amid various attacks against journalists in the country.
"Rest assured that the government will never waver in its duty to uphold press freedom, to promote free speech, cultivate a safer environment for journalists even as we work together in safeguarding our democratic institutions," Duterte said in a speech during the oath-taking ceremonies he led for the Malacañang Press Corps last Tuesday night.
The President also stressed the importance of having a free press and its role in the country's development and reminded the media of their "sacred responsibility to ensure that truth and fairness will prevail in the delivery of information to the public."
"As an important conduit between the government and the people, you in mass media are tasked with the sacred responsibility to ensure that truth and fairness will prevail in the delivery of information to the public," he added.
Based on the World Press Freedom Index of media watchdog Reporters Without Borders, the Philippines sank a notch lower to the 134th spot out of 180 countries last April 2019. The Philippines had a score of 43.91.
In 2018, the Philippines ranked 113th, which was six notches lower than the country's 2017 ranking 127th spot.
Duterte, known for his tirades against the media, called on the MPC to be the administration's partner for change.
Prior to his speech in Malacañang, the President made personal attacks against Rappler journalists in a speech before provincial vice governors, where he claimed the outfit's journalists have foul odor.
Duterte also accused Rappler of playing up the accusation of Peter Joemel Advincula, the man who claimed to be Bikoy in the series of videos linking the Duterte family to the illegal drug trade.
In 2017, the RSF also said the Philippine Daily Inquirer and ABS-CBN were at the receiving end of Duterte's tirades.
The group noted how the government "has developed several ways to pressure journalists who dare to be overly critical of the summary methods adopted by 'Punisher' Duterte and his notorious 'war on drugs'."
The President has accused the two media outfits of "slanted" reporting against his administration. He had threatened a number of times to not renew the franchise of ABS-CBN and the government has filed suits against the owners of the Inquirer.
Despite all this, Duterte was rather friendly with the MPC on Tuesday, asking for their support in conveying the good news about the administration's campaign against corruption and illegal drugs to the Filipino people.