Congress divided on SOGIE bill
September 8, 2019 | 12:00am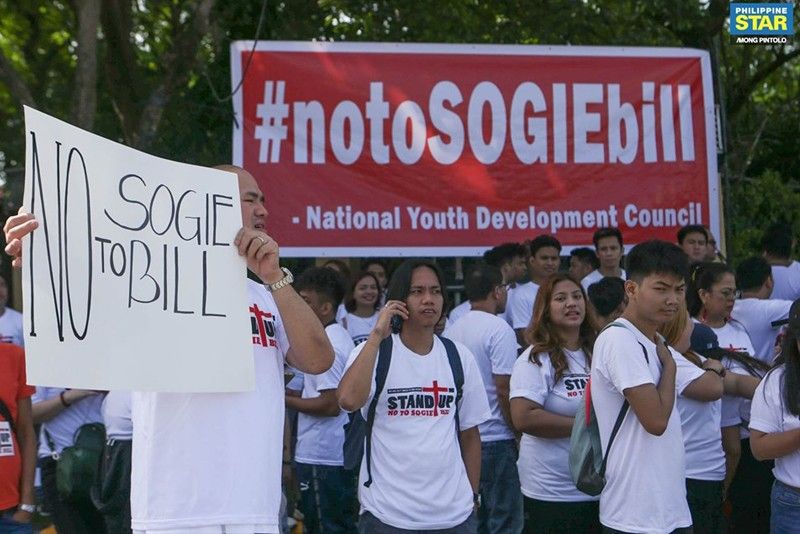 MANILA, Philippines — Lawmakers in the House of Representatives are divided over the Sexual Orientation and Gender Identity or Expression (SOGIE) bill.
Several members of the lower house expressed support for the controversial measure, while others have registered their strong opposition.
Among the supporters of the SOGIE bill, Anakalusugan party-list Rep. Mike Defensor believed that the proposed measure is necessary to address discrimination against members of the lesbian, gay, bisexual and transgender (LGBT) community.
"For me, I view this as protection of rights of LBGT. There's a different perspective saying this is imposing rights of LGBT on others. But for me that's not the case. This is just to address discrimination because in promotion or designation in workplace there should be no discrimination based on gender identity and biases," he said during the airing of The Chiefs on One News last Thursday night.
Defensor said he agrees with the concern of critics that the SOGIE bill has some problematic provisions, including one that prohibits engaging in public speech to shame LGBT members.
He conceded that such a provision would clash with religious freedom, as churches normally attack the LGBT community in their worship activities.
"But you can still pass this law because that provision is easy to fix. You can just put the phrase 'subject to recognition of religious freedom'," he suggested.
On the other hand, Deputy Speaker and Cibac party-list Rep. Eddie Villanueva has led the opposition to the SOGIE bills filed in Congress.
In his recent privilege speech, the television evangelist-turned-politician urged his colleagues in lower congress to reject the proposed law that regained support following the recent discrimination incident against transgender woman Gretchen Custodio Diez in a mall in Quezon City.
The Jesus Is Lord Church Worldwide founder stressed that such a measure is not necessary since "all fundamental rights of a person – regardless of his/her ethnicity, social class, religious affiliation or gender identity – are already enshrined in our existing laws. Violation of such rights will be penalized accordingly. To enact another law that upholds one sector's perceived rights over the rights of other people who do not belong to that sector is simply unfair and, in fact, equally discriminatory. It will be a law of 'preferential rights,' a 'class legislation,'" he stressed.
Meanwhile, Sen. Imee Marcos said yesterday that the SOGIE bill is "dead" in the Senate.
Marcos, who filed her version of the SOGIE bill, lamented that discussions on the proposal in the Senate as well as outside Congress have become too acrimonious that the measure has become a casualty.
She asserted her support for the bill, citing her roots in the creative industry. "We certainly owe them a great deal," the senator told the Manila Overseas Press Club. "But at the same time, I believe the SOGIE bill in the Senate is dead. I think it is over," Marcos lamented.
"The politics or the strategy has been all wrong so that it's become very, very controversial, unnecessarily so," she added.
She, however, is pinning her hopes on President Duterte's promise to create a body for the LGBT community.
"So it's very important that we hang on to that. At the end of the day we are all for the persecuted, the oppressed, the prejudiced and the abandoned," the senator said.
Meanwhile, Senate President Vicente Sotto III hit back at those who criticized his statement against the bill.
"I hate to say this but I have to. If you are a man, you will never be a woman. No matter what you do, because you cannot reproduce, you cannot give birth, you do not have ovaries, you will never be a woman," Sotto told reporters on Wednesday.
"Can a man who feels he is a woman apply for maternity leave to be equal to biological women?" he continued on Twitter yesterday after members of the LGBT community maintained giving birth is not the only mark of being a woman.
Responding to the comments of Sotto, actor-comedian Vice Ganda, on his Instagram, expressed a lengthy disagreement, asking the lawmaker if what he said was a joke. "Are you saying you believe that, to be a woman, you have to have ovaries or a uterus and have the ability to get pregnant or give birth?" he began, posting the caption in Filipino.
Vice Ganda also asked Sotto if women who've had their ovaries removed due to illness, or who are unable to get pregnant, could still be called "women." – With Paolo Romero, Cecille Suerte Felipe