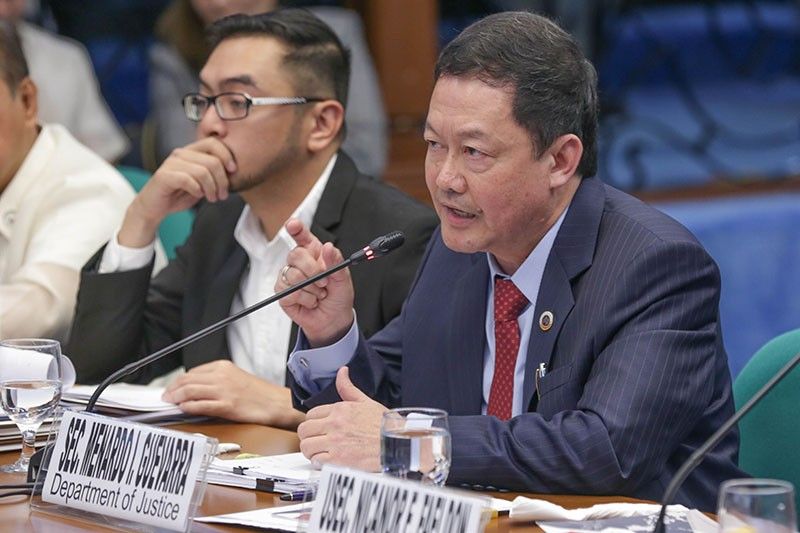 Justice Secretary Menandro Guevarra speaks during Senate hearing into the implementation of Good Conduct Time Allowance law on Sept. 2, 2019.
The STAR/Mong Pintolo
Guevarra places 1,914 heinous convicts under lookout bulletin
MANILA, Philippines — Justice Secretary Menardo Guevarra on Thursday said that his department has ordered the Bureau of Immigration and Deportation to issue lookout bulletins for all the convicts who were prematurely released amid the implementation of the Good Conduct Time Allowance law.
"We got the list of those Persons Deprived of Liberty (PDLs) who were convicted of heinous crimes but were prematurely released on account of Good Conduct Time Allowance and we have forwarded it to the Bureau of Immigration for appropriate action, more particularly for the issuance of the Immigration Lookout Bulletin Order (ILBO)," Guevarra said during the resumption of Senate hearing into GCTA law.
Records of the Bureau of Corrections showed that there have been more than 22,000 persons deprived of liberty whose GCTA were granted and whose sentences were reduced.
Of these, 1,914 inmates were imprisoned for heinous crime.
The DOJ's order came a day after President Rodrigo Duterte ordered 1,914 heinous crimes convicts who got freed during the implementation of GCTA to surrender and register themselves in the BuCor in 15 days or else they will be treated fugitives.
Duterte directed the BuCor to recompute the GCTA of these convicts and have them investigated for corruption. He also ordered the airport authorities not to let the convicts go.
The ILBO order, however, does not prevent these convicts from flying overseas. It only monitors their attempts to leave the country.
A court-issued hold departure order, the sole order which prevents the subjects' flight, is yet to be issued against these prematurely freed convicts.