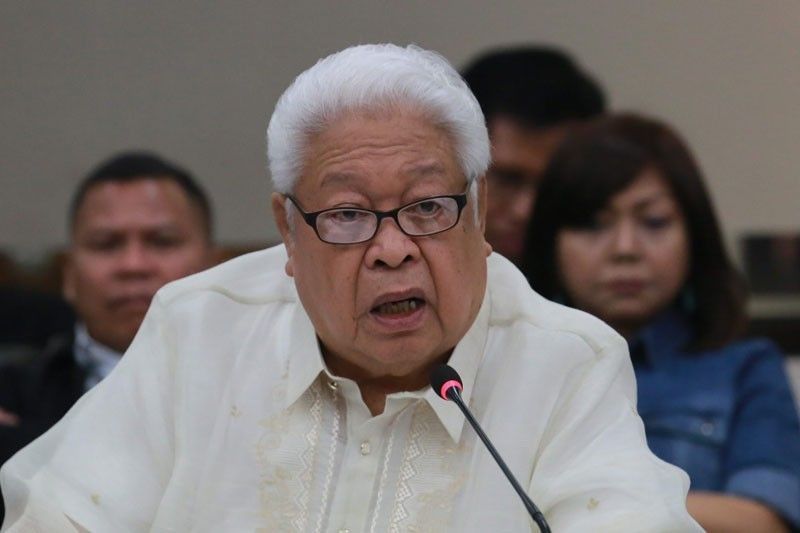 File photo shows Rep. Edcel Lagman (Albay).
The STAR/Michael Varcas, File
Lagman: Bong Go squandered first privilege speech with personal attack
(Philstar.com) - August 28, 2019 - 11:08am
MANILA, Philippines — Rep. Edcel Lagman (Albay) on Wednesday said Sen. Christopher "Bong" Go wasted his first privilege speech by fuming at the opposition lawmaker's criticism of Malasakit Centers, a pet project of the president's long-time aide.
In defending the centers on Tuesday, Go took a swipe at Lagman, saying the image of the legislator from Albay is "beyond repair."
"Neophyte Sen. Bong Go, instead of defining his legislative agenda, which is usually the subject of a maiden privilege speech, squandered his chance of citing the causes he will promote and defend during his term by personally attacking me for being critical of the Malasakit Centers even as he refused to be interpellated," Lagman said in a statement Wednesday.
During interpellation, senators can ask a colleague questions about the issue raised in the privilege speech. According to the Senate website, "a member having the floor to avail himself of the privilege hour may refuse to yield to interpellation or yield for information."
Lagman, a veteran lawmaker said in response to Go's tirade: "Paucity of merit and reason cannot be concealed by unparliamentary language and malevolent innuendos."
During a congressional deliberation on the proposed budget for 2020 last week, Lagman questioned the Philippine Charity Sweepstakes Office's funding for Malasakit Centers. He said these centers are like "partisan tool rather than a medical outlet."
Malasakit Centers—championed by Go when he was still President Rodrigo Duterte's aide—are one-stop shops for poor people asking for financial assistance from the government. But Lagman called these centers "mere outlets for referral."
He claimed people asking for financial assistance from Malasakit Centers "have to just the same queue in long lines because the representatives in the centers do not have the authority nor discretion to make assessments either for partial or full payment of hospital bill balances."
Go filed a bill seeking to require the establishment of Malasakit Centers in government hospitals.
Last March, the Commission on Elections ordered the Department of Health to remove all posters bearing the name and face of Go—who was then running for senator—in Malasakit Centers.
Lagman: I'm pro-poor
In his privilege speech Tuesday, Go also accused Lagman of being anti-poor.
"You should be ashamed to your constituents. You should be ashamed to the millions of Filipinos who got help from this program," Go said.
He also challenged the Albay representative to put up his own facilities called "maramot" (selfish) and "manhid" (callous) centers.
Lagman called Go's allegations "completely unfounded and contrived."
"I have always been a pro-poor legislator long before the advent of Malasakit Centers and my legislative performance and accomplishments speak of my advocacies for the disadvantaged and marginalized," Lagman said.
He added: "I always talk sense and my statements are well studied and anchored on facts." — Gaea Katreena Cabico