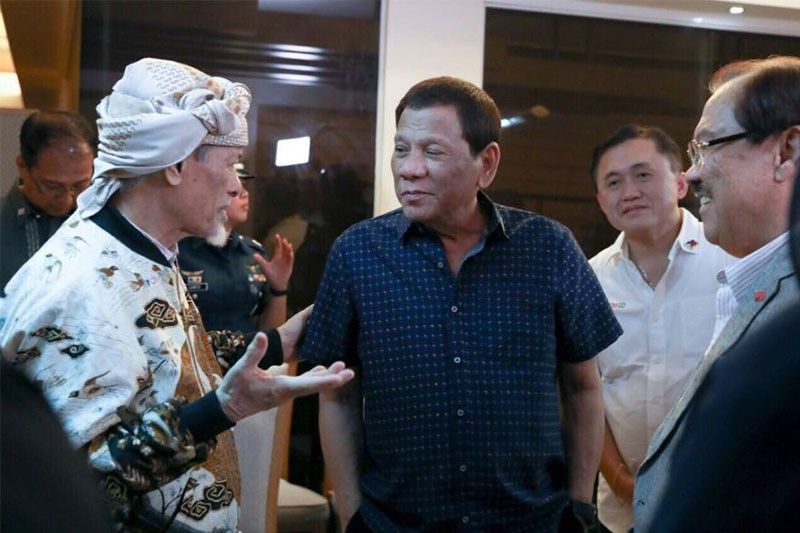 MNLF founding chair Nur Misuari and President Rodrigo Duterte met last Friday night in Davao City.
Sen. Bong Go/Released
Duterte, Misuari discuss Sulu peace efforts
MANILA, Philippines — The peace efforts in Mindanao was the main topic in the meeting between President Rodrigo Duterte and Moro National Liberaltion Front (MNLF) founding chairman Nur Misuari over the weekend.
Duterte told Misuari he wanted to form a coordinating committee between the Philippine government (GPH) and the MNLF, presidential spokesperson Salvador Panelo said in a statement.
The president has directed the Office of the Presidential Adviser on Peace, Reconciliation and Unity to convene the committee by September to set the agenda and open discussions.
Misuari, on the other hand, relayed his request that the Organization of Islamic Cooperation (OIC) be included in the consultations, making it a tripartite talks with the Philippine government and the MNLF as done in the past.
The three parties would determine the remaining compliance of the government to the 1996 Final Peace Agreement with the MNLF, Malacañang said.
"The GPH-MNLF Coordinating Committee will serve as a venue to seek for the cooperation of the MNLF to achieve immediate peace in Sulu by, among others, helping in combatting the Abu Sayyaf Group and convincing MNLF relatives to return to the folds of the law," Panelo said.
Malacañang said the Office of the President will fully support the coordinating committee to resolve the conflict in Mindanao, which has displaced both Muslims and Christians.
"In resolving the Muslim rebellion in Mindanao, every undertaking that may lead to a lasting peace and prosperity to that region must be tried and tested until its fruition," Malacañang said.
In February, Duterte apologized to Misuari for the delay in enforcing agreements in connection to the proposed shift to federalism.
A month after apologizing to Misuari, Duterte claimed that the MNLF founding chair threatened to go to war if the shift to a federal system will not push through.