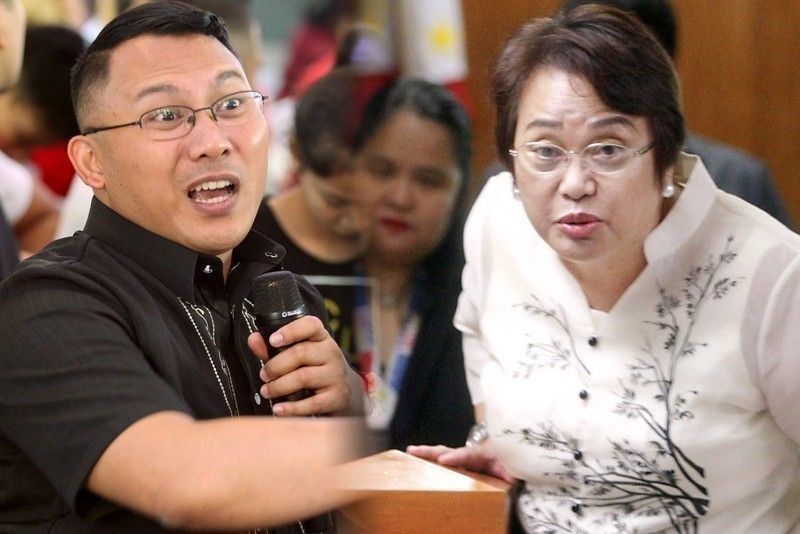 Composite photo shows former National Youth Commission Chairperson Ronald Cardema's (L) issues and Comelec Commissioner Rowena Guanzon (R).
The STAR/Boy Santos, File
Guanzon: Cardema will never be a congressman for the youth
MANILA, Philippines — Former National Youth Commission chairman and disqualified Duterte Youth nominee Ronald Cardema will never sit in Congress as a representative of the youth sector, Comelec Commissioner Rowena Guanzon said Friday.
Guanzon, whom the Duterte Youth leader has accused of extortion, claimed that Cardema is just diverting the public's attention from the issue that he is too old to represent the youth at the House of Representatives.
The disqualified Duterte Youth nominee accused Guanzon of soliciting political favors in January in exchange for the accreditation of his group.
"He is distracting us from the issue that he is disqualified to sit as representative, as congressman of a youth sector. He can cry all he wants. He can even accuse me of murder but will the people believe him?" Guanzon told ANC's "Headstart" with Karen Davila Friday morning.
Guanzon pointed out that Cardema's wife Duciele Marie Suarez was qualified to represent the youth sector because she is just 29 years old. Under the party-list system law, representatives of the youth sector must be between 25 and 30 years old on election day, which was May 13 of this year.
Suarez was initially the first nominee of Duterte Youth but withdrew before the May 13 elections, giving way for Cardema's petition to subsitute for his wife. The petition was filed at 5:30 p.m. on May 12, a Sunday.
RELATED: Original Duterte Youth nominees unwilling, unready for Congress
Guanzon, meanwhile, stressed that nominees can only be substituted for certain circumstances such as death or incapacity.
"This guy (Cardema), whatever he does he will never be congressman or representative of the youth sector," Guanzon said, stressing that Cardema is already 34 years old.
"His wife was qualified. How many times do I have to say — stupid — that your wife was qualified but you kicked her out because you're greedy. That's the trouble with people like you, you don't follow the law," she added.
Cardema has countered that Duterte Youth is actually a party-list for youths and professionals so the age limit does not apply. During the elections, Duterte Youth positioned itself as a rival of Kabataan party-list, which represents the youth sector.
He has also said does not need to be a professional—as in working in a trade licensed by the Professional Regulation Commission—to be an advocate for their welfare.
The Comelec commissioner also challenged Cardema to name the female lawmaker who supposedly acting as her emissary.
"I dare him to name her in an impeachment complaint because that is the proper venue instead of lying to the public and trying to get sympathy," Guanzon said.
Cardema has claimed in a press conference and in interviews that the congresswoman, whom he refused to name, is a "bagwoman" for Guanzon. He said he gave the supposed emissary P2 million for Guanzon, a claim that the commissioner has denied.
Guanzon said that it was just Cardema's bad luck that his case was raffled to her division and that the presiding commissioner was on leave at the time, making her acting presiding commissioner.
The Comelec's First Division voted 2-0 in favor of the petitioners against the nomination of Cardema.
Commissioners Guanzon and Marlon Casquejo both voted to cancel the nomination of Cardema while Commissioner Al Parreño did not vote since he was on official business at the time.
According to Guanzon, the other commissioner on the division, Casquejo, studied the case well and also decided to disqualify Cardema.
Following the poll body's decision, Guanzon advised Cardema to get a good lawyer as he will also face material misrepresentation as an election offense.
"This getting to be really stupid. Go get a good lawyer," Guanzon said.