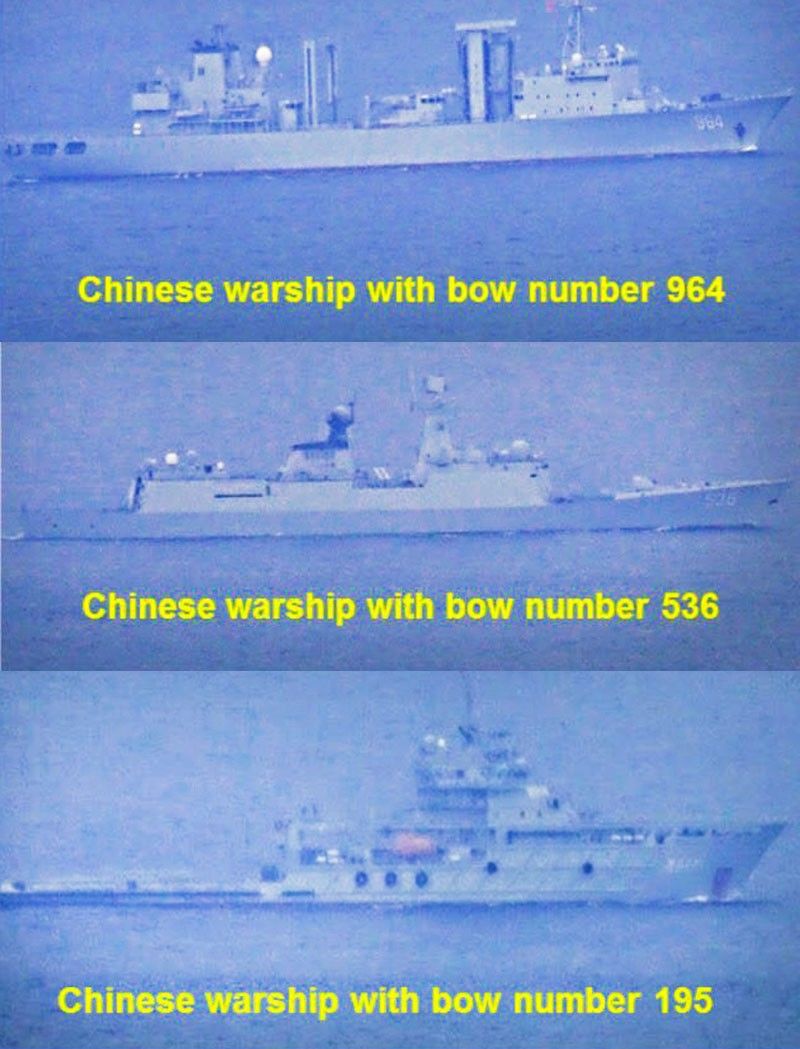 Photos provided by the Western Mindanao Command show three of the five Chinese warships spotted at Sibutu Strait in Tawi-Tawi in July and August. Philippine security officials say the ships entered into territorial waters without any coordination or advance notification and switched off their automatic identification systems.
File
Palace: Foreign ships need clearance before sailing through Philippine seas
(Philstar.com) - August 20, 2019 - 4:53pm
MANILA, Philippines — The Philippines will now require foreign vessels to give the government advance notice before sailing through the country's territorial waters, the Palace said Tuesday.
The announcement comes after Foreign Affairs Secretary Teodoro Locsin Jr. ordered a diplomatic protest filed over Chinese warships seen sailing through the Sibutu Strait in Tawi-Tawi this month and in July.
"To avoid misunderstanding in the future, the president is putting on notice that beginning today, all foreign vessels passing our territorial waters must notify and get clearance from the proper government authority well in advance of the actual passage," presidential spokesperson Salvador Panelo said.
Quoting the president, Panelo said: "Either we get a compliance in a friendly manner or we enforce it in an unfriendly manner."
RELATED: China warships trespassing in Philippine waters – DND, AFP
The Palace, which had previously brushed off reports of Chinese ships in the Philippines, said that the recent sail-bys had not been coordinated with the government and were not "an act of friendship."
Defense Secretary Delfin Lorenzana said last week that Chinese warships sailing through Philippine waters without coordinating with the government have become an irritant.
"I hope the matter will be taken up in order to put an end to all these, because our people are asking why they (Chinese warships) are there and we at the Defense department are already getting irritated because they kept on ignoring us," he said.
Lorenzana said that Beijing appeared to be "taunting" Manila by deploying their warships in Philippine territorial waters with the vessels' Automatic Identification Systems turned off and without prior notification to authorities.
Aside from the warships, Chinese survey ships have also been reported sailing in the country's waters, prompting Foreign Affairs Secretary Locsin to "universalize" a ban on foreign survey ships.
"To pick and choose invites suspicion of favoritism. Will universalize the ban. Period. Granting exception to one country will automatically lift ban universally," he announced on his Twitter account. — with a report by The STAR/Alexis Romero