Reacting to Vera Files report, Palace says Duterte does not receive gifts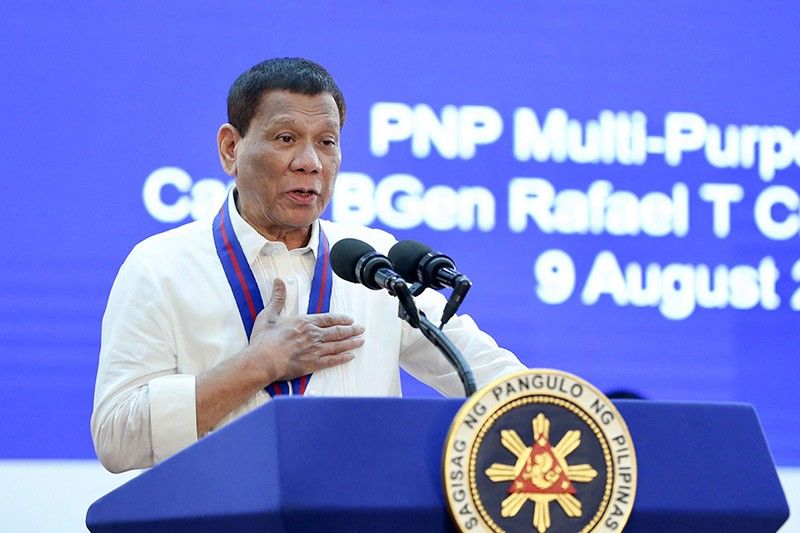 MANILA, Philippines — Malacañang Monday challenged Vera Files to prove that President Rodrigo Duterte had received gifts in multi-million pesos as it claimed that the presents given to the chief executive go to the Office of the President.
Media organization Vera Files reported that seven deposits totaling more than P193 million were credited to the joint bank account of Duterte and his daughter Davao City Mayor Sara Duterte Carpio during the President's 69th birthday in 2014.
The Vera Files report was based on bank records submitted to the Senate by former senator and fierce Duterte critic Antonio Trillanes IV. The documents also served as the basis of a plunder case filed by Trillanes against Duterte, the report written by journalist Ellen Tordesillas said.
READ: Palace defends Duterte's remark that cops can receive gifts
Presidential spokesman Salvador Panelo said Vera Files should present evidence to back its claims.
"Is that true? Does she have any evidence to that effect? Many have claimed that the President has hundreds of millions but it's not true," Panelo said in a press briefing.
"One who alleges must prove. If you cannot prove, then shut up because you are just maligning people," he added.
Panelo claimed all gifts given to Duterte go to the Office of the President.
"In other words, it will be the government of the Philippines that will receive the gift; not him, not personal," the presidential spokesman said.
READ: 'It cannot be bribery': Duterte tells cops to accept gifts
Panelo cited an instance when someone was giving Duterte a painting. The giver of the gift requested that he be allowed to meet the President.

"During that presentation, he (Duterte) said, 'I cannot accept that. You have to donate that to the government of the Philippines,'" Panelo said.
Earlier this month, Duterte was heavily criticized for saying that it was okay for policemen to accept gifts given out of generosity or gratitude.
Critics pointed out that the law prohibits government personnel from accepting gifts or anything of monetary value from anyone in the course of their official duties, in connection with any operation being regulated by, or any transaction which may be affected by the functions of their office.
READ: Solution to Duterte's luxury car gift dilemma simple — transparency advocate
Panelo has defended Duterte's statement, saying unsolicited gifts or presents of small or insignificant value given as an ordinary token of gratitude or friendship according to local customs or usage are exempted from anti-graft provisions. He clarified that government personnel should not accept "expensive" gifts but could not define the term.
In a recent interview, Presidential Anti-Corruption Commission Commissioner Greco Belgica said an honest airport worker may accept a P100,000 reward offered by the owner of a lost bag containing P1 million.
Panelo said the court has the final say on what amount of gift is "nominal" or can be accepted by government personnel.
"What a nominal or insignificant value is, that will depend on the courts. If you file (a case), the court will decide whether the amount accepted was insignificant or nominal or not," the presidential spokesman said.
"Common sense will tell us what is nominal or insignificant. If it goes beyond common understanding, then the court will decide," he added.