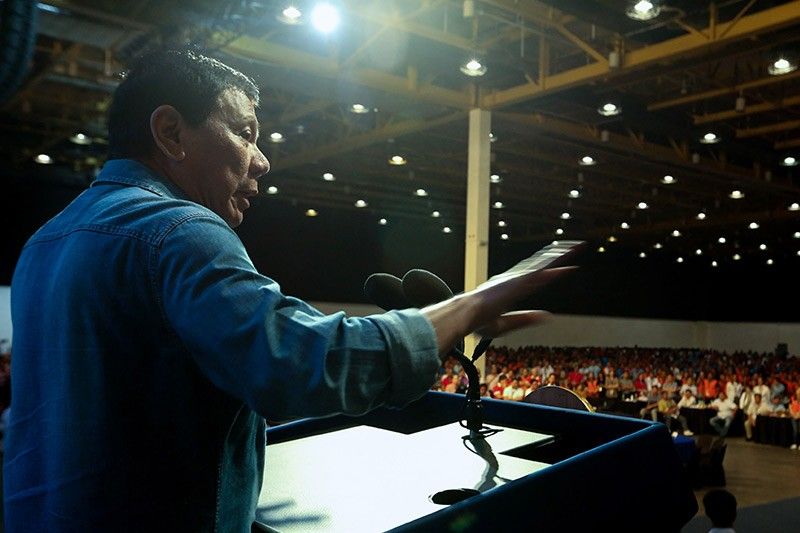 President Rodrigo Duterte explains anew his order to the law enforcers carrying out anti-illegal drug operations in his keynote message during the 10th Philippine Councilors League National Congress at the World Trade Center in Pasay City on March 8, 2017.
Toto Lozano/Presidential Photo
Solution to Duterte's luxury car gift dilemma simple — transparency advocate
MANILA, Philippines — Give it away, raffle it off or auction it. These are the options raised by President Rodrigo Duterte in various speeches regarding the fate of a Mercedes-Benz gifted to him by someone he refused to name but described as a girlfriend who made millions in the United States.
A transparency advocate, however, raised that there is a practical solution to the president's problem: He should just return it.
"The best thing for him to do is really to return it. If it is given to him by this girlfriend that he claims, it's easy for him to find her... I'm sure she has relatives or someone who's living in the Philippines and he can return it and say: 'Thank you but no thank you.' And he should be done with it," Vincent Lazatin, executive director of the Transparency and Accountability Network, said.
A day after revealing this information, Duterte told Malacañang reporters that the car is in a private garage. But he clarified that he had already rejected the gift and only kept it inside the private garage as the person who gave it to him refused to take it back. He also declined a request from a reporter to take footage of the car.
"Hindi kasi sinauli ko ayaw naman niya tanggapin. Alangan naman iwan ko lang diyan sa Marcelino. E di nawala yan bukas. At baka sabihin niya tinanggap ko na. Ayaw mo tanggapin? Sabi ko sige ilagay mo lang diyan (I did not return it but the person won't take it back. I can't leave it at Marcelino. It would get stolen and that person might say I already accepted the gift. You won't have it back? Okay just leave it there)," Duterte said Monday.
The president added that he would not declare the car in his Statement of Assets, Liabilities and Net worth as it is not registered under his name.
Lazatin said that he would give Duterte "a little latitude" as he has not transferred the car under his name. But added that the president must name the person behind the gift. At the same time, the person who gave it to him should also realize that the action puts the president in a bad light.
"You don't do that to a sitting government official, especially if it's a president… He should tell all his friends and family: 'I'm the president now, any kind of gift that you give me that's ostentatious, luxurious will be viewed badly by the public so stop doing it. If you're really my friend, don't do it cause you'll put me in bad light.'"
Duterte handling the situation well?
Although Lazatin noted that it is good that the president, who won on the back of an anti-crime and corruption platform, came out publicly regarding the luxury car present, concerns were raised on why it is taking a long time for him to send it back.
"There's no amount of reasoning that you can make that would make that gift acceptable because ayon sa ating batas, a government official should not accept gifts… Just disown it completely," Lazatin said.
Republic Act 3019 or the Anti-Graft and Corrupt Practices Act prohibits public officials from receiving gifts, directly or indirectly, from a person other than a member of the officer's immediate family if the value of the gift is "manifestly excessive."
Accepting ostentatious gifts even on the occasion of a family celebration or national festivity like Christmas is also forbidden.
Duterte had warned other government officials accepting gifts that they would get slapped with graft complaints.
Brings back old issue
"Again, the president claimed that it was a bank account where he deposited 'gifts,' if I remember what he claimed back then. That bank account is very troublesome because there tinanggap niya. In fact, again if I remember the media reports correctly, the bank account was actually in his name. Somebody actually made a deposit to that bank account number and his name was reflected as the account holder," Lazatin said.