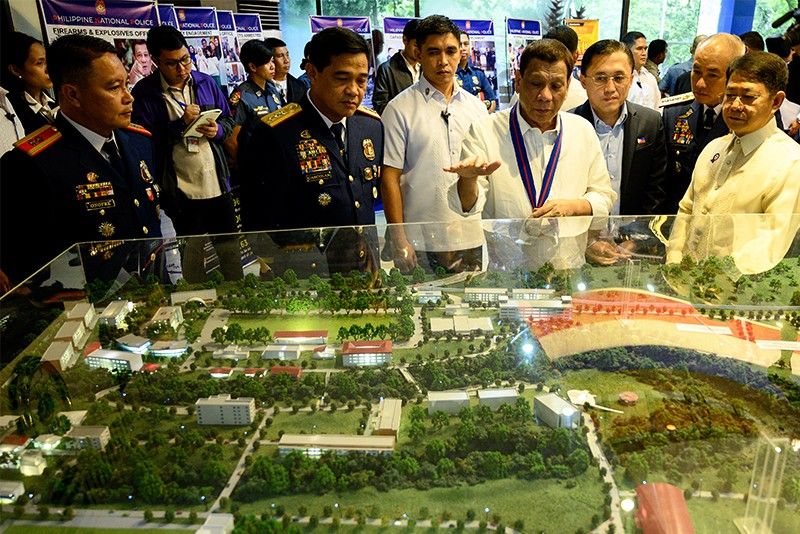 Philippine President Rodrigo Duterte (C) gestures as he looks at the diorama of the new Philippine National Police Academy the during the 118th anniversary of the service, at the Camp Crame headquarters in Manila on August 9, 2019.
AFP/Noel Celis
'It cannot be bribery': Duterte tells cops to accept gifts
Lacson to Duterte: 'Insatiable greed starts with simple, petty graft'
MANILA, Philippines — President Rodrigo Duterte on Friday told cops they can accept thank-you gifts, especially if they are given out of generosity for their work.
In a freestyle speech during the 118th Police Service Anniversary Celebration, Duterte said he won't sanction policemen accepting gifts, arguing that such an act is not considered bribery.
"Well, if you're given a gift, accept it. It cannot be bribery because it is allowed by law. What I mean if there is generosity in them, the anti-graft law says you cannot accept gifts. That's nonsense," Duterte said.
"If you are able to solve a crime and the family would like to be generous to you or would nurture a feeling of gratitude for what you accomplish, then by all means, accept it," he added.
Section 7 of Republic Act 6713 — which established a code of conduct and ethical standards for public officials and employees — states that:
Public officials and employees shall not solicit or accept, directly or indirectly, any gift, gratuity, favor, entertainment, loan or anything of monetary value from any person in the course of their official duties or in connection with any operation being regulated by, or any transaction which may be affected by the functions of their office.
One of Duterte's campaign promises that catapulted him to the presidency was his vow to weed out corruption.
Transparency International, in its Corruption Perception Index for 2018, reported in January that the Philippines' ranking has improved 12 notches, obtaining a score of 36 from 34 in 2017.
The country's score, however, is still far from the Asia-Pacific regional average of 44.
In a Twitter post, Sen. Ping Lacson — a former chief of the Philippine National Police — reminded Duterte that "insatiable greed starts with simple, petty graft."
"It could be more addicting than drugs. There is no detox, nor is there rehab facility available for addiction to money," Lacson added.