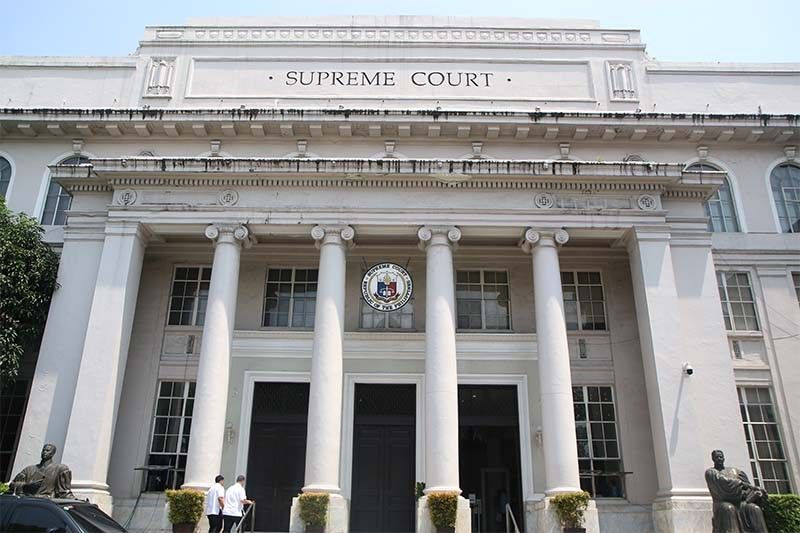 Eight out of the 15-member court are appointed by President Rodrigo Duterte.
File photo
Public interviews for 28 Supreme Court justice aspirants set
(Philstar.com) - August 19, 2019 - 12:18pm
MANILA, Philippines — The Judicial and Bar Council set a four-day public interview for the 28 Supreme Court associate justice aspirants in September.
Two seats are set to open up at the high court, with Associate Justice Francis Jardeleza retiring on September 26 and Senior Associate Justice Antonio Carpio on October 26.
The JBC received 28 applications from members of the Philippine Bar. Most of them came from appellate court justices.
The Council set their public interviews on September 6, 9, 10 and 11.
They will face the panel as follows:
September 6
Davao City Regional Trial Court judge Carlos Espero II
Court of Appeals Justice Samuel Gaerlan
Sandiganbayan Justice Oscar Herrera Jr.
CA Justice Edgardo Lloren
CA Justice Edwin Sorongon
Former Justice Undersecretary Manuel Antonio Teehankee
September 9
Bureau of Internal Revenue deputy commissioner Lanee Cui-David
University of Asia and the Pacific School of Law professor Jeremy Benigno Gatdula
Court Administrator Jose Midas Marquez
Former Ateneo Law School dean Cesar Villanueva
CA Justice Oscar Badelles
CA Justice Apolinario Bruselas Jr.
CA Justice Edgardo Delos Santos
CA Justice Eduardo Peralta Jr.
September 10
CA Justice Manuel Barrios
CA Justice Jhosep Lopez
CA Justice Pablito Lopez
CA Justice Elihu Ybañez
Sandiganbayan Presiding Justice Amparo Cabotaje-Tang
Sandiganbayan Justice Efren De La Cruz
Sandiganbayan Justice Alex Quiroz
September 11
CA Justice Ramon Bato Jr.
CA Justice Japar Dimaampao
CA Justice Mario Lopez
CA Justice Ricardo Rosario
CA Justice Ramon Cruz
CA Justice Ramon Garcia
CA Justice Maria Filomena Singh
Eight out of the 15-member court were appointed by President Rodrigo Duterte.
The president is also set to appoint the next head of the Judiciary as Chief Justice Lucas Bersamin retires on October 18.