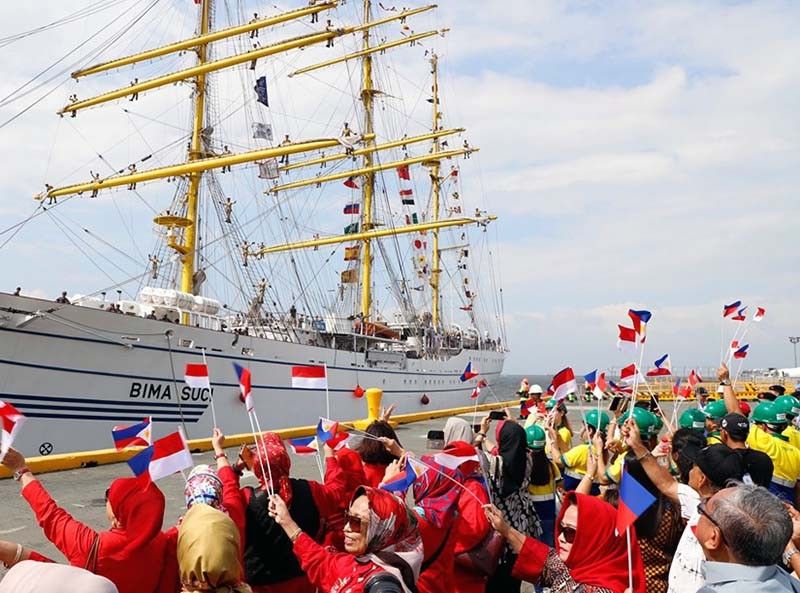 KRI Bima Suci, is a training barque of the Indonesian Navy. It is in Manila for a four-day goodwill visit.
Philippine Navy
Indonesian training ship in Manila for goodwill visit
(Philstar.com) - August 12, 2019 - 5:13pm
MANILA, Philippines — KRI Bima Suci, a training ship of the Indonesian Navy, is in Manila for a four-day goodwill visit, her second time in the country.
Bima Suci—a sailing barque, or a ship with at least three masts—arrived in Manila early on Monday with a complement of 190. Of that number, 15 are officers, 74 are members of the crew and 18 are training staff. Another 83 are cadets.
The vessel is named after Javanese hero that was a symbol of force, bravery and righteousness.
Tentara Nasional Indonesia-Angkatan Laut Lt. Col. Waluyo, commander of Bima Suci, in a briefing after the welcome ceremony, said the visit highlights defense cooperation between the two countries.
"This cooperation is part of Indonesia's commitments to participate in maintaining security in the Southeast Asia which focus on capability building in
supporting the peace missions and maintaining borders maritime securities," the Philippine Navy quotes him as saying.
The Navy said a "series of confidence-building engagements between the two navies are lined up such as reciprocal receptions, goodwill games and shipboard tour" during the four-day visit.
Bima Suci was previously in Manila last October.
"This goodwill visit reaffirms and further strengthens the already strong relationship between the two navies. It fortifies the PN's firm commitment of maintaining good relationship with other foreign navies," the Navy said.