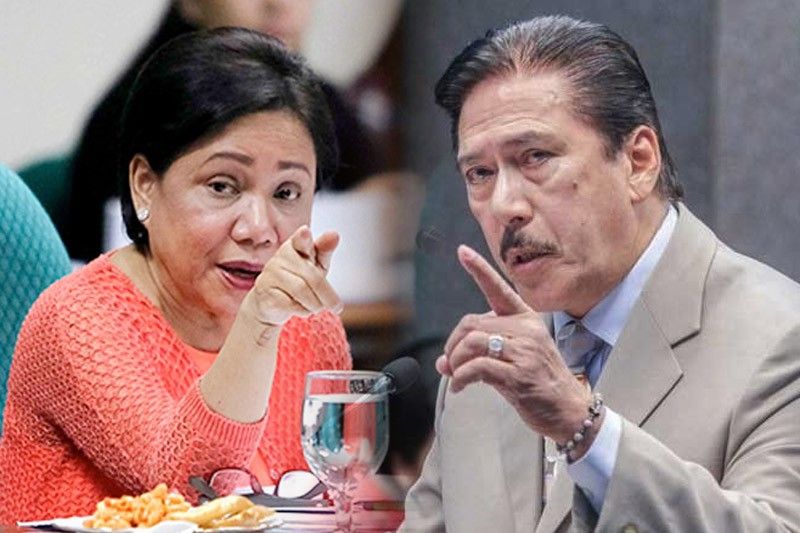 A reshuffle in the Senate leadership is brewing.
Philstar.com
What we know so far: Senate leadership change
(Philstar.com) - May 31, 2019 - 4:53pm
MANILA, Philippines — A reshuffle in the Senate leadership is brewing.
New entrants are pushing for Sen. Cynthia Villar, whose candidacy was endorsed by President Rodrigo Duterte, while senior senators are backing current Senate President Tito Sotto, who is seen as a "fair" head of the upper chamber.
How talks of a leadership change came to be?
Sen. Villar's name was first floated as a contender for the Senate presidency when Senator-elect Imee Marcos claimed in an interview on May 30 that there are moves within the Senate to challenge Sotto's leadership.
"I've heard there's some kind of move to push Senator Cynthia," Marcos said over ANC's "Headstart." Both Villar and Marcos are members of the Nacionalista Party.
Villar initially expressed disinterest in the post, but hinted she is open to it after her name was floated.
READ: No complaints over Sotto's leadership of Senate, colleagues say
Although Marcos was the one who made the rumors public, the originator of the plan was Villar's fellow Hugpong ng Pagbabago candidate Senator-elect Francis Tolentino.
Sen. Panfilo Lacson revealed last Saturday that Tolentino told Villar to "try and challenge" the post.
Marcos has since apologized to Sotto for starting the rumor about the plan to unseat him.
Who is backing who?
At least 13 votes are needed to clinch the Senate presidency.
And according to the latest count of Senate Majority Leader Juan Miguel Zubiri, Sotto already has the backing of 16 colleagues.
Those supporting Sotto are Sens. Panfilo Lacson, who drafted a resolution to be signed by colleagues who would like the leadership to remain unchanged, Manny Pacquiao, Nancy Binay, Grace Poe, Aquilino Pimentel III, Ralph Recto, Sherwin Gatchalian, Joel Villanueva, Richard Gordon and Juan Miguel Zubiri.
The four remaining opposition senators — Franklin Drilon, Francis Pangilinan, Risa Hontiveros and Leila de Lima — have also declared support for Sotto whom they touted as a "fair" leader.
Tolentino, however, raised that members of the so-called Hugpong bloc might rally behind Villar's leadership.
He claimed that Pimentel, Bong Go, Bato dela Rosa, Ralph Recto, Pia Cayetano, Marcos and Pacquiao—who was the original proponent of the resolution to back Sotto that Lacson drafted—are his co-members in the so-called bloc. This, despite some senators he named already expressing support for the current leadership.
Meanwhile, Dela Rosa said he first intends to discuss the matter with his party.
What can be expected in Villar's leadership?
UST Political Science professor Dennis Coronacion said that Villar, who led the Senate race with 25, 283,727 votes is a "silent worker."
"She doesn't publicize the things that she's working on. I guess it's the reason why many were surprised when she landed at the top spot of the Senate race," he said.
"Villar has a good track record in the Senate. As chair of the committee on agriculture and food, she is responsible for the enactment of reform measures meant to make our agricultural products competitive."
Political analyst Ramon Casiple, executive director of the Institute for Political and Electoral Reform, agreed that Villar can prove to be a capable Senate president if she gets a majority vote.
Her capacity to gain the consensus or majority, however, is still untested, Casiple added.
What can be expected with a continued Sotto leadership
Sotto, on the other hand, is not the low-key type, according to Coronacion.
"He is always seen and heard on media interviews explaining his opinion on any major national issue," the analyst said.
This means a vocal Senate is expected with a continued Sotto leadership, especially on national issues.
However, Casiple said that Sotto's distant relationship with Duterte may prove a hurdle for the Senate.
"Sotto may have a problem in not being close to the president and may have conflicts with the latter's legislative agenda," he said.
Sotto has proposed the reinstatement of the death penalty in the past as a member of the 16th and 17th Congresses and notably the lowering of the minimum age of criminal liability in 2018.
Whose leadership can maintain an independent Senate?
A Villar leadership would see the same amount of support for Duterte's legislative agenda as Sotto's, according Coronacion.
READ: Duterte seen 'consolidating his power further' as allies sweep Senate race
"As a supporter of (Tax Reform for Acceleration and Inclusion) 1, I think she would be able to rally the Senate behind TRAIN 2, which is considered a controversial measure. The president can also expect her leadership's full support for the non-controversial and popular measures," he said.
Villar voted in favor of the TRAIN law in 2017.
Her leadership's support, however, would not extend to controversial measures of the Duterte administration such as the restoration of capital punishment, charter change and federalism.
Casiple, on the other hand, said that both contenders are independent in their political decisions.
For now, it all remains a plan. But on July 22 when senators choose their officers, those who doubt the current leadership in the Senate will be revealed. — with Philstar.com interns Blanch Ancla and Michelle Co