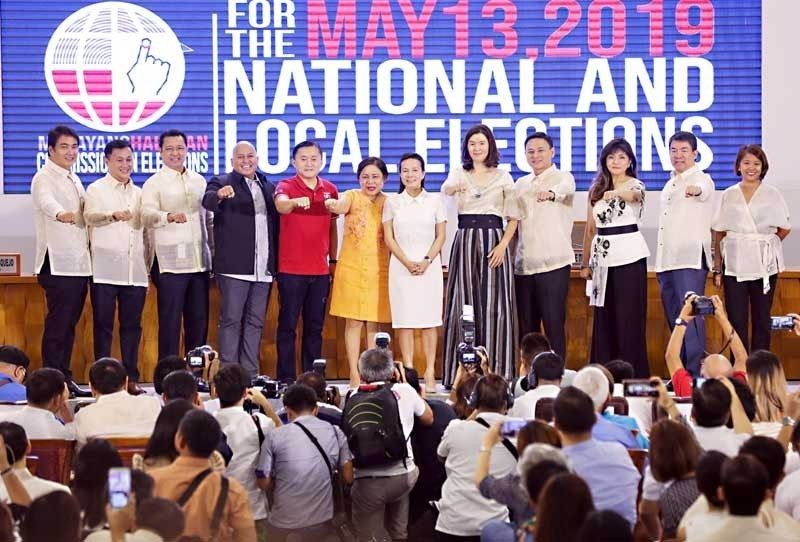 While Drilon did not name names, there were reports that Senator-elect Francis Tolentino was prodding Sen. Cynthia Villar to run for Senate president.
Geremy Pintolo/File
New senators told: Study lawmaking first before power play
MANILA, Philippines — Senate Minority Leader Franklin Drilon yesterday advised new senators to study lawmaking first before meddling in the affairs of the Senate leadership.
Drilon gave the unsolicited advice to neophyte senators amid rumors that they were allegedly plotting to have Senate President Vicente Sotto III replaced when the 18th Congress opens in July.
"I hope the new ones study first. I'll say it directly, as a neophyte, changing the leadership of the Senate is far from our mandate," Drilon told dzBB in an interview.
"They were elected by the people to make laws and not meddle in a leadership quarrel," he said.
Drilon said the new senators must work first and show the public they are worth the mandate given to them.
He said when he first became a senator in 1995, he was a mere observer in the leadership power play at the time.
Drilon said while the minority bloc does not have any say in the selection of the Senate president, he and its three other members — Senators Francis Pangilinan, Risa Hontiveros and Leila de Lima — support Sotto for being fair.
"Unless Senator Sotto committed a mortal sin, I don't think any senior senator will care to listen to a neophyte senator if he or she moves to campaign for a change of leadership," he said.
While Drilon did not name names, there were reports that Senator-elect Francis Tolentino was prodding Sen. Cynthia Villar to run for Senate president.
Tolentino also floated the idea of the "HNP bloc" composed of nine senators, including himself and Villar, who were endorsed by Hugpong ng Pagbabago regional party led by Davao City Mayor Sara Duterte during the campaign.
The supposed bloc is composed of five senators from the PDP-Laban, namely, Tolentino, Senators Manny Pacquiao, Aquilino Pimentel III and Senators-elect Christopher Go and Ronald dela Rosa, and four from the Nacionalista Party led by Villar, Senate President Pro Tempore Ralph Recto and Senators-elect Pia Cayetano and Imee Marcos.
Last week, Sen. Panfilo Lacson disclosed he was circulating an undated and draft resolution expressing support for Sotto to remain as Senate president to determine once and for all whether or not there was a challenge to his leadership.
Senate Majority Leader Juan Miguel Zubiri and Senators Nancy Binay and Joel Villanueva said they would sign the resolution, which was first suggested by Pacquiao.
It takes at least 13 votes to elect a Senate president.
By Zubiri's count, Sotto enjoys the support of 16 senators.
Dela Rosa said he would not sign the resolution as he intends to consult first his party leaders.
Pimentel told reporters there was nothing wrong if Dela Rosa chooses to consult the younger Duterte on his choice for Senate president.
When asked whether or not he would sign the resolution, Pimentel said, "There is no challenge to Sotto's tenure."
Tolentino told dzBB he just arrived from Jerusalem and was not updated on the latest political news.
"Whatever the case, I will abide by the decision of my party PDP-Laban/Hugpong. I have the highest respect for Senator Sotto," he said.