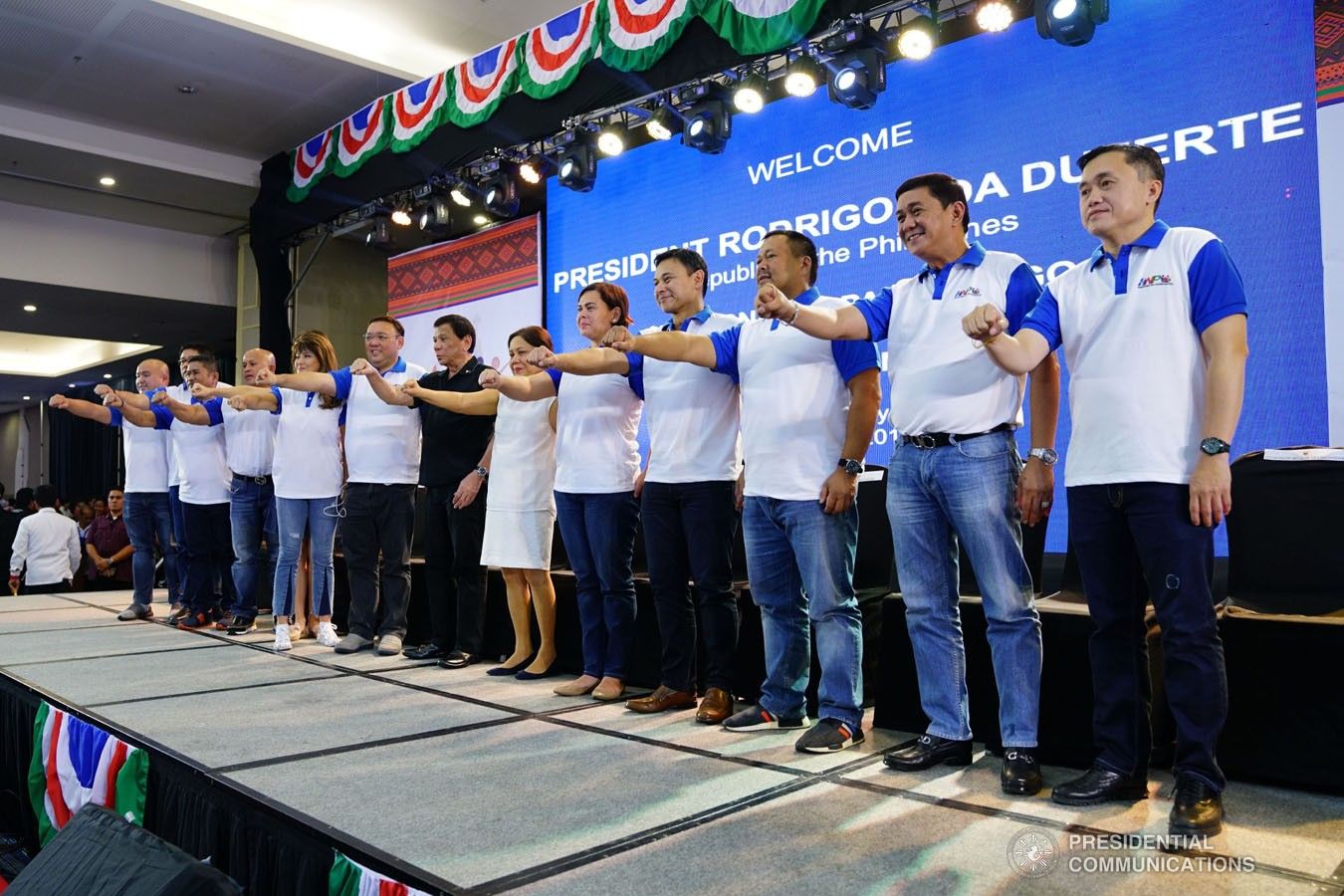 Partial and unofficial tally showed President Rodrigo Duterte's chosen senatorial candidates dominate the race. Meanwhile, opposition candidates are struggling to gain a seat.
PCOO
Duterte seen 'consolidating his power further' as allies sweep Senate race
(Philstar.com) - May 15, 2019 - 1:42pm
MANILA, Philippines — With his allies dominating the Senate race, President Rodrigo Duterte is poised to "consolidate his power further" and "gain control" of the upper house, which could mean smooth sailing for his legislative priorities, a Fitch unit said.
Partial and unofficial tally showed Duterte's chosen senatorial candidates dominate the race. Meanwhile, opposition candidates are struggling to gain a seat.
In a commentary, Fitch Solutions said the strong show of support for Duterte will give him both the confidence and ability to push ahead with his reform agenda.
Among Duterte's key reforms are shifting towards a federal system of governance, cutting corporate tax rates and reinstating the death penalty.
However, Fitch Solutions warned that reduced opposition within the Senate could erode the potential for "checks and balances" on Duterte's administration.
It added that Duterte will likely face increased domestic pressure over his relations with China and slowing economic growth, which could pose challenges for him "over the final half of his term as he looks to secure his legacy via an appointed successor."
"The Senate has proved a sticking point for Duterte, as seen by the delay to the passing of the 2019 budget. Duterte will hope that with increased support in the Senate, his reforms and fiscal plans will face less obstacles," the Fitch unit said.
Half of the 24 senators and all 297 seats in the House of Representatives, as well as hundreds of mayoral and gubernatorial posts were up for grabs on Monday's election.
According to Fitch Solutions, the May polls also reinforced the "significance" of family dynasties within Philippine politics, highlighting the still large influence they have over the country.
"Duterte's daughter, Sara Duterte, will have increased her chances of succeeding her father's presidency after her [Hugpong ng Pagbabago] alliance-backed Senate candidates performed well," it said.
"Similarly, Imee Marcos stands eighth in the Senate vote based on current results, which will mean she will gain a seat, and is the daughter of former president and dictator Ferdinand Marcos," it added.
Separately, Japan-based Nomura said the outcome of the election is likely supportive of political stability and the government's reform agenda.
"Fiscal reform, which has been delayed and has lost some visibility, is likely back on the radar screen as a result of Duterte's stronger support base in Congress after the mid-terms," Nomura said.
"Specifically, we believe the next package on fiscal incentive rationalization combined with corporate income tax cuts may now have a more realistic chance of enactment than not within this year," it added. — Ian Nicolas Cigaral
As It Happens
LATEST UPDATE: May 22, 2019 - 11:16am
Updates on the senatorial race following the May 13 midterm elections in the Philippines.
(Photo by The STAR/Michael Varcas)
May 22, 2019 - 11:16am
The Commission on Elections has officially proclaimed the following elected senators:
Cynthia Villar

Grace Poe

Bong Go

Ronald dela Rosa

Sonny Angara

Lito Lapid

Imee Marcos

Francis Tolentino

Koko Pimentel

Bong Revilla

Nancy Binay
The final and official tally of votes shows that nine of President Rodrigo Duterte's allies candidates won a seat at the upper house.
.@COMELEC chief Sheriff Abas thanks the poll body's personnel as well as its partners for the "successful" conduct of #Election2019.

"The public has asked a lot from us. I'm proud to say we have delivered what is needed." | via @gaeacabico #SenateRace pic.twitter.com/U5Xcadx7o5

— Philstar.com (@PhilstarNews) May 22, 2019
May 22, 2019 - 10:14am
The Commission on Elections is set to proclaim the winning senators and party-lists today.
The proclamation comes nine days after the 2019 midterm polls. The National Board of Canvassers ended the canvass late Tuesday.
May 20, 2019 - 9:20pm
With only two certificates of canvass left for the National Board of Canvassers to tally, the board suspends its session on Monday and will resume canvassing on Tuesday morning.
Comelec said the COCs from the Philippine embassies in Saudi Arabia and in Washington account for 555,092 votes.
The board has canvassed 165 of 167 COCs and the Comelec expects to hold proclamations of winning candidates on Tuesday.
May 20, 2019 - 8:20pm
Canvassing resumes Monday night.
The National Board of Canvassers resumes its session at 8:13 p.m.

The board is now tabulating the certificate of canvass from Japan. #Election2019 | @rosette_adel pic.twitter.com/55wAoIzecB

— Philstar.com (@PhilstarNews) May 20, 2019
The Commission on Elections said earlier Monday that the proclamation of winners in the senatorial and party-list elections will likely happen on Tuesday.
Party-list proclamations will be in the morning while the country's 12 new senators-elect will be proclaimed in the evening.
May 19, 2019 - 3:22pm
Commission on Elections Director Frances Arabe of the commission's Education and Information Department tells reporters that proclamation of winners can be done "early next week" but cannot say for certain if it will be done in one go.
The Comelec has conducted partial proclamations in past elections.