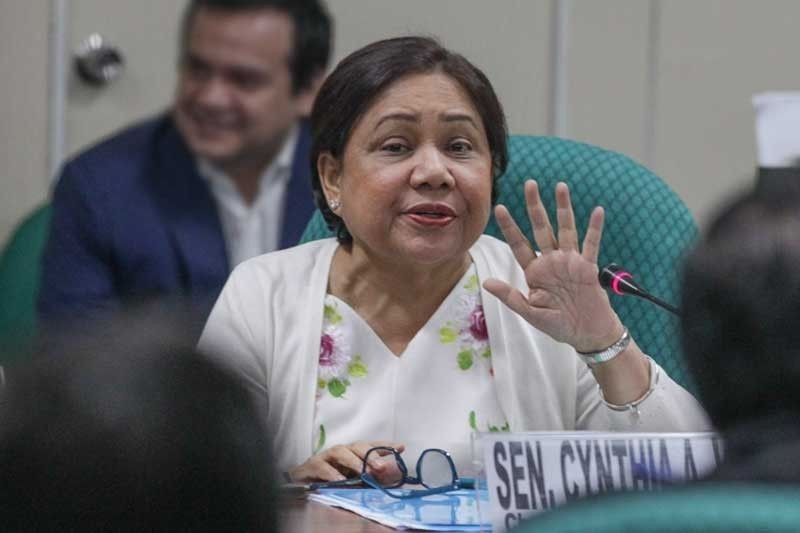 This was revealed yesterday by Sen. Panfilo Lacson based on a text message of Senator-elect Imee Marcos sent to Sotto.
Mong Pintolo/File
Who is pushing Villar to contest Senate presidency?
MANILA, Philippines — Senator-elect Francis Tolentino is pushing reelected Sen. Cynthia Villar to contest the top post in the Senate against Senate President Vicente Sotto III.
This was revealed yesterday by Sen. Panfilo Lacson based on a text message of Senator-elect Imee Marcos sent to Sotto.
"Tolentino was the one who talked to Villar to try for the Senate presidency, to try and challenge it, but everything was just a plan," Lacson said in Filipino over radio dwIZ.
Lacson said Marcos has apologized to Sotto through a text message for causing controversy over the Senate presidency.
"Senator-elect Imee sent messages to Sen. Sotto. She said it might be just a misunderstanding. The reason why she brought this up is because Villar is her partymate and she was asked by someone about the matter. It would be awkward if she won't say that she supports her. So she apologized to SP, saying it was just a misunderstanding," Lacson said.
He said Marcos clarified that as a member of the Nacionalista Party, which Villar heads, she did not initiate any of the rumored possible changes in the Senate leadership.
"She said in the text message to SP that she did not make any initiative as a member of the NP headed by Sen. Villar. The one who is suporting is Tolentino," Lacson said.
He said a majority of the senators are happy with the way Sotto is running the Senate. "(Tolentino) has yet to experience Sotto's leadership," he added.
Earlier, Sen. Manny Pacquiao suggested that senators sign a resolution expressing support for Sotto.
Lacson said a resolution has been drafted and would be presented to the senators tomorrow.
Aside from Lacson and Pacquiao, reelected senators Nancy Binay, Grace Poe, Aquilino Pimentel III, Ralph Recto, Sherwin Gatchalian, Joel Villanueva, Richard Gordon and Zubiri indicated their support for Sotto.
Returning senator-elect Lito Lapid, a member of National People's Coalition, is expected to support Sotto, who is his partymate.
Lacson reiterated that senators respect the time-honored equity of the incumbent, meaning senior senators or those serving their second three years, have the prerogative to keep or choose their respective committees to chair.
He clarified that certain senators could not just choose committees they want to head since all the members of the Senate take the issue into a vote.
Senators will elect their officers on July 22 – Senate president, majority leader, pro tempore, sergeant at arms, Senate secretary, and on the following day they will elect chairmen, chairpersons, he added.