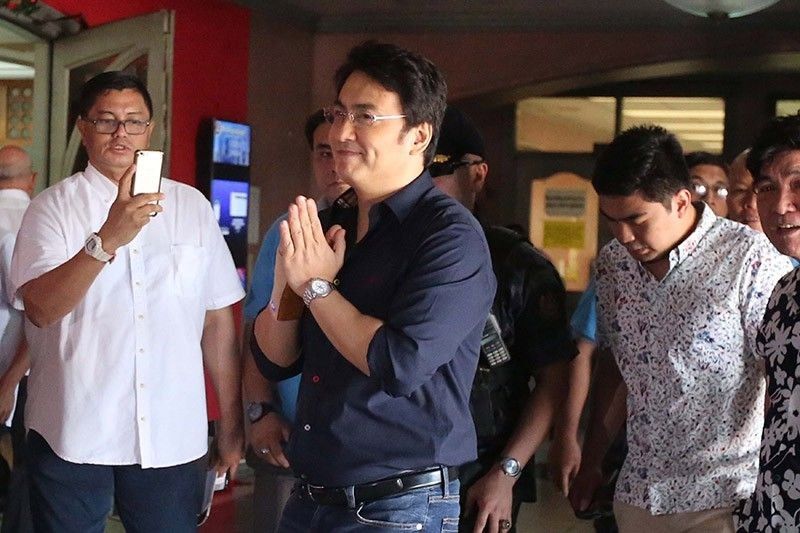 The Sandiganbayan's First Division on Dec. 7, 2018 handed down its ruling on the plunder case against former Sen. Ramon "Bong" Revilla Jr.
The STAR/Boy Santos
Revilla makes successful political comeback after plunder acquittal
MANILA, Philippines — After four years in detention over a plunder charge, former Sen. Ramon "Bong" Revilla Jr. successfully made a political comeback in the 2019 midterm elections.
The actor turned lawmaker made a successful return to the Senate in 2019. Revilla ranked 11th with 14,624,445 votes, a spot higher than re-electionist Sen. Nancy Binay who got 14,504,936 votes.
The two lawmakers edged out re-electionist JV Ejercito (14,313,727 votes) and lone Otso Diretso bet Bam Aquino (14,144,923 votes) from the winners' circle.
Revilla, in a statement, Tuesday morning thanked his supporters. He said: "As always, everything is in God's hands."
Plunder case
Revilla is one of the lawmakers—along with fellow Senate bets Juan Ponce Enrile and Jinggoy Estrada—accused of misusing P517 million of their Priority Development Assistance Fund and funneling it to bogus non-government organizations.
On Dec. 7, 2018, the Sandiganbayan acquitted him from the government's plunder charge. It ruled that the prosecution failed to prove Revilla's guilt beyond reasonable doubt.
Revilla walked free on the evening of Dec. 7, 2018, after spending four years in detention at the Philippine National Police Custodial Center.
RELATED: Cops seize mobile phone from Bong Revilla's cell
While the anti-graft court acquitted Revilla from plunder, the Office of the Ombudsman argued that he should be made to return the millions of pesos to the government.
Ombudsman prosecutors urged the anti-graft court to issue a writ of execution that would compel Revilla to pay P124.5-million in civil liability.
READ: Revilla acquitted but ordered to 'return' P124 million in public funds
Campaign material
During the campaign sorties, Revilla harped on his plunder case and claimed that the media vilified him.
At the kickoff of the Hugpong ng Pagbabago campaign in San Fernando, Pampanga on February 12, Revilla said: "Four years six months po ako nakakulong, one year akong dinurog sa media (I was in jail for four years and six months. I was vilified by the media for a year)."
Revilla also had a television campaign video showing him dancing to "budots."
READ: Bong Revilla: I won't 'budots,' steal if elected senator
Plunder is not the only charge Revilla is facing before the Sandiganbayan.
There remain 16 counts of graft against Revilla since June 2014. He paid P480,000 worth of bail bond for the pending cases last year.