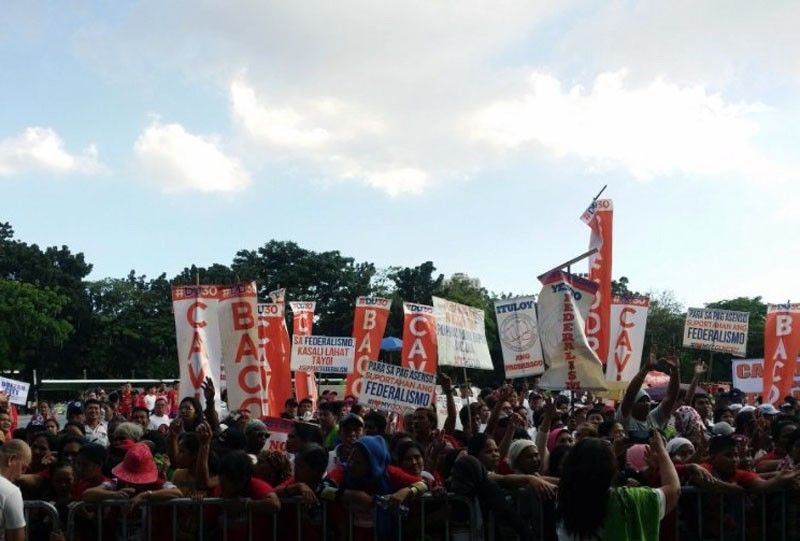 In this file photo, President Rodrigo Duterte's supporters hold a rally in Quezon City in support of federalism.
The STAR/Emmanuel Tupas, File photo
More allies in Senate bring new hope for delayed priority legislation
(Philstar.com) - May 15, 2019 - 8:53am
MANILA, Philippines — In his 2018 State of the Nation Address, President Rodrigo Duterte laid out eight bills that he wanted Congress to pass. It managed to pass four of those.
Among those priority bills that Congress passed, Duterte vetoed one—on the use of P75 billion coco levy funds—but the Palace said it hopes lawmakers will "re-craft one that will provide more safeguards to protect the taxpayers' money and shield the levy funds from irregular and unlawful use."
Sen. Cynthia Villar, at the top of partial, unofficial election results, has already indicated that she will make passage of the coco levy fund bill a priority.
READ: Legislative roundup: Duterte's 8 priority bills and Congress' progress so far
A new 18th Congress means a reset for legislation and a Senate filled with even more administration allies.
Charter change and federalism
A revamp of the 1987 Constitution and a shift to a federal form of government has been a Duterte promise since before he was elected president. Although the campaign for federalism was sidelined by lack of public support, a need to pass the 2019 national budget, and preparations for the recent elections, the House of Representatives managed to approve a draft federal constitution in December 2018.
That draft constitution, Resolution of Both Houses No. 15, was not the same draft that a Palace-backed committee submitted to the president and that an inter-agency task force is working on.
The Senate was cool to the House proposal, with Senate President Vicente Sotto III saying that same month that the upper house had no time left to discuss the measure.
Of the 12 candidates likely to win seats at the Senate, seven have indicated that they are for the shift to federalism. Three of them, reelectionists Sen. Cynthia Villar, Grace Poe and Nancy Binay, have said they are against it.
Two, Sen. Juan Edgardo Angara and actor Lito Lapid, had no position on federalism during the campaign. Angara said last December, however, that public awareness of federalism is still low.
"People don't want it yet," he said in an interview on the ABS-CBN News Channel. "It needs to be explained more."
The Inter-Agency Task Force on Federalism and Constitutional Reform has been working on a draft for a federal constitution based on the one submitted by the Consultative Committee to Review the 1987 Constitution.
Local Government Assistant Secretary Jonathan Malaya said in April at a forum on charter change that agencies in the task force have been assigned to work on parts of a draft that will be consolidated in June.
The 18th Congress will meet in July when Duterte makes his State of the Nation Address and lays out the administration's legislative priorities.
Among the arguments lobbed against federalism is that this will only give political dynasties a firmer grip on power. The consultative committee had countered that the draft constitution has a self-executing provision against dynasties.
Political scientist and professor Julio Teehankee, a member of the consultative committee and a panelist at the Institute for Autonomy and Governance in April, said though that the "electoral calculus of 2019 and 2022 will make the passage of the ban on political dynasties and party switching impossible."
Ban on contractualization
The Senate ran out of time to pass the Security of Tenure bill meant to protect workers' job security.
Duterte last July called on Congress to do what it can to end the practice of "endo," from "end of contract," or short-term contracts that keep workers from getting mandated benefits.
The term "endo" has expanded to include contractual labor in general, which, IBON think tank has said contributes to "the prevalence of jobs that are insecure, low-paying and lacking in benefits."
"I add mine to (worker's) voices in asking Congress to pass legislation ending the practice of contractualization once and for all," Duterte said last July acknowledging that an executive order he issued emphasizing the prohibition of illegal contractualization of labor could only do so much.
The House had already passed a bill that protects the security of tenure of workers and prohibits sub-contracting work. It does not ban contractual labor, which employers' groups say companies need during busier seasons.
"It is impractical and costly for the enterprise to maintain workers beyond what it needs, operating in a highly competitive trade environment that requires just-in-time production," Employers Confederation of the Philippines acting president Ortiz-Luis said in June.
The Trade Union Congress of the Philippines warned in February that around 20 million workers were at risk if the Security of Tenure bill is not passed.
"They are the agency-hired workers, the casuals, the seasonals, the project-based, the contractuals. They are the ones who have sacrificed to 'build, build, build' our 6.1 percent GDP growth even as they tightened belts through the worse inflation spike in nine years," TUCP president Raymond Mendoza said then.
National Land Use Act
In July 2018, Duterte urged the Senate "to urgently pass the National Land Use Act to put in place a national land use policy that will address our competing land requirements for food, housing business and environmental conservation."
A counterpart bill to one that the House of Representatives had already passed had been pending at the committee level since July 2017, when Sen. Juan Miguel Zubiri filed it.
The bill, if passed into law, will have the national and local governments "determine the specific uses of land and other physical resources" in the country.
Among its provisions is the full protection from conversion to other purposes of "irrigable lands, all lands developed or possessing the potential for development of high-value crops, and all agricultural lands that are ecologically fragile and whose conversion will result in serious environmental problems."
The proposed national land use policy "also provides for guidelines in major areas, as follows: agricultural lands, forestlands and watersheds, coastal zones, mineral lands, energy resource lands, settlements development areas, industrial development areas, tourism development and heritage areas," Zubiri's bill reads.
Duterte's call in 2018 was a reiteration of a similar one he made a year before, when he stressed the need for a natural land use policy "to ensure the rational and sustainable use of our land and our physical resources, given the competing needs of food security, housing, businesses and environmental conservation."
Villar, chair of the Senate Committee on Environment and Natural Resources that was tasked with holding hearings on the bill, is set to win a second six-year term.
Department of Disaster Management
Duterte also called on Congress to pass a law to create a Department of Disaster Management "just like Federal Emergency Management Agency... an inter-agency crafted and a high-priority measure aimed at genuinely strengthening our country's capacity for [resilience] to natural disasters." He said last July that it was for immediate endorsement.
In his SONA, Duterte said the country "[needs] a truly empowered department characterized by a unity of command, science-based approach and full-time focus on natural hazards and disasters, and the wherewithal to take charge of the disaster risk reduction; preparedness and response; with better recovery and faster rehabilitation."
Sen. JV Ejercito, who is just outside the winners' circle, filed a bill to create a similar agency, saying in August 2017 that "the experience of the Philippines in 2013 when the country was struck with super typhoon Yolanda exposes the gaps in the policies of the government in terms of disaster preparedness, mitigation, response and rehabilitation."
Re-electionist Sen. Juan Edgardo Angara, who is poised to win a new mandate, filed a similar bill as did Senate President Vicente Sotto III.
'TRAIN 2'
Amid backlash over inflation that economic managers said was unfairly attributed to the Tax Reform for Acceleration and Inclusion (TRAIN) Law, senators were cool to the second tax reform package then known as "TRAIN 2".
The second tax reform package will lower corporate income tax rates to 25 percent from 30 percent but will also streamline tax incentives, was filed at the House of Representatives in March 2017. According to previous reports, the Finance department also wants value-added tax exemptions for coal and casinos removed.
In July, senators seemed wary of working on it. Senate Majority Leader Juan Miguel Zubiri said then that senators need to consider how the loss of the tax incentives may lead to investors leaving the country, which could lead to job losses.
Sotto said senators are also wary because of the effect of the first TRAIN Law, which lowered personal income taxes but also imposed higher excise taxes on fuel and on "sin" products.
A week before the elections, Finance Secretary Carlos Dominguez said he hopes a recent credit rating upgrade will persuade the next Congress to pass tax reform measures that will benefit the public.
Global credit watchdog Standard & Poor's (S&P) has upgraded the Philippines' credit rating to "BBB+" with a stable outlook, just a step lower than an "A" grade. S&P attributed the upgrade to the Philippines' consistent economic growth, the sound external settings of its economy and its solid fiscal accounts.
A credit rating reflects a borrower's ability to manage and pay back its debt. A rating upgrade is expected to lower borrowing costs and to make it easier for the private sector to tap international funding sources.
"I'm sure that the Senate and the House — Senate, in particular — can see the benefits of what they did. They are the ones who enabled this credit upgrading by passing the bills," Dominguez said in a press briefing in Malacañang, referring to TRAIN.
"There are positive benefits from this. And I hope that, you know, with this credit rating upgrade recently, the Senate will really consider passing these bills that will redound to the benefit of the Filipino people," he also said.
Sotto: Senate will remain independent
Senate President Sotto said in a radio interview Tuesday that a Senate of even more administration allies will not mean that it will lose its independence.
He said that the political opposition does not have a monopoly on criticizing the administration's policies. He added that not all of those in the top 12 are necessarily Duterte supporters.
"Si Nancy, hindi pro-administration yan, independent-minded yan. Yung number 11, si Bong Revilla, independent-minded din yan. Lalo na si Grace Poe," he said.
(Nancy is not pro-administration. She is independent-minded. The one at Number 11, Bong Revilla, he is also independent-minded. Grace Poe is even more so)
He said that the Senate will not hesitate to oppose policies that will not benefit the public.
"Public office is a public trust, so publiko ang bida, hindi ang Pangulo. Pag tama 'yung pangulo, (unclear) dahil gusto ng publiko yun. Suportahan mo, ika nga. Huwag yung tama ang pangulo, kokontrahin mo dahil hindi mo gusto," he also said.
(Public office is a public trust, so the public is at the center, not the president. If the president is right... support it. But it's not right that even if the president is correct, you will oppose it because you don't like him) — Jonathan de Santos