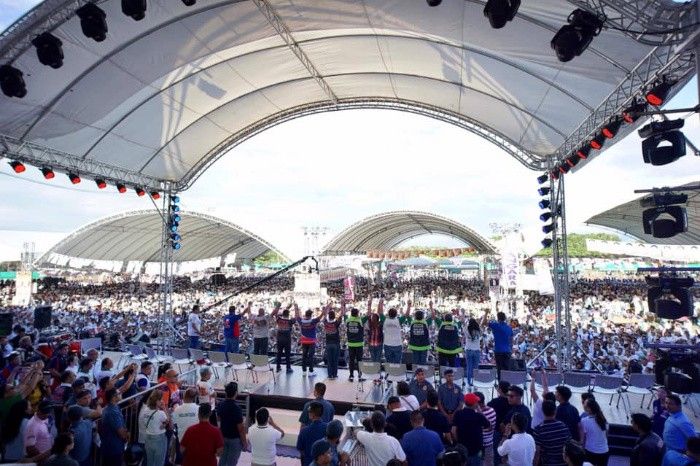 Members of Hugpong ng Pagbabago slate holds a campaign gathering in Davao del Norte in April. The new party formed by Davao City Mayor Sara Duterte aligns with President Duterte.
HNP campaign
As midterm vote nears, Philippine Senate's independence seen hanging in the balance
MANILA, Philippines — Filipino electorates will cast their votes on Monday, May 13, and experts say the Philippines could see the Senate fill up with allies of President Rodrigo Duterte at the end of this year's elections, thanks to his sustained popularity.
But there might be a problem: While the May polls could strengthen Duterte's political clout in Congress and bolster policy-making process, such an outcome would likely weigh on the system of checks and balances in the country.
READ: Philippine polls could open door to death penalty return
"In the event that President Duterte's allies dominate the Senate, it's very likely that the institution will lose its touted independence," Dennis Coronacion, a political science professor at the University of Santo Tomas, told Philstar.com in an interview.
"The worst case scenario is when the Senate becomes a rubber stamp for the executive," Coronacion added.
Twelve of the 24 Senate seats, as well as all lower house seats and all elected posts of local government units are up for grabs next week.
Members of the Philippine Senate have had a reputation for being more independent-minded than their colleagues at the House of Representatives. The upper house is currently a mixed bag of political parties, and Duterte doesn't have the solid backing of many senators, who serve six-year terms.
Results of a May 3 to 6 Pulse Asia survey of 1,800 likely voters released Saturday showed 11 of Duterte's chosen senatorial candidates have a statistical chance of winning seats.
Meanwhile, reelectionist Sen. Bam Aquino is the only candidate from the opposition ticket who made it to the possible winners' circle.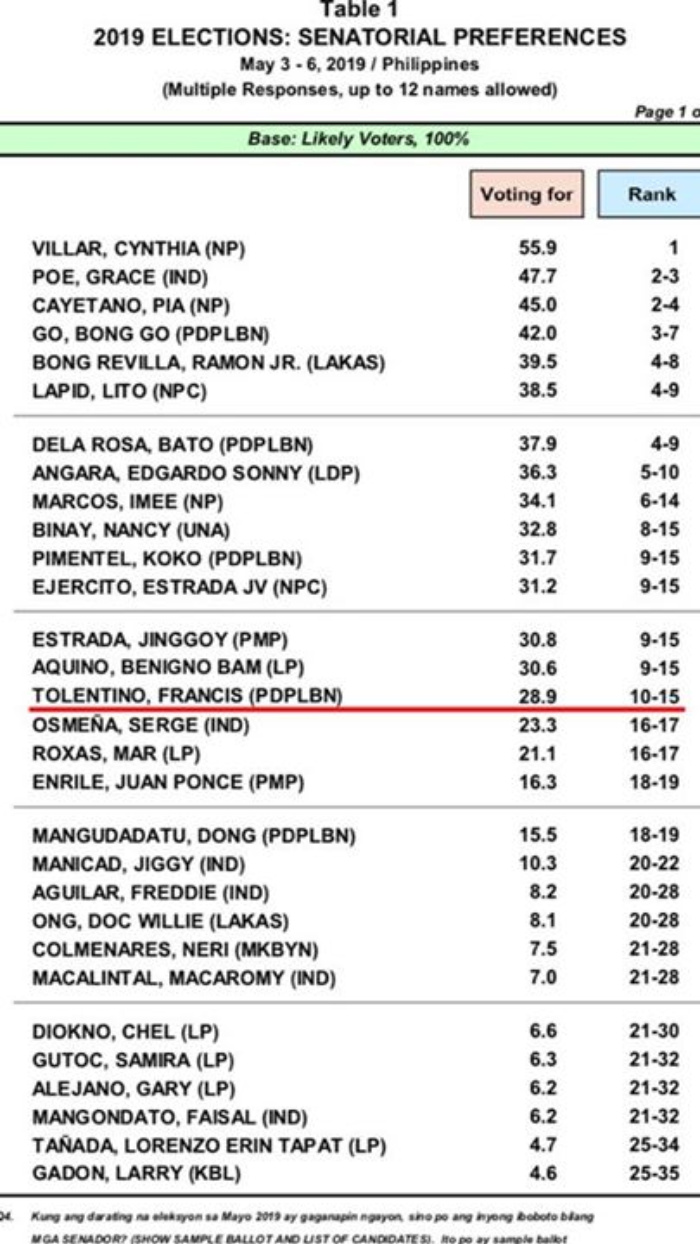 READ: JV emerges in Pulse Asia pre-election poll, overtakes brother Jinggoy
Drawbacks
Shifting to a federal government system and reviving capital punishment for drug-related crimes are among Duterte's key promises when he became president in a landslide election victory. He has also put forward a plan to revamp the country's tax system to help raise funds for his ambitious infrastructure program.
In a Sept. 10, 2018 commentary, Fitch Solutions Macro Research said it's likely that lawmakers loyal to Duterte will dominate the Senate after this year's poll, given that the opposition Liberal Party has been "weakened considerably."
But the Fitch unit warned that while the policy-making process is likely to improve should Duterte's allies capture more seats in the upper house, this would threaten the system of checks and balances in the Philippines.
Analysts at Fitch Solutions said they have already observed a decline in the freedom of press, while the ouster of Supreme Court Chief Justice Maria Lourdes Sereno, who Duterte called his "enemy," casts doubts about the independence of the judiciary.
"In a political culture where loyalties easily evolve, we believe that there is a growing chance for Duterte-aligned policymakers to gain control of the Senate in the mid-term elections," Fitch Solutions analysts said.
"Furthermore, Duterte appears to be allying with political heavyweights in the country like the Marcos family and former president Gloria Macapagal Arroyo to compensate for his shallow political network at the national level, and that may further entrench political dynasties in the country," they added.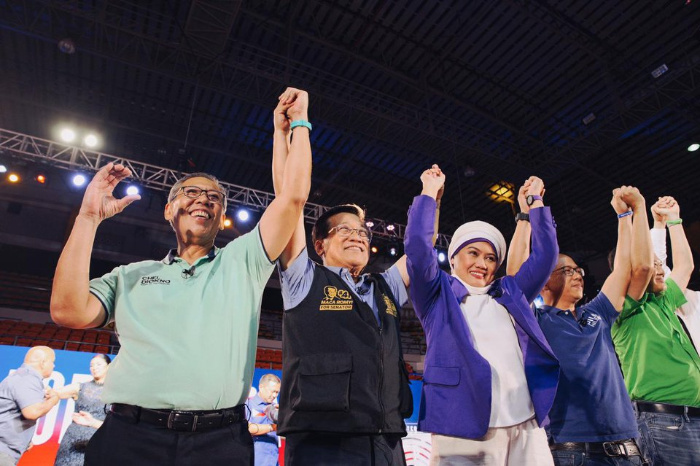 "This will likely limit political diversity within Philippine democracy over time."
Separately, Euben Paracuelles of Japan-based Nomura said the steady improvement in Duterte's popularity among Filipinos who are fed up with the country's woes and elite politicians "could boost his support base in Congress."
This implies a rising likelihood of his allies retaining a strong majority in Congress, which, in turn, should support the fiscal reform agenda during the second half his six-year term," Paracuelles said in an April 12 commentary.
Youth vote
According to the Commission on Elections, the youth can shape the outcome of the midterm elections, noting their impact in the 2016 presidential election.
Citing data from Comelec, Bloomberg early this week reported a ballooning proportion of young Filipino voters, with 2.3 million-strong teenagers casting their votes for the first time.
"Philippine citizens above the age of 35 comprise more than half of the voting population, with 9 million over 60 years old," Bloomberg reported.
For Ramon Casiple, executive director of the Institute for Political and Electoral Reform, the results of the May polls should not be an issue in a democracy as long as the winners won in fair and free elections.
"Proportional representation is the democratic system that guarantees seats for the opposition. It's only a small part of the lower house," Casiple told Philstar.com.