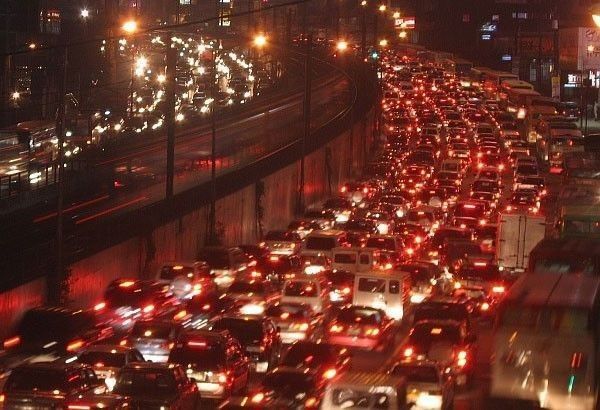 A proposal to grant the president emergency powers, such as over procurement in infrastructure programs, has so far failed to hurdle Congress.
Philstar.com, file
Duterte hits Poe for saying emergency powers prone to corruption
MANILA, Philippines — President Rodrigo Duterte has criticized Sen. Grace Poe for supposedly attributing malice to his plan to ask Congress for funds to ease traffic congestion on EDSA, the capital's main highway.
Duterte said Poe, who is seeking a second term, had been suspicious that the money for traffic-related projects could be lost to corruption.
"You know, when I started to work as President, we asked for money, but I didn't say that I was asking for emergency powers. It was the suggestion of my staff," the president said during a campaign rally in Davao City last Saturday.
"In Congress, Grace Poe made a comment. She said: 'That amount of money is just too big. We might lose all that money to corruption.' So when I heard it — we don't know each other that well — I told the Congress: 'Never mind. I will not ask for money anymore, forget it,'" he added.
In his previous speeches, Duterte said he abandoned his plan to ask Congress to allot funds for traffic-related projects because a female senator had claimed that the money was prone to corruption.
It was the first time he named Poe, one of his rivals in the 2016 presidential race and who is a consistent front-runner in pre-election surveys.
Poe is chair of the Senate comittee on public services and held hearings on the proposal to grant the president special emergency powers to address transportation and congestion problems in the country.
At the start of hearings in 2016, Poe said that Congress "may allow [the executive branch] to take shortcuts for as long as they do not short change the taxpayers." She said that "there will be elbow room and wide latitude given but not wide enough for thieves to sneak in."
Poe is also the bill's sponsor at the Senate.
RELATED: Duterte gives up on EDSA traffic, blames Congress
In February 2018, Poe said "there is a need to grant extraordinary powers because current laws do not adequately provide for the means to expeditiously and effectively solve this traffic and congestion crisis."
She also said then that a change in the president's position on the grant of emergency powers has delayed passage of the bill.
"Though the president initially asked for emergency powers, he said later on that he does not need it. This sent mixed signals to members of the House and the Senate," she said.
The Transportation department previously asked Congress to grant the Duterte administration emergency powers for three years to solve the country's traffic woes.
The special power would have allowed the government to fast-track the procurement process and undertake projects through direct contracting, repeat order and direct negotiation.
RELATED: Poe: Emergency powers to fix traffic must be FOI-compliant
Duterte: I looked for help elsewhere
"I looked for help elsewhere. So I went to China. That's why the situation has remained as it is now. I promised that I will try to solve the problem in EDSA but I would need money for it. Nothing is free in this world," Duterte said.
"It is the first time that I named Grace. This is the very first time, in this campaign. She was the one who said it. It was full of malice. It's as if she thinks she's the only moral person in this world. That's the problem with them," he added.
In May 2017, Duterte said that he will not insist on emergency powers and said of Congress that "if they are fearful of corruption there because there is no bidding, then they have every right to doubt."
Duterte said he sees no problem if Poe wins in the 2019 midterm polls. He, however, said he has "more to say" about the senator.
"I don't have a problem but that's the one thing that I can say about her for now. I have more to say, but I'll save that for some other time. That's one of my failures," he added.
The president has been criticizing candidates from the Liberal Party-led Otso Diretso senatorial slate in recent speeches. Poe is a member of the majority at the Senate but is not in the administration's senatorial slate.
Duterte reiterated that he would not tolerate any form of corruption in his administration.
"When we first started, I had to pay my debt of gratitude, but don't ever think that I would pay my debt of gratitude by letting you get away with corruption. But they did enter corruption and so I fired them. Five of them. Some of them are from Davao," he added.