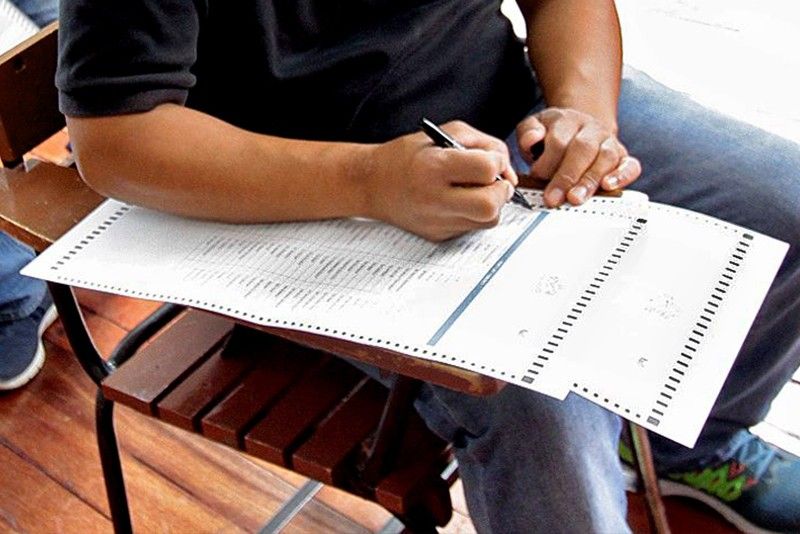 A voter shading his choice of candidate on a ballot during testing of voting machines at a clustered precinct in Baguio City the other day.
Andy Zapata Jr.
An election of many firsts
MANILA, Philippines — Tomorrow's midterm polls, where a total of 18,072 elective seats are up for grabs, including 12 slots for senator and 61 for party-list representatives, feature many "firsts," including a record number of voters.
This election marks the longest voting hours the country will have so far. It will run for 12 hours – from 6 a.m. to 6 p.m. In the 2016 polls, voting was from 7 a.m. to 6 p.m.
This was after the Commission on Elections (Comelec) decided to increase the number of voters assigned to clustered polling precincts – from 800 to 1,000 voters.
Comelec deputy director for project management Teopisto Elnas Jr. said they had to make the adjustment because of the 92,000 vote counting machines (VCMs) used in the 2016 elections, only 85,000 were dispatched to polling precincts this year.
Elnas said the rest would be used as contingency units in case any of the VCMs malfunction.
He said the poll body took into consideration the increased number of registered voters, or from 54,363,844 in 2016 to 61,843,771 today, excluding the 1,822,172 overseas voters.
The Comelec is also piloting in this election a total of 27,747 voter registration verification machines (VRVMs), a fingerprint scanning technology designed to combat flying voters.
Comelec spokesman James Jimenez said if the use of VRVMs will be successful, the poll body will consider adopting it in future elections. ?
"The point of the VRVMs is simply to determine whether or not a person is eligible to vote where he is presenting himself. Our expectation is high because of the good performance of the machine during field testings," Jimenez said.
By using the machines, voters can check if they are assigned to a particular polling precinct.
The current setup only allows voters to check their names on the computer print-outs of the voters' lists.
The machines will be pilot-tested in polling precincts in Manila, Quezon City, Cavite, Pangasinan, Cebu, Negros Occidental, Davao del Sur, Zamboanga del Sur, Nueva Ecija and in the Autonomous Region in Muslim Mindanao (ARMM).
Minimal role
Since the country's elections were automated in 2010 using primarily the technology provided by the London-based Smartmatic, the company's role has been significantly reduced in tomorrow's polls.
Commissioner Marlon Casquejo said Smartmatic will only be providing "technical support" as it supplied the VCMs which was first used in the country in the 2016 elections.
Casquejo, head of the Comelec's local source code review (LSCR) committee, gave assurance that Smartmatic is providing the "technical aspect of the transmission, but the operation" is handled primarily by the Comelec.
"We assure the public that Smartmatic will not even be on our back during the elections," he said.
Unlike in previous polls, Smartmatic is also not providing key supplies such as the ballot papers, marking pens and secure digital (SD) cards.
No-el for ARMM execs
After almost three decades, there will be no elections for regional governor, vice governor and assemblymen in provinces under the Autonomous Region in Muslim Mindanao (ARMM) this time.
This is after the two plebiscites conducted by the Comelec in January and February approved the creation of the Bangsamoro Region in Muslim Mindanao (BARMM), replacing ARMM.
ARMM voters will, however, still get to vote for candidates running for local positions in their province such as Basilan, Lanao del Sur, Maguindanao, Sulu and Tawi-Tawi.
Emergency accessible polling places
Starting this election, the Comelec will set up emergency accessible polling precincts (EAPP) in all schools serving as voting centers for people with disability (PWDs) and senior citizens who are not registered as such.
Under the system, support staff will get the ballots of concerned PWDs or senior citizens from their assigned polling precincts that are inaccessible.
The ballots will be brought to the EAPP, where the voters can cast their votes.
After this, the support staff will return the ballots to the assigned precincts.
Comelec data as of October 2018 showed there were 270,082 PWDs and senior citizens who registered for 6,709 accessible polling places.
Graduating from Congress
A total of 77 district and party-list representatives are not standing for election tomorrow as they are "graduating" from Congress next month.
The 77 are on their third and last term as members of the House. They are finishing their tenure on June 30, when the incoming 18th Congress officially starts its three-year life.
However, the new set of lawmakers will not convene as a legislature until July 22, when President Duterte delivers his fourth State of the Nation Address before a joint session of the House and the Senate.
But between June 30 and the fourth Monday of July, newly elected House members and senators will already receive their salaries, allowances, office budgets and other emoluments.
Based on House records, the larger chamber of Congress had a total of 303 members from legislative districts and party-list groups. Of the number, 12 have died, resigned or joined the Duterte Cabinet, leaving a balance of 291.
Since 77 are serving their last term, 214 are either seeking reelection or aspiring for local posts.
Outgoing members include Speaker Gloria Macapagal-Arroyo, former majority leader and Ilocos Norter Rep. Rodolfo Fariñas, appropriations committee chairman Rolando Andaya of Camarines Sur and Feliciano Belmonte Jr. of Quezon City.
Arroyo said she would retire from politics and would just write her memoirs. She also plans to continue serving her home province of Pampanga as a consultant to the provincial government.
Like Arroyo, Fariñas and Belmonte are quitting politics.
Belmonte had served as speaker and Quezon City mayor for three terms. His daughter Joy, who is vice mayor, is the leading mayoral candidate in the city.
Andaya is running for governor in his province.
Among the other June 30 "graduates" are Winston Castelo also of Quezon City, who is running for city councilor; Alfredo Benitez of Negros Occidental, who is taking a break from politics; Ben Evardone of Eastern Samar, who is running for governor in his province; Tobias Tiangco of Navotas, who wants to be mayor again, and Arthur Yap of Bohol, who is aspiring for governor.
Outgoing party-list representatives include Arnel Ty of LPG Marketers Association, Sherwin Tugna of Citizens Battle Against Corruption, Christopher Co of Ako Bicol, Julieta Cortuna of A-Teacher, Emmi de Jesus of Gabriela and Antonio Tinio of Alliance of Concerned Teachers.
Among the 214 House members who are seeking reelection or have chosen to aspire for local posts are Isabela's Rodolfo Albano III, who is running for governor; and Quezon's Danilo Suarez, also running for governor. – With Jess Diaz