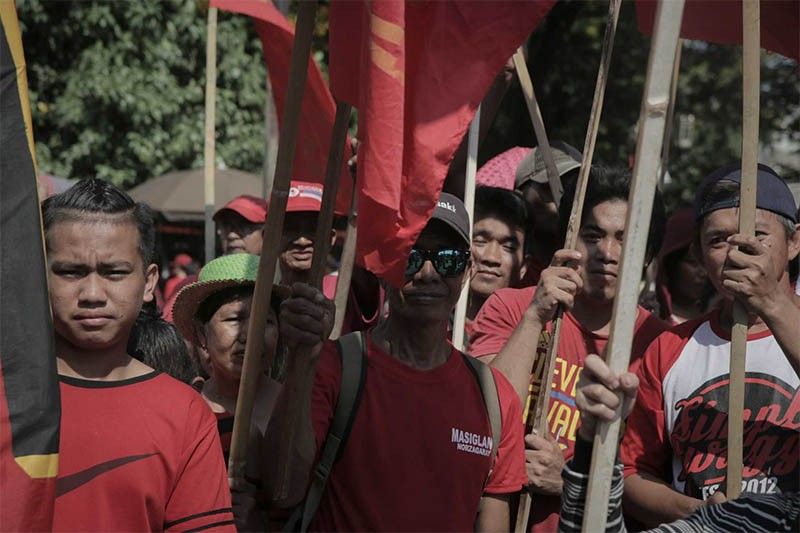 Several groups trooped to Liwasang Bonifacio in Manila for Labor Day commemoration.
Philstar.com/Efigenio Toledo IV
Despite pre-election surveys, labor coalition says unity a victory in itself
MANILA, Philippines — Despite not doing well in pre-election surveys, labor candidates under the Labor Win slate said on Wednesday, Labor Day, that the unity of competing groups under a common slate is a victory for Filipino workers.
Less than two weeks before the elections, the five senatorial candidates under Labor Win slate gathered at the Mendiola Bridge early Wednesday morning.
They are Bayan Muna chairman Neri Colmenares, Bukluran ng Manggagawang Pilipino chairman Leody de Guzman, Federation of Free Workers president Sonny Matula, National Confederation of Labor president Ernesto Arellano and labor lawyer Allan Montaño of the Federation of Free Workers.
READ: Who is the Labor Win Alliance?
Arellano, in a press statement, said that the alliance of their labor groups shows how "workers are now beginning to vote not based on individual preferences but on their common interest as a class," and that the workers' movement is growing as a political force.
"The electoral intervention by labor groups is but a small step towards this historical mission," Arellano said.
Arellano said that choosing Mendiola Bridge as the venue for the press conference was more than just to bring their calls for the betterment of Filipino workers to Malacañang, the seat of power.
It also serves as a reminder to the Filipino workers that "there can be no genuine social change and meaningful reforms unless political power truly serves the interests of labor," Arellano said.
"The electoral intervention by labor groups is but a small step towards this historical mission," he added.
Ending contractualization, one of the reforms long pushed for by the labor groups, is one of President Rodrigo Duterte's promises.
In his presidential message released for Labor Day, Duterte called on the Congress to push for legislation to protect workers' rights days after police Chief Oscar Albayalde blamed joblessness on labor protests for those rights.
'Higher level of unity'
De Guzman, for his part, noted that even with the results of the election far from then, the Filipino labor force has already ticked one achievement: A "higher level of unity" among several groups, with "ideological differences and innate competition," that gathered under the umbrella of Labor Win alliance.
"We now unite not only trade union demands but on the need for labor participation in politics, during elections and after it, in order to reach our shared vision of prosperous, egalitarian, pro-labor and pro-poor society."
A day before labor groups gathered for May, Pulse Asia released its pre-election survey conducted on April 10-14. In the latest poll, Colmenares ranked the highest among Labor Win's five bets, as he placed among 19th to 23rd spot.
Colmenares of the Makabayan coalition added: "A strong and united workers' movement that is not limited to factory struggles is an essential component in the people's struggle against the more brazen attacks to human rights under the present regime."
Matula said that while the pre-election surveys showed the hold of patronage politics, it will "soon break as workers are now beginning to vote not based on individual preferences but on their common interest as a class."
Montaño stressed: " We have long asked for pro-labor and pro-poor reforms to be passed by Congress and the Senate but our demands fall on deaf ears of lawmakers who advances profit before people. TThe imperative is for labor leaders to get elected into the legislature to fight for workers' interest."
Partido Lakas ng Masa, that is gunning for a seat at the House of Representatives, also joined the five senatorial bets.
PLM National Chair Sonny Melencio stressed the need for representation of the Filipino working class in the legislative branch "to give voice to the toiling and impoverished majority.
"But more than this, we will grab the opportunity provided by the elections to massively organize the workers and the poor under a pro-reform platform and to raise the discourse beyond the mudslinging and the muckraking of the trapos," Melencio added.
The labor groups' candidates for the 2019 midterm elections were later joined by Church Labor Conference, Pagkakaisa ng Paggawa, Kilusang Mayo Uno, Federation of Free Workers, Bukluran ng Mangagagawang Pilipino and others.