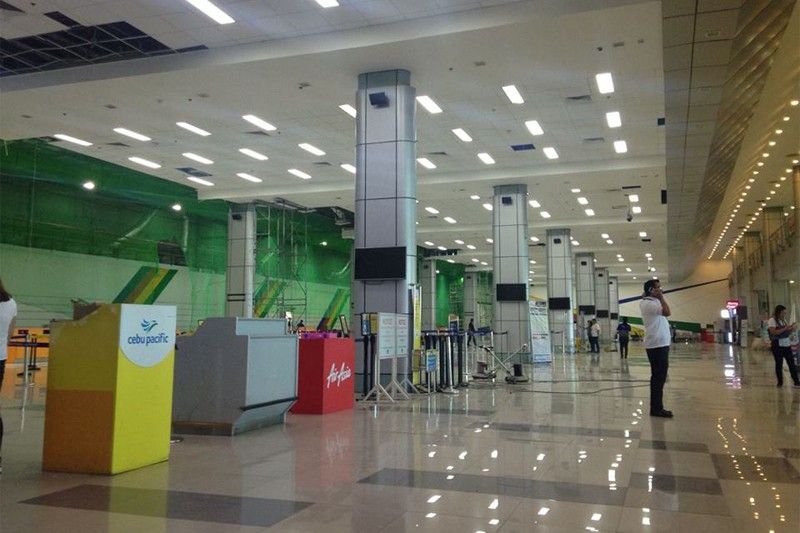 Clark International Airport pre-departure area were finished in less than 48 hours after the airport's temporary closure following the magnitude 6.1 quake Monday
Facebook/DOTr
Clark International Airport resumes full operation
(Philstar.com) - April 24, 2019 - 6:26pm
MANILA, Philippines — The Clark International Airport resumed full operations on Wednesday afternoon, almost two days after a magnitude 6.1 earthquake hit Pampanga and other parts of Luzon.
The operations went back at 4 p.m., less than 48 hour since the airport's temporary closure, according to the Department of Transportation and the Bases Conversion and Development Authority.
"The inspection, clearing and repair (of the terminal's damaged portion) will normally take two weeks to accomplish. But Clark airport was reopened in less than 48 hours," Jaime Melo, president of the Clark International Aiport Corp.said.
The CIA's ceiling at the terminal's check-in lobby collapsed following the powerful quake. It prompted the temporary closure and immediate repair works.
The closure affected domestic and international flights of Philippine Airlines, Cebu Pacific and AirAsia.
Despite this, the CIAC's assessment on Tuesday revealed that the tower, apron, runways and taxiways are structurally sound after the quake.
"The terminal and tower are structurally sound as certified by authorities. We'll be 90 to 100 percent full service flights by tomorrow as airlines commit to resume services at Clark," Melo said.
"The BCDA was also instrumental in the rapid completion of the clearing and repair works as it engaged the services of companies like GMR Megawide and R2 Builders at no cost to government," he added.
The airport gates opened at 3:15 p.m. to accommodate the hundreds of passengers of six initial airlines servicing eight international routes and three domestic destinations.
On Tuesday, Melo said airport authorities would prioritize passengers who were stranded due to the quake.
It is not yet clear when flights canceled on Monday and Tuesday will resume. The authorities advised passengers to check the new flight schedules with their respective airlines.
By 4pm today, operations will resume at the Clark International Airport after repairs were done in less than 48 hours since the airport's temporary closure. For flight schedules, please contact your respective airlines. pic.twitter.com/fCqoY7eZM4

— The BCDA Group (@TheBCDAGroup) April 24, 2019
Earlier, the Clark Development Corporation gave travelers and tourists affected by the paralysis of the CIA temporary shelters.
"These include the Training Center at HSD, the pavilion at Bicentennial Park, the Philippine Air Force Gym, and the Clark Parade Grounds. Provisions of water and food are also being provided in these shelters," the DOTr last Tuesday said.
— Rosette Adel