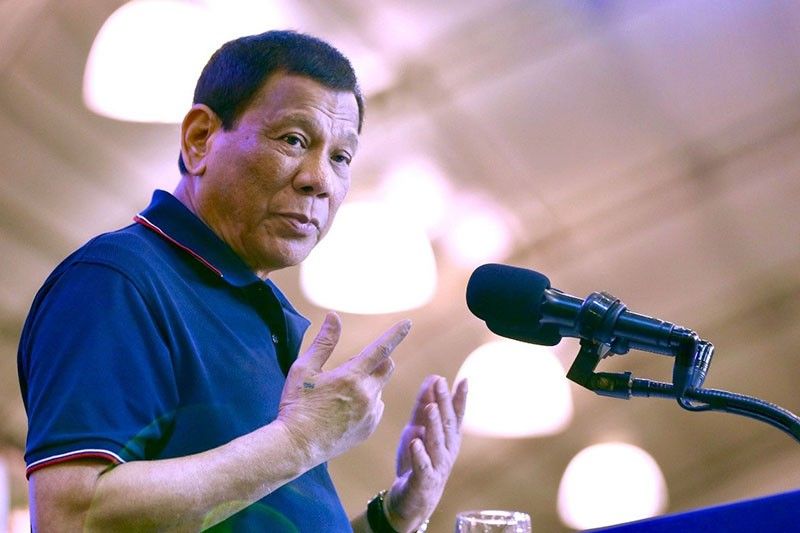 In this Dec. 6, 2018 photo, President Rodrigo Duterte delivers a speech during the 85th anniversary of the Department of Labor and Employment.
Presidential Photo/Richard Madelo
Amid reports on wealth, Duterte says some journalists 'paid to attack'
MANILA, Philippines (Updated 1:55 p.m.) — President Rodrigo Duterte accused some in media of being paid to write hit pieces as he brushed off reports on the increase of his wealth while in public service..
Duterte claimed some journalists produce "false reports" to serve their "clients."
"They accept (payment) from clients to (write) political attacks. AC/DC (attack and collect, defend and collect). You attack to get paid. So don't believe that they are clean," Duterte said during a campaign rally in Bukidnon on Saturday.
"You protect the rich and hide their secrets, but attack us politicians who genuinely want reform. That's the truth. You are just being paid," the president claimed.
A report by the Philippine Center for Investigative Journalism said the incomes of Duterte, his daughter Davao City Mayor Sara Duterte-Carpio and son former Davao City vice mayor Paolo Duterte have grown over the years even if they were just getting modest salaries from the government and "negligible" retained earnings from the companies they own or co-own.
The PCIJ report—it has also published reports on the wealth of past presidents—was based on public records that the Dutertes themselves filed.
Citing the Statements of Assets, Liabilities and Net Worth (SALN) filed by Duterte and his children, PCIJ said the president's net worth jumped by 195% from P9.69 million in 2007 to P28.54 million in 2017. Paolo's net worth rose by 233% from P8.34 million to P27.74 million two years ago while that of Sara grew by 518% from P7.25 million to P44.83 million.
READ: Duterte says he will explain his wealth 'in due time'
'Law firm just a backup plan'
Duterte said the public should carefully analyze the accusations against him as he explained some of the items mentioned in reports about his wealth, including a law firm that he allegedly failed to declare in his SALN.
"They said that I have a law office that was unregistered. What is it to them if I don't have it registered? They didn't discover that my partner died the week after…having a law office was my backup plan in the past years in case I lose in the elections. At least if I lose, I would have a sanctuary and a source of income which is my law office," the president said.
Duterte also claimed that he did not earn profit from selling motorcycles.
"But that's the only issue that they attacked me with apart from selling motorcycles. If you are a motorcycle rider, you immediately become a businessman because if your motorcycle model grows old, you will want to replace it with a new one. If not, you trade it for a new model and just add money. But those transactions weren't for profit," he said.
Duterte also appealed to Filipinos to choose leaders "who are responsible and will be of great help."
He also vowed to address complaints against officials and urged the public to report misdeeds by government personnel to hotline 8888.
"Report it to me. It's not libel. It's not libelous as long as you report to me officially," Duterte said.
(Editor's note: A grammatical error in an earlier version of this article has been corrected to read: "The PCIJ report—it has also published reports on the wealth of past presidents—was based on public records that the Dutertes themselves filed.")