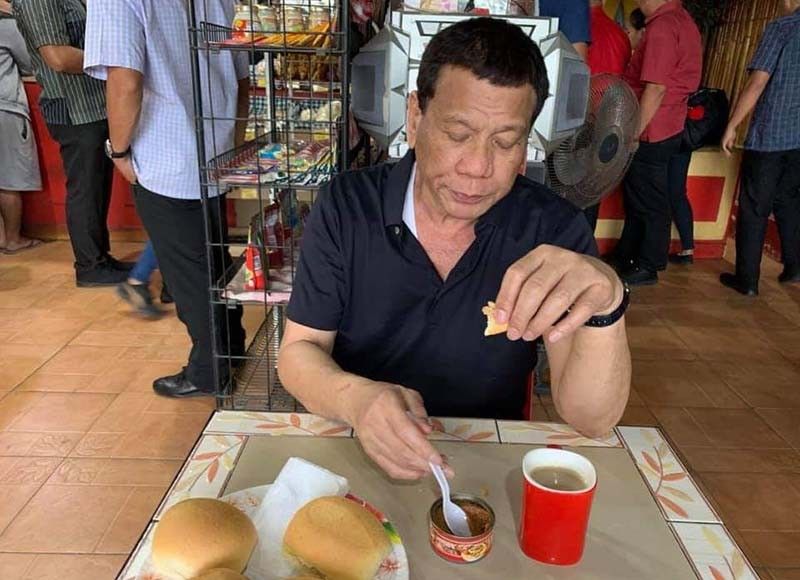 In this handout photo from former presidential aide Christopher "Bong" Go, President Rodrigo Duterte eats breakfast at a bakery in Davao City.
Photo via Christopher "Bong" Go.
Duterte says he will explain his wealth 'in due time'
MANILA, Philippines — President Rodrigo Duterte on Thursday insisted he would not disclose where he placed his wealth as he dismissed as "garbage" reports questioning the spike in his income.
The incomes of Duterte and his children were placed on the spotlight after Philippine Center for Investigative Journalism (PCIJ) came up with a series of reports that looked into their statements of assets, liabilities and net worth (SALNs).
According to PCIJ, Duterte, his daughter Davao City Mayor Sara Duterte-Carpio and son former Davao City Vice Mayor Paolo Duterte have "consistently grown richer over the years" despite their modest salaries as government officials and the "negligible" retained earnings from the companies they own or co-own.
RELATED: 'Pera-pera lang': Duterte hits PCIJ for report on family wealth | PCIJ twits Panelo on 'selective recall' on requests for comment
The report said Duterte's net worth rose by 195 percent from P9.69 million in 2007 to P28.54 million in 2017. Paolo's net worth went up by 233 percent from P8.34 million to P27.74 million two years ago while that of Sara jumped by 518 percent from P7.25 million to P44.83 million.
'I will tell you in due time'
Speaking at a campaign rally in Bacolod City, Duterte insisted he could explain his wealth in due time. He, however, said he would not reveal to critics where he placed his wealth.
"Well, sabihin ko sa inyo in due time. Mayaman? Taguin ko. Bakit ko sasabihin sa inyo kung saan ko nailagay? G*** pala kayo eh. May tao ba rito... ma-holdap pa tayo. May pera? May pera ako. U***," the president said.
(I will tell you in due time. Wealth? I will hide it. Why would I tell you where I placed it? You fools. We might get robbed. I have money, fools)
Under the Code of Conduct and Ethical Standards for Public Officials and Employees, government employees and officials—like the president—are required "to accomplish and submit declarations under oath of, and the public has the right to know, their assets, liabilities, net worth and financial and business interests including those of their spouses and of unmarried children under 18 years of age living in their households."
The wealth declarations should include the official's real properties (improvements, acquisition costs, assessed value and current fair market value), personal property and acquisition cost, "all other assets such as investments, cash on hand or in banks, stocks, bonds, and the like."
The SALNs should also list liabilities and business interests and financial connections.
Claims reports on wealth just 'garbage from the opposition'
"You know I've been mayor for 23 years, I've been a prosecutor for nine years, I've been in the practice of law four years before that, and I never lost in an election until the presidency. Pero kung magsabi ninyo... Look at their trash. I do not have transactions in government," he added.
Duterte dismissed the report as "a garbage from the opposition."
PCIJ has denied that the reports were bankrolled by the opposition, pointing out that it has reported on the wealth of past presidents. The PCIJ report is also based on the wealth declarations that the Dutertes filed, which are public documents.
"Do not believe the garbage of the opposition. I will explain it," Duterte said.
The president also reiterated his promise to address corruption, saying he would fire officials next week.
"Next week, when I fly back to report to work, before I leave for China, I will dismiss a lot of people," he said.
Duterte is expected to fly to China this month to attend the Belt and Road Forum.