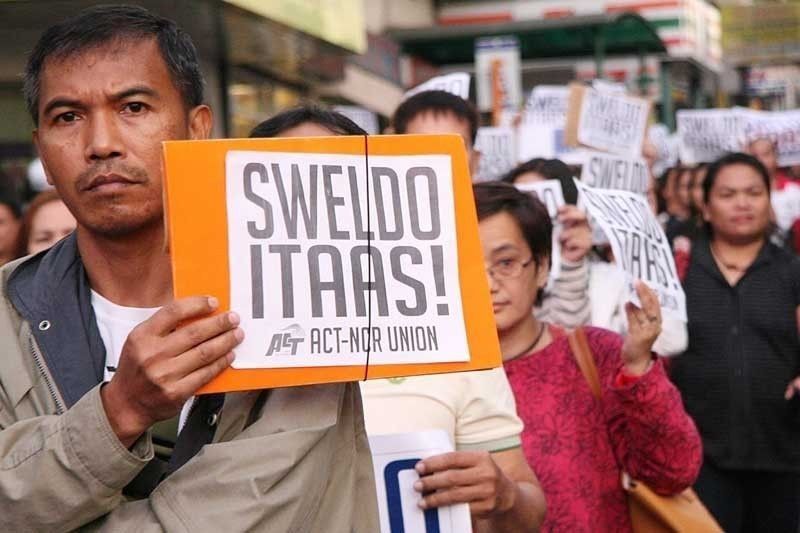 The Trade Union Congress of the Philippines (TUCP) expressed concern that the PSA figures were released to lower wage standards and discourage workers from seeking salary hike.
File
Philippine Statistics Authority report aims to stop wage hike — labor groups
MANILA, Philippines — Organized labor yesterday debunked the Philippine Statistics Authority (PSA) findings that monthly income of a little over P10,000 is sufficient for a family of five, and claimed that the report would discourage wage increases.
The Trade Union Congress of the Philippines (TUCP) expressed concern that the PSA figures were released to lower wage standards and discourage workers from seeking salary hike.
"This very low standard erases the need for wage boards to provide significant wage increases. It gives us the impression that 'everything is OK' and there's no need for wage increases because minimum wages are higher than the minimum threshold," TUCP president Raymond Mendoza said.
Mendoza said employers and business groups are going to use the PSA data to defend their position against any salary increase and argue that the wage standard is lower than the current minimum wage.
But he said the PSA standard is so low and it would appear that there is no sense of urgency to uplift the condition of Filipino workers.
The PSA said that a salary of P10,481 a month is enough for a family of five to survive.
The militant Kilusang Mayo Uno (KMU) claimed that the PSA is ridiculous and inaccurate.
"The level of fantasy the PSA has reached to come up with this is significantly high. It's impossible to comprehend how the PSA could have arrived at such a conclusion that P10,000 is sufficient to sustain an ordinary Filipino family with five members," said KIlusang Mayo Uno (KMU) secretary general Jerome Adonis.
The PSA, Adonis said, did not consider shelter, transportation, utilities, health care and education costs when it came up with its new poverty threshold figure.
"Neither did it consider the continued increases in oil prices, electricity and water rates as effects of the TRAIN law," Adonis said.
Adonis said P10,000 monthly income is only enough to feed Filipino families once a day and who do not use electricity or pay rent.
He suspects that the PSA findings were released to prevent workers from seeking pay hike.
Labor groups have been actively pushing for a P750 daily minimum wage.
"Workers need and deserve a substantial wage increase because the current P537 minimum is way below the P1,000 estimated Family Living Wage," Adonis pointed out.
Adonis said workers are getting measly salaries despite their consistent productivity.
Adonis said recent studies showed that labor productivity in Metro Manila grew by 35 percent from P456,059 per worker to P614,297.
However, Adonis said the real value of the mandated minimum wage increased by only 11 percent in real terms at constant 2012 prices.
Adonis said officials of PSA and other government agencies should try to survive on P10,000 for a month – using only that amount to pay for all their basic needs and to cover whatever contingencies and emergencies that may arise.
He said PSA and the National Economic and Development Authority (NEDA) keep adjusting poverty level standards and computations to project an image of the country's economic progress at the expense of workers and other poor.
Federation of Free Workers (FFW) president Sonny Matula said the P10,000 monthly earnings is just a little higher than a prisoner's allowance.
"Are we approximating a prisoner's life with this PSA computation? With the higher cost of commodities, I don't know how a family of five would survive with P10,841 pesos a month," Matula said.
He said the PSA data were apparently taken from a world of make believe.
Bagong Alyansang Makabayan (Bayan) activists yesterday described the poverty threshold set by the government as "unrealistic."
"The latest government data showing poverty incidence going down is not something to be happy about, considering the very low poverty threshold that government set. The P10,481 poverty line is unrealistic," said Bayan secretary-general Renato Reyes.
"How can five people meet their basic food and non-food needs for a month with this very small amount? This translates to a mere P70 per person per day. Prices of food, transportation and other utilities have gone up significantly the past few years," he added.
He added it also provides a justification not to increase wages and salaries since people can make do with P10,481 a month.
Marawi civic leader and opposition senatorial bet Samira Gutoc said the PSA report is unbelievable, saying that the agency should come up with better, more credible research in making its reports.
"Let us examine the figures. This translates to P244 a day or P81.33 a meal for a family of five. Broken down further, about P16.26 per person per meal in the family. In contrast, meal allowance of one who works in government is from P150 to P220… This is really disconcerting," Gutoc said.
"If we were to take PSA's estimates at face value, the meal stipend can almost feed five people: one mouth as opposed to five poor ones. This is why I have a problem with PSA's assertions. I do not believe five persons can eat on a budget of P244 a day," Gutoc added. – With Rhodina Villanueva, Cecille Suerte Felipe