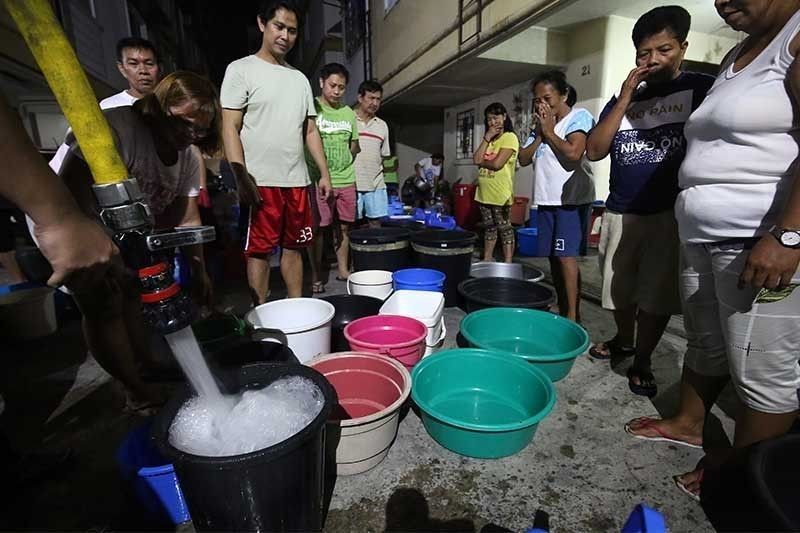 Residents queue with their pails and other containers as fire volunteers supply water at Brgy. Barangka Drive in Mandaluyong City Monday midnight.
The STAR/Miguel de Guzman
Bayan Muna seeks House probe into water interruptions
MANILA, Philippines — Bayan Muna party-list filed a resolution seeking a congressional inquiry into incidents of water service interruption in parts of Metro Manila and nearby provinces.
House Resolution 2518 directs the House Committee on Good Government and Public Accountability to hold a hearing to review the series of water service interruptions, its impact to consumers and implication to quality water service provision.
Manila Water, which services over six million people in the east zone of Metro Manila, has been implementing water service interruptions citing high demand and low supply because of El Niño.
"Thousands of people were deprived of water service since March 8 and were reduced to waiting for water tankers or opening fire hydrants just to have water," Rep. Carlos Isagani Zarate (Bayan Muna party-list) said.
He added: "According to PAGASA, the El Niño phenomenon is predictable and measures can be done to prepare for it but it seems that the water concessionaires did not do so."
Manila Water COO Geodino Carpio on Tuesday said El Niño "exacerbated" the current water shortage but delays on new facilities also contributed to the situation.
Maynilad, the west zone concessionaire, said it would supply 50 million liters of water per day to Manila Water starting next month to address shortages. This is expected to benefit up to 50,000 households daily, especially in the cities of Quezon, Parañaque and Taguig.
RELATED: Rethink privatization in light of water supply woes, Senate bet says
Audit of rainwater catch basins urged
The government is supposed to have put up rainwater collector systems in thousands barangays across the country, Sen. Nancy Binay said as she asked about the implementation of Republic Act 6716.
The law, which was passed in 1989, mandated the "construction of water wells, rainwater collectors, development of springs and rehabilitation of existing water wells in all barangays in the Philippines."
"El Niño is here and the water crisis is real, imminent and prevalent. Thirty years mula nang maisabatas ang RA 6716, gusto nating malaman kung ilan sa mahigit 42,000 barangay ang meron rainwater collection system na ginawa ng gobyerno," Binay said.
She then urged the Department of Public Works and Highways, Department of the Interior and Local Government and Local Water Utilities Administration to make a joint inventory and audit of all rainwater collector systems.